Imagine a powerful approach to doing live streams anywhere with a stable bonded internet connection that completely changes the game – Welcome to the world of Network Bonding. This breakthrough solution empowers broadcasters to live stream events irrespective of scale or geographical location, without dependence on traditional cable internet connections. It's the answer to achieving the right balance of reach, speed, and the high-quality demanded by professional video streaming.
Intrigued? Let's take you on a journey to discover the workings of Network Bonding and why YoloLiv Network Bonding is your perfect fit.
What's Network Bonding
To put it in a simple way, network bonding is the practice of combining/aggregating 2 or more internet sources together to ensure a single better connection. Imagine fusing a 2Gbps ethernet connection with a 1Gbps 5G connection, which results in a singular, potent 3Gbps connection. 
It is also referred to as ethernet bonding, connection bonding, channel bonding, network interface card (NIC) bonding, or broadband bonding. It provides the perks of minimized latency and decreased risk of network downtime, all thanks to the multiple backup connections at your disposal.

Types of Network Bonding
Network bonding has several types. Among them, round-robin, active backup, and adaptive load balancing are commonly used, each with its own unique features, aimed at ensuring efficient and consistent network connection. 
Round-robin distributes packets sequentially to all the available network interfaces. This mode provides load balancing and fault tolerance.
Active backup ensures a backup link takes over traffic if the primary link fails. 
Adaptive load balancing, on the other hand, balances traffic across all available network links.
Let's imagine network interfaces as lanes on a highway and data packets as cars. The round-robin method works like a traffic controller that ensures that cars (data packets) take turns entering each lane (network interface) in sequence. This approach ensures that no single lane is overwhelmed, distributing the traffic evenly across all lanes – this is what we refer to as 'load balancing'. Additionally, if one lane is closed for any reason, the cars can still proceed via the other open lanes, thereby providing 'fault tolerance' or a backup.
On the other hand, active backup operates like having a spare tire in your car. While you're driving (sending data), you're using your main tires (primary network link). But if the tire bursts (the primary link fails), you have a spare (backup link) to replace it immediately, ensuring your journey (data transmission) isn't halted abruptly. 
Lastly, adaptive load balancing acts like a smart traffic navigation system that continuously adapts to road conditions. It distributes cars (data packets) across all lanes (network links) depending on real-time traffic status, ensuring smoother and more efficient traffic flow. This method is extremely useful in optimizing the usage of all available network links, adapting as per their usage and availability.
In essence, all these methods work to ensure that your internet connection remains reliable and efficient, even when network issues arise.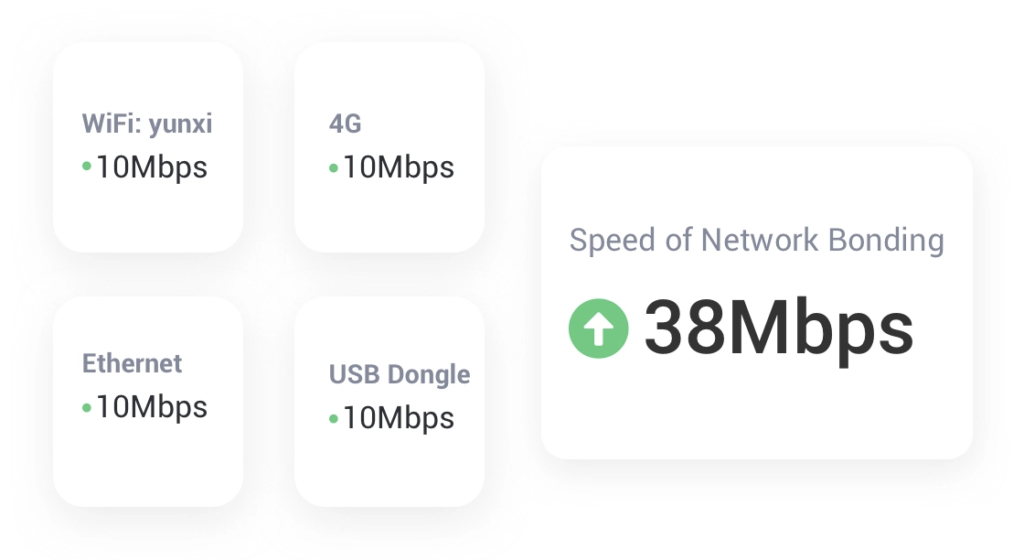 Why Network Bonding Is Needed
Network bonding holds immense potential for streaming scenarios like sports events, church services, and weddings. Here's a look at the distinct benefits bonding streaming can bring to each scenario:
1. Sports Events: These often attract large audiences, both in-person and online. Network bonding ensures that the live stream is stable and high quality, even under high network traffic. Moreover, many sports events are held in large stadiums or outdoor fields where a single network connection might not provide enough coverage or stability. Bonding multiple network connections allows for uninterrupted, smooth streaming of the event to viewers worldwide.
2. Church Services: For places of worship, providing access to services online is an increasingly important offering. However, these locations may sometimes be in areas with poor network infrastructure. Network bonding allows the combination of different network sources, ensuring a steady and reliable live stream. It also provides failover protection – if one network drops out, the stream doesn't get interrupted due to the backup provided by the other networks.
3. Weddings: These events are becoming more global, with families and friends often spread across different countries. Livestreaming allows those who can't physically be there to still be a part of the special day. Network bonding ensures that these once-in-a-lifetime moments are streamed with high-quality video and without any interruption. Moreover, weddings are often held at unique venues that might not have the best individual network connections. By bonding multiple networks, you ensure a more robust and reliable connection, allowing for a smooth, high-quality live stream of the event.
In all these scenarios, network bonding isn't just about improving the quality of the stream. It's about ensuring the best possible experience for the viewers, no matter where they are, what device they're using, or how they're connected to the internet.
5 Reasons You Should Go with YoloLiv's Network Bonding
Among all those solutions of bonded internet like Dejero, LiveU, Speedify, etc., why do our users choose YoloLiv's network bonding service? The following is where YoloLiv's network bonding service shines: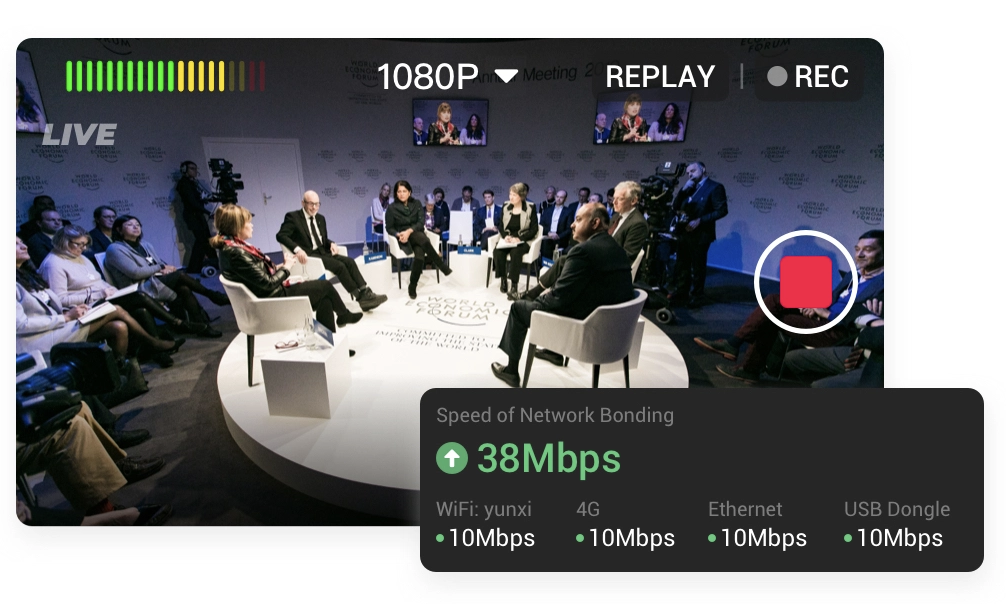 Up to 4 Network Interfaces for Redundancy/Failover
YoloLiv Network Bonding supports up to 4 network interfaces for up to 8000Kbps bitrate, offering a versatile and robust solution for your live streaming needs. It can integrate with a variety of network sources, including 4G LTE cellular networks, WiFi, Ethernet, and USB Dongles. The result? An enhanced streaming experience that ensures consistent, high-quality broadcasts, regardless of individual network issues.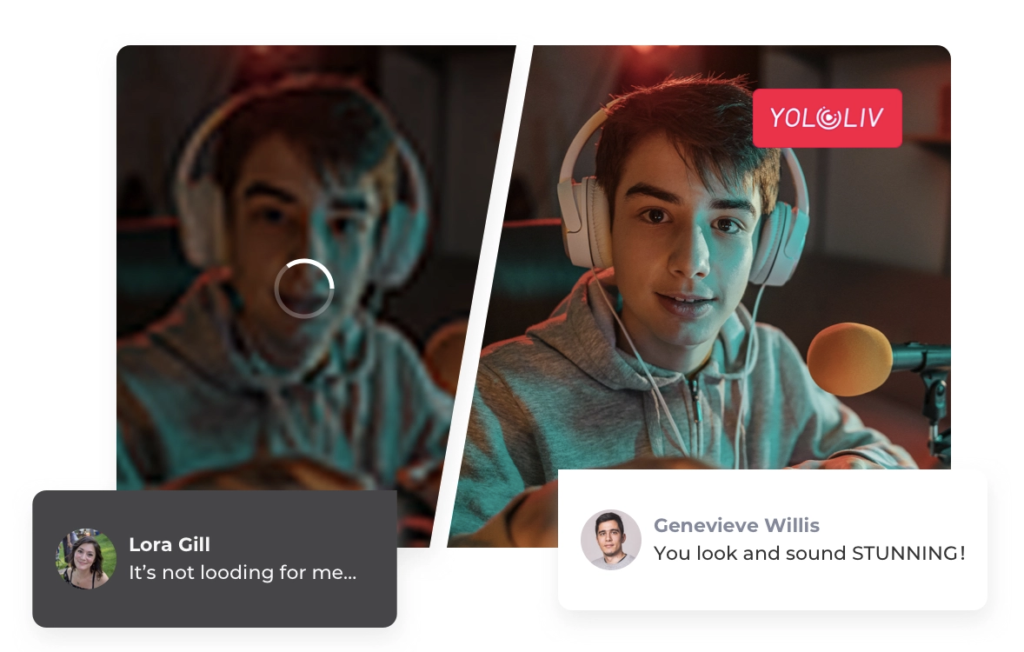 Global Server for Reliability
YoloLiv has strategically deployed servers across the globe, a measure meticulously planned to ensure the utmost stability and reliability in your live video transmission. This global network acts as your safeguard against any local network fluctuations or disruptions, providing you with a seamless broadcasting experience irrespective of your location.
Ease of Setup and Use with Built-in Service
YoloLiv Network Bonding is a built-in service, which means it's just several clicks away for those who already own a YoloBox product. No additional internet bonding devices or software is needed. This simplicity results in a more efficient and cost-effective solution for you.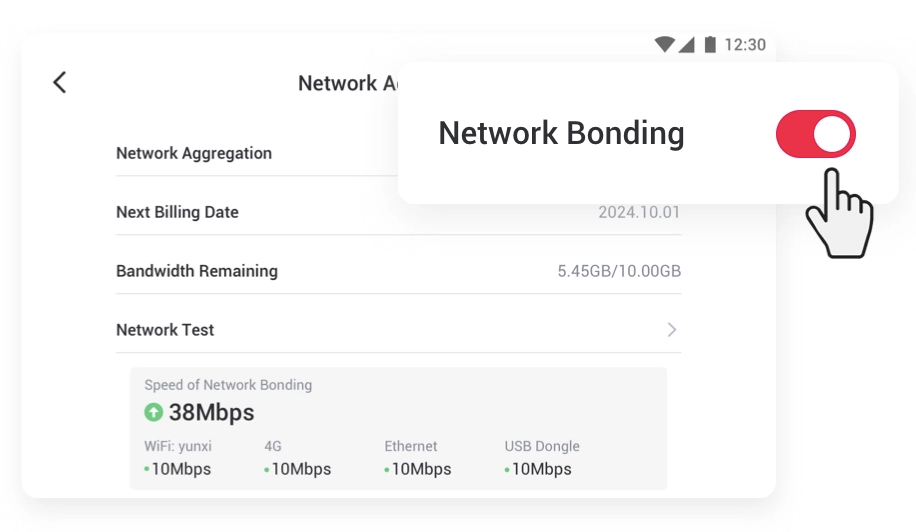 Backed by a Reputable and Experienced Provider
YoloLiv Network Bonding isn't just a product; it's backed by a company with a strong reputation in the market. Our customers consistently share positive reviews, attesting to our commitment to quality and service. Moreover, our longstanding experience in the live-streaming industry sets us apart and allows us to continually refine our offerings based on user feedback and technological advancements.
A Budget-Friendly Solution
As YoloLiv's network bonding service is built into YoloBox products, there are no upfront costs for necessary equipment or installation. In other words, only the monthly or annual service fee is needed. Moreover, the monthly fees start from $29 per month.
Conclusion
YoloLiv Network Bonding offers a unique solution to live streaming challenges. It provides increased reliability, enhanced quality, and improved performance, all while being budget-friendly. If you're in the streaming industry, you should consider this efficient and affordable solution. As we've seen, the benefits are manifold, from failover protection to increased bandwidth, to global reach, and more. With YoloLiv Network Bonding, you can take your streaming to the next level and provide a seamless, high-quality viewing experience to your audience.
 4,967 total views,  39 views today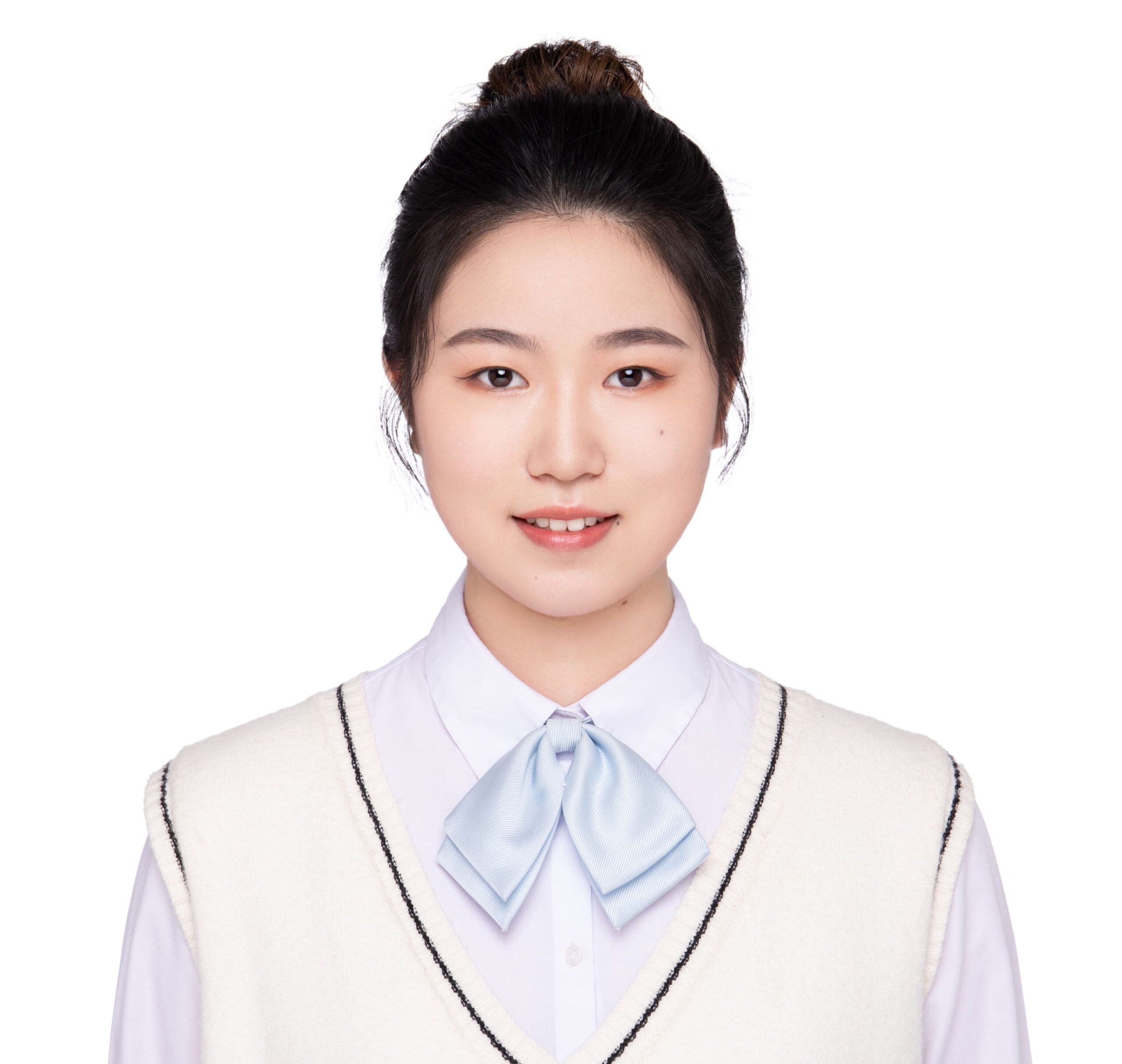 Hazel, the Marketing Specialist at yoloLiv. As an avid live-streaming enthusiast, She has dedicated countless hours to studying and immersing herself in this field. Her goal is to provide you with informative and engaging content that adds value to your streaming-related journey.