With many couples being forced to change their plans due to current events, virtual weddings have gained popularity. YoloBox/Pro is becoming one of the key equipment that many wedding photographers used for live-streaming the big day. In this blog, we're going to show you how to live stream a wedding ceremony with YoloBox/Pro. In order to show you the real case scenario, we actually went to a Friend's wedding and livestream it on FB & Youtube. 
Here's what we'll cover . . .
The devices you need to prepare for a wedding livestream
How to set up 2 camera angles at a wedding
How to set up the YoloBox/Pro for live stream
Tips for using YoloBox/Pro to make your wedding look Pro
The devices you need to prepare for a wedding livestream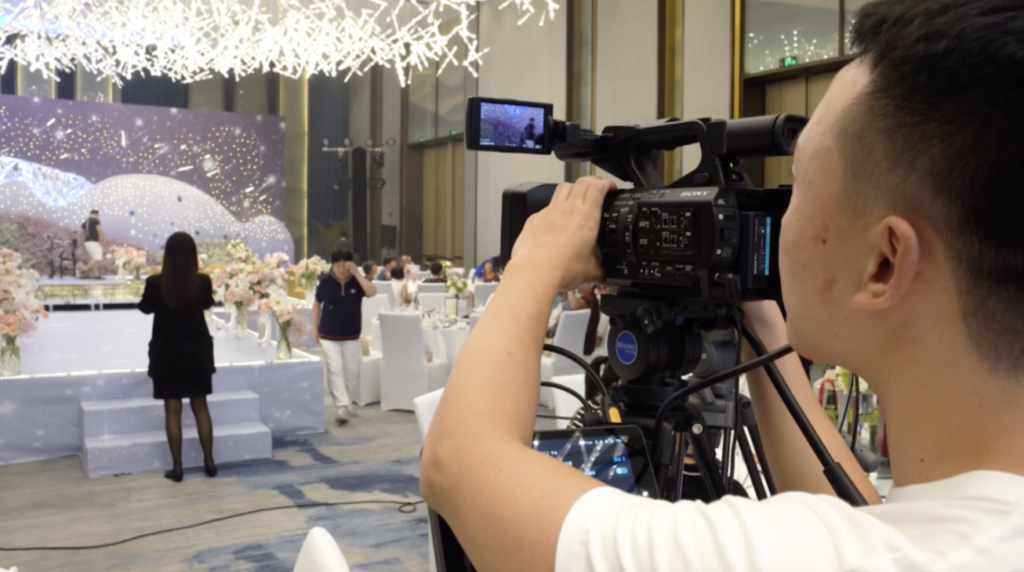 Livestream Cameras:SONY NX200 for the wild angle; SONY Z190 for the close angle.
Livestream Audio:We're getting a direct feed from the room. We plug those audio feeds directly into our mixer here. then there is a long wire to go all the way connect to our YoloBox Pro, so that we can get audio to the stream.
The YoloBox Pro: It's the all in one device that works as an encoder, a monitor, a switcher and a recorder, all built in, giving you ease of use, simple setup and an incredibly mobile live streaming unit. You can plug this into your camera and audio, then run everything from there. No need for a table and a laptop or any of that mess. 
Livestream Accessory: 2 HDMI Cables, 2 Compact Tripod, and a SIM Card, a SD card, and backup battery for the cameras. 
How to set up 2 camera angles at a wedding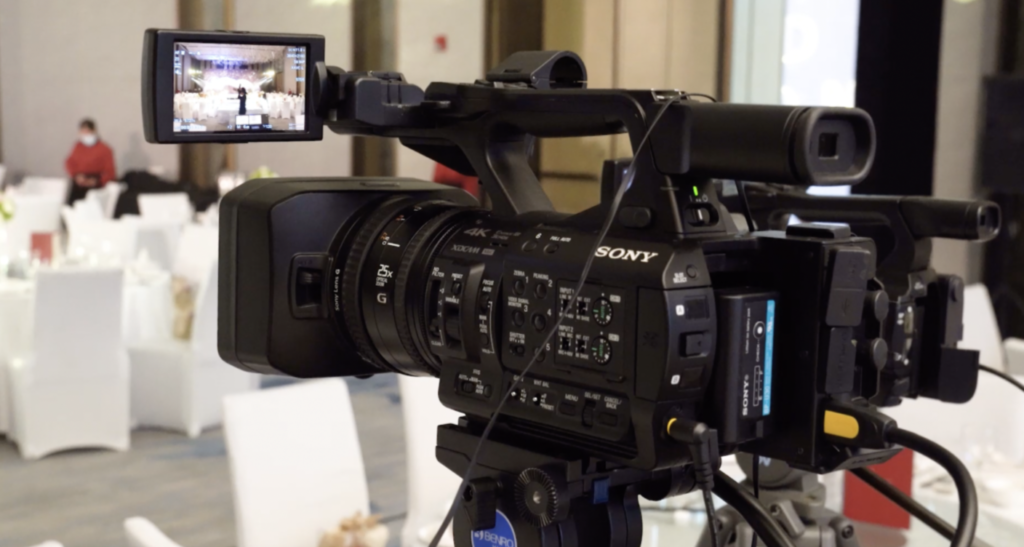 The wild shot: SONY NX200. The reason we like using this camera is it gives us a really crisp clean image. The image captured by the camera will be transported through a hdmi wire to the YoloBox Pro for an 1080p resolution. 
The close shot: SONY Z190. We set this camera here to get a close shoot on the stage. This camera can be zoomed all the way to where the Bride & Groom is talking.
How to set up the YoloBox/Pro for live stream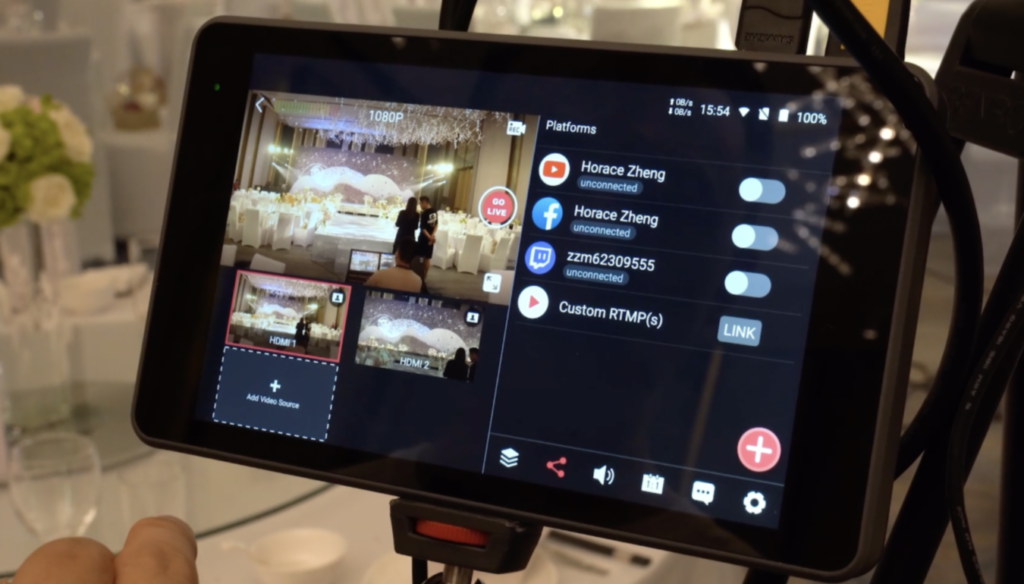 First, create a new stream and name it. Then you could see that on the screen there are 2 HDMI inputs. You can switch the view by simply tapping the screen.  
You can also add a pre recorded video as another input from your SD card. Tap the plus button, and you can choose the video from your SD card. 
Then Go to the livestream platform, we have Youtube, Facebook, Twitch and other RTMP sources. In this case we want to use Youtube and Facebook for the live show. 
When the event starts, just tap the record button here, and you are ready to go.
Tips for using YoloBox/Pro to make your wedding look Pro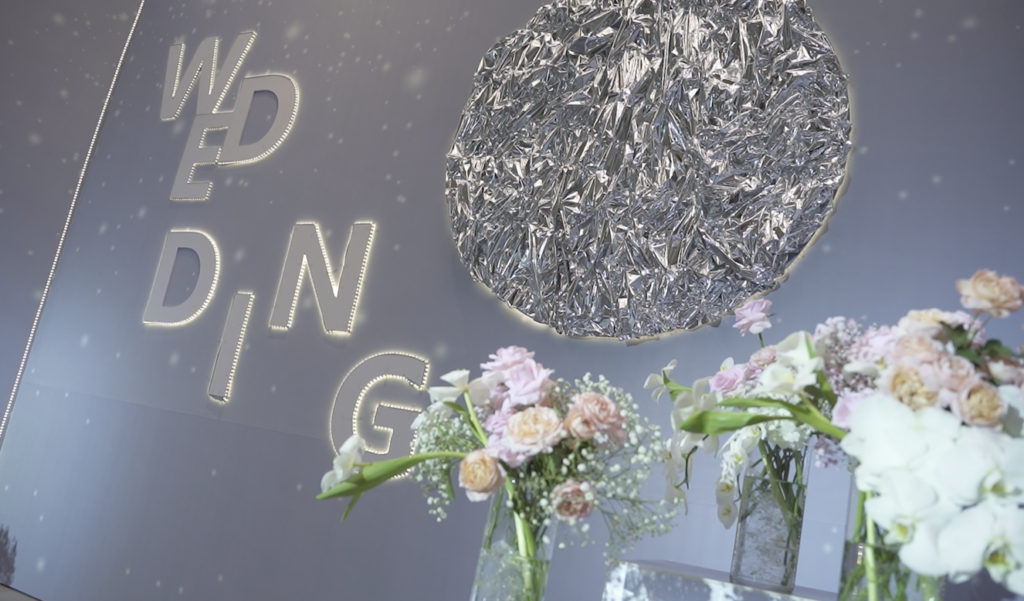 1. Internet connection
You would not trust most wedding venues Wi-Fi especially once 300 guests arrive and you will try to connect to it at once. So, you should always call the venue at least two weeks in advance to make sure they either have an internet connection or that you have a plan for your internet. 
You always want to make sure that you have backup internet just in case the internet at the venue goes down. In this case, we are using the YoloBox Pro, so that there is also another option, which is to insert a SIM card to YoloBox Pro. So these devices can connect to the 4G Internet just like your phones.
2.Use the Bitrate control to avoid the stutter
Both YoloBox Pro and the YoloBox, now supports 3 bitrate modes, including CQ (Constant Quality), VBR (Variable Bitrate) and CBR (Constant Bitrate), plus the option to set the bitrate ranging from 2,000Kbps to 8,000Kbps. You can choose whatever that best suits you for the best live streaming.
3. Customize the graphic overlays to make the wedding look Pro
You can design your wedding watermark in advance, and you can adjust its color size or position, scale and offset on the touchscreen.  
4. Engage with your Audience
How to engage with those who can't come to the wedding can be a big problem. YoloBox gives the option to leave comments on the livestream. When guests leave comments on FB or Youtube, you tap the comments and it will appear on the screen. 
5. Keep monitoring the livestream
You can plug in a headphone to check whether the audio is working, and check on the screen if there is a frame drop, and make the adjustment in time.  
 3,940 total views,  19 views today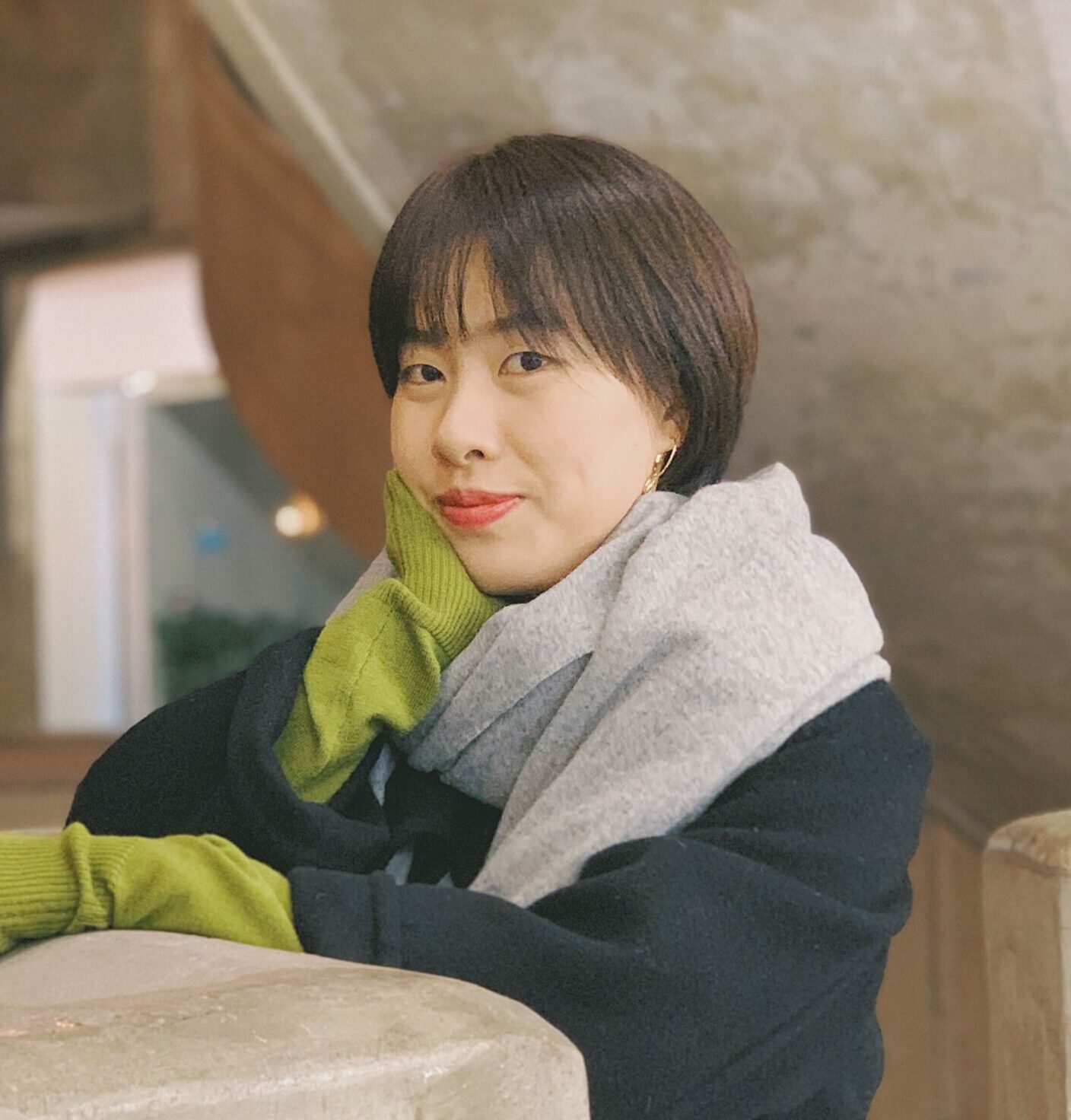 Hanru is a marketing specialist at YoloLiv. She manages all the social media accounts, blog posts about the AV industry, and all the videos including product tutorials about YoloBox and YoloBox Pro.