What is YoloCast
YoloCast is a professional, easy-to-use live streaming platform where you can broadcast video and live stream events to your audience wherever they are, whether on your own website, social media platforms like Facebook, YouTube, Twitch, or any other RTMP destinations.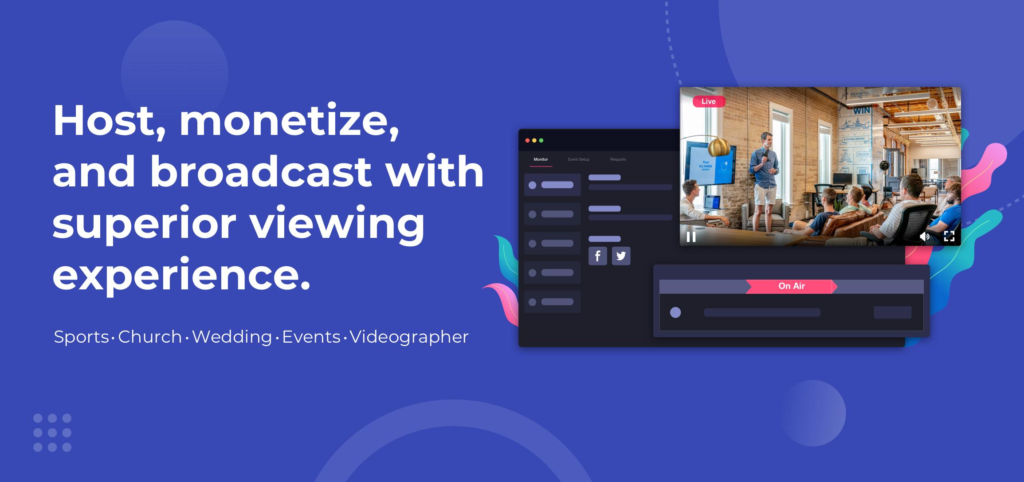 Why YoloCast
Live stream with any encoder you prefer
YoloCast works with an array of live streaming encoders, be it live streaming hardware like YoloBox lineups, streaming software or apps.
Live stream to your viewers, wherever they are
Simulcast live events to your own website, Facebook Live, YouTube Twitch, and any RTMO destinations. Wherever they are, where YoloCast comes in.
Customize for a professional look
Customize your stream with branding and graphic overlays. Opt to embed a player, description or a full-featured layout for a professional look.  
Understand the YoloCast Dashboard
The YoloLiv Dashboard is where you will manage your YoloLiv account's settings and broadcasts from beginning to end.
Events
The Events button is used to schedule the live events you plan on live streaming. All the upcoming events and past events are all shown here under different tabs.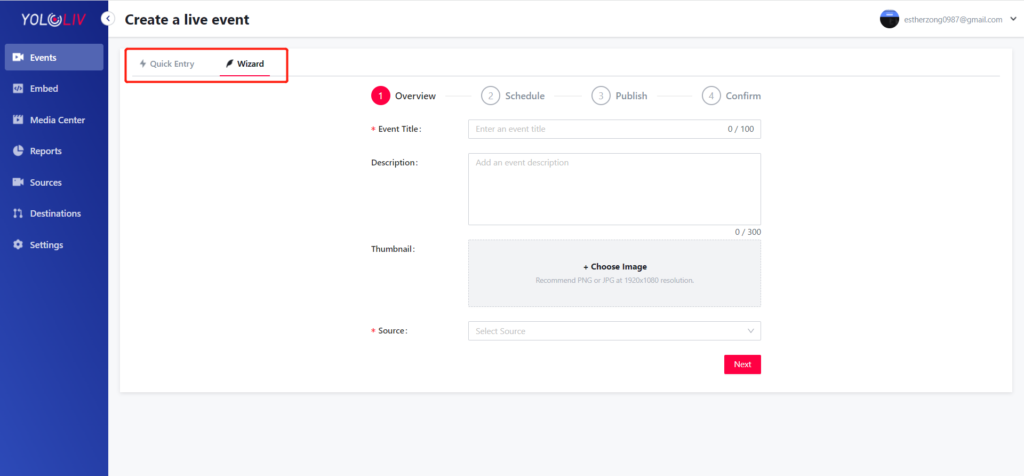 Embed
The Embed button provides a page where code can be tailored and copied for allowing YoloCast video player or highlight videos to be placed on your website.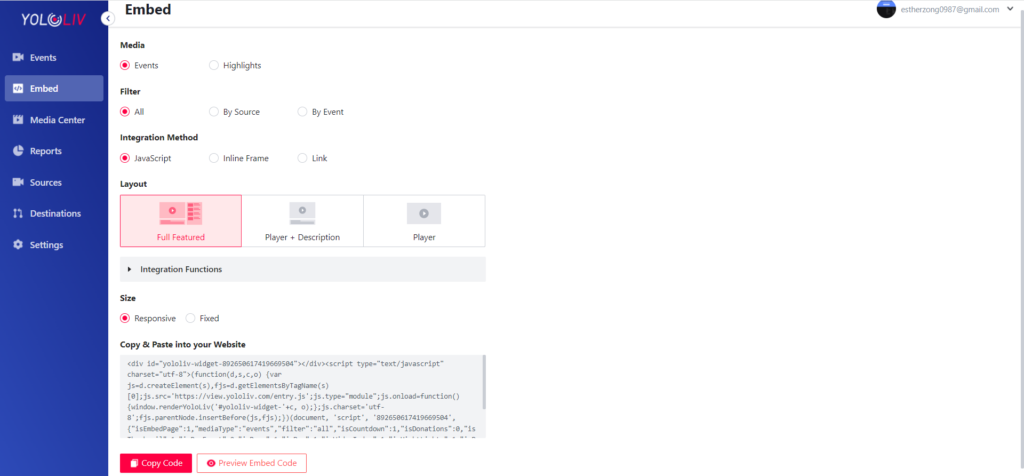 Media Center
The Media Center button allows you to upload pictures for thumbnails, documents, videos as video sources. The completed live stream events will be automatically saved here as Live Events. Uploaded and edited overlays will also be saved automatically here.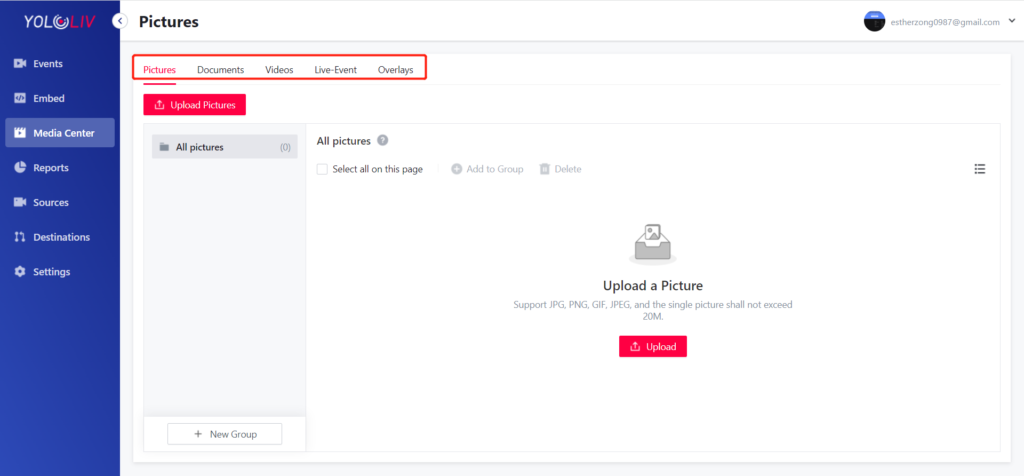 Reports
The Reports button will display all your viewer analytics, including total and unique viewers, average view duration, the proportion of gender (male vs female), device type(mobile & desktop), audience type (new vs returning), a map of where viewers are watching from, and more. You'll easily get a big picture of how your live stream performs and who's watching it.
Sources
The Sources button will display which encoders are linked to your YoloCast account as video source. Simply tap on the "+ Add Source" button and select the RTMP encoder of choice. It can be streaming hardware like YoloBox lineups, streaming software and streaming apps.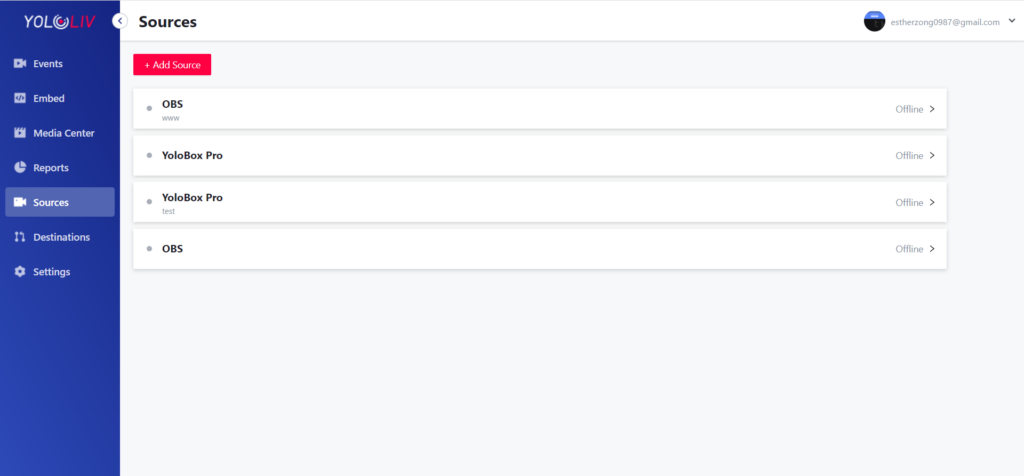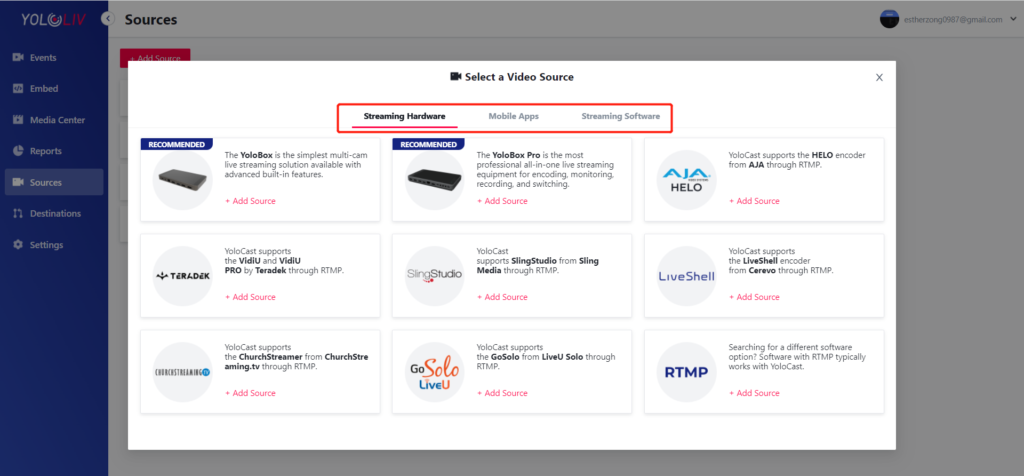 Destinations
The Destination button will display the destinations to which you want to send your live streams to, including Facebook, YouTube, Twitch, and any RTMP destinations.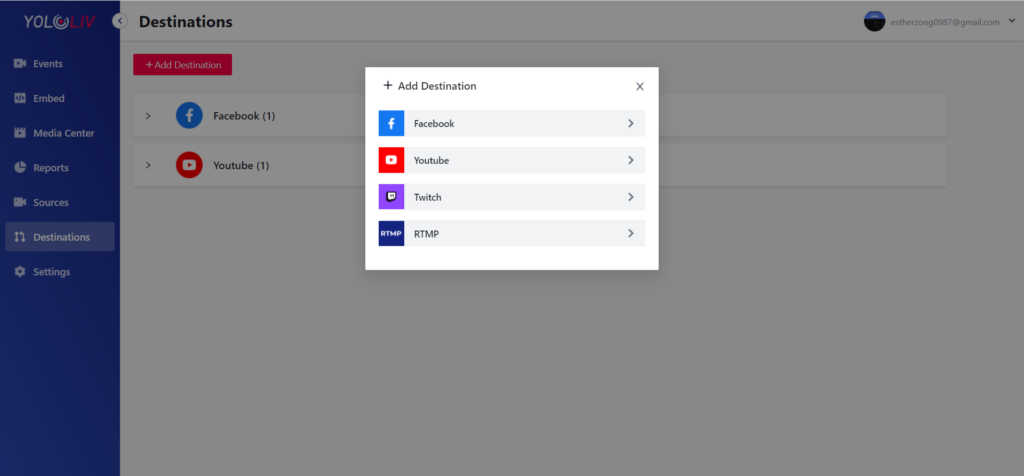 How to Get Started with YoloCast
We will show you all the steps you need to take to get started with YoloCast.
Step 1
Start by logging in to YoloCast using your YoloLiv account from here.
Step 2
Click on the Sources tab to add an encoder source. Let's take YoloBox Pro for example.
Tap on "+Add Source", and select YoloBox Pro. After completing the Source Name and Descriptions, you'll get the Server URL and Stream Key to set up.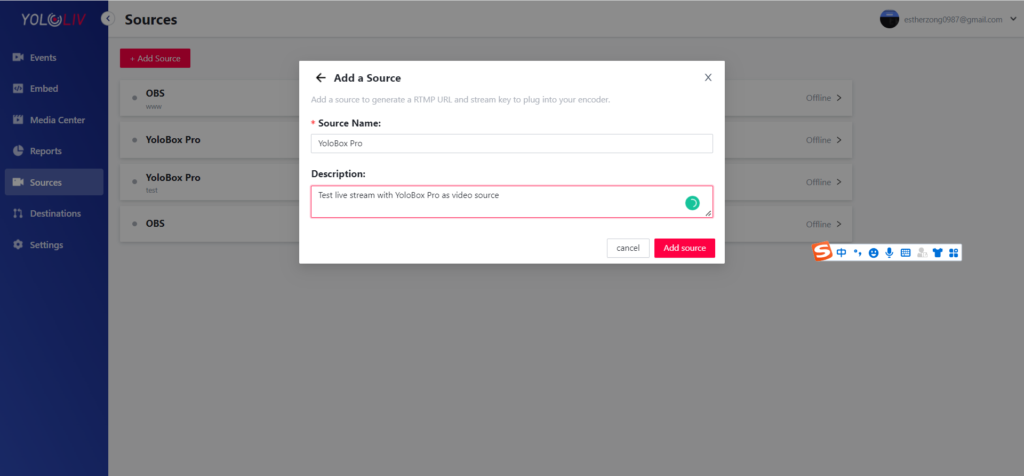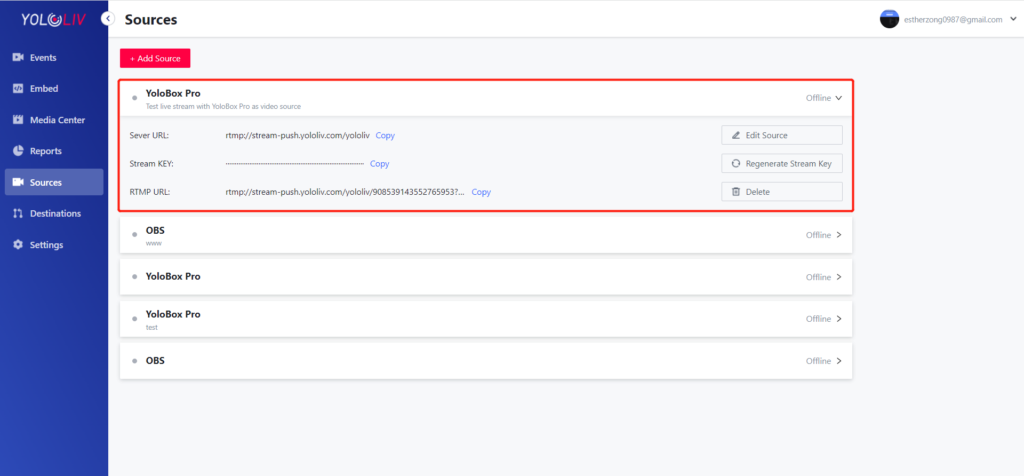 Go to YoloBox Pro, go to the "Platform" tab, add a new RTMP and send the link to your account email to set up. Once you've entered the RTMP Name, Server ULR, and Stream Key as requested, go live on YoloBox Pro until it shows "Live". Go back to YoloCast, you'll see a green dot next to the video source name you previously set.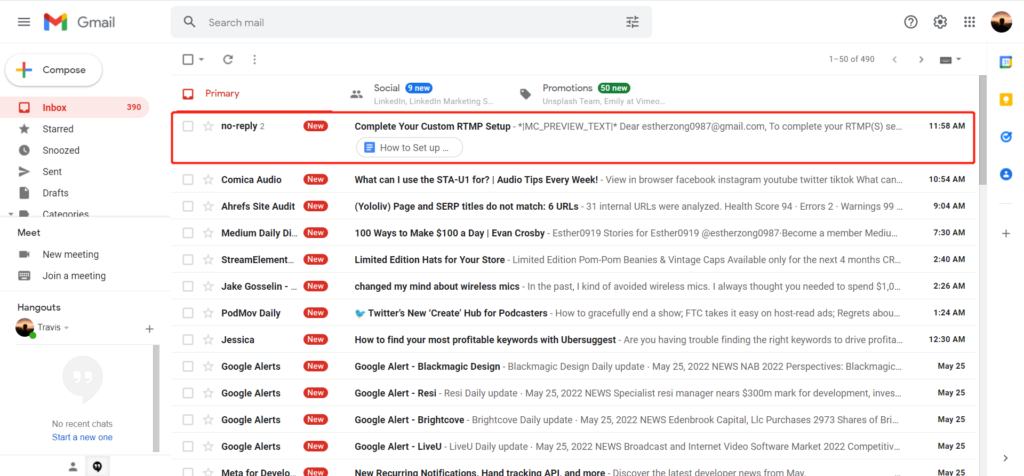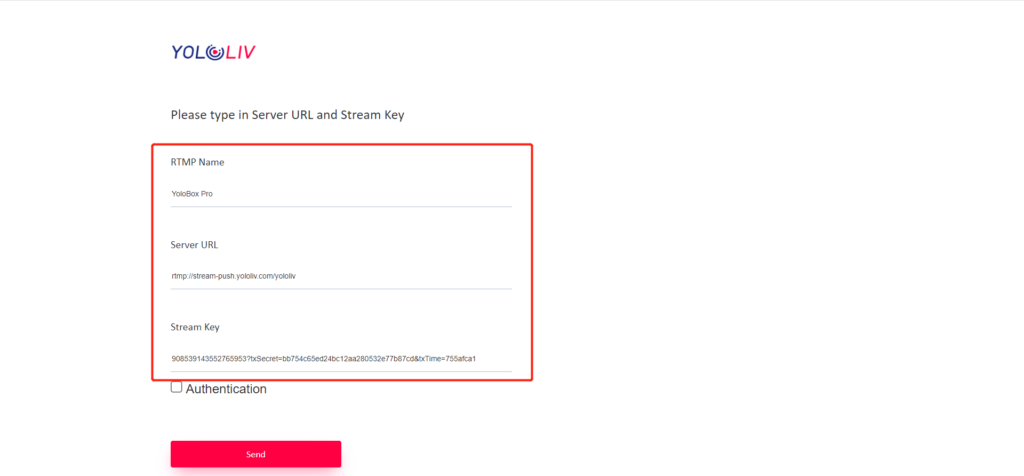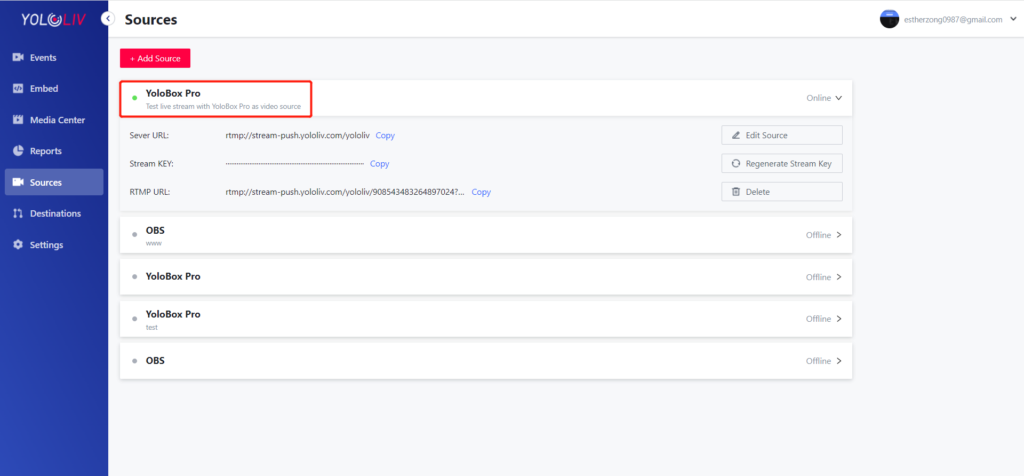 Step 3
Go to Media Center to upload videos if you prefer to use a local video as a source. Upload a picture as well if you want to have a thumbnail.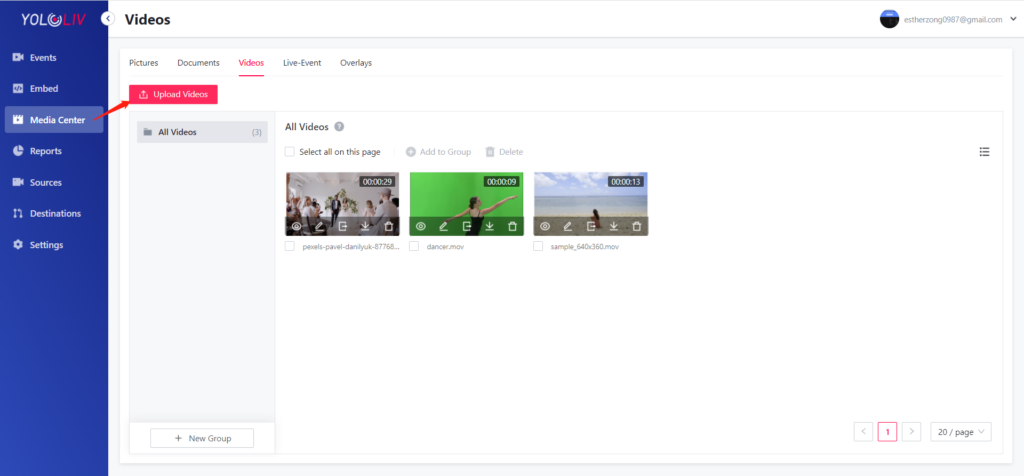 Step 4
If you plan on streaming to Facebook, YouTube, Twitter, or another social media destination, you'll want to set that up next. Go to Destinations, and connect your social media account with YoloCast.
Please note, streaming to Facebook Page is not supported yet due to authorization review.
Step 5
Once that's set up, you'll want to schedule a live event. This is one of the most important steps for streaming with YoloCast.
Click on Create a Live Event and fill out the information needed for your broadcast. Once it's finished, then you're good to go.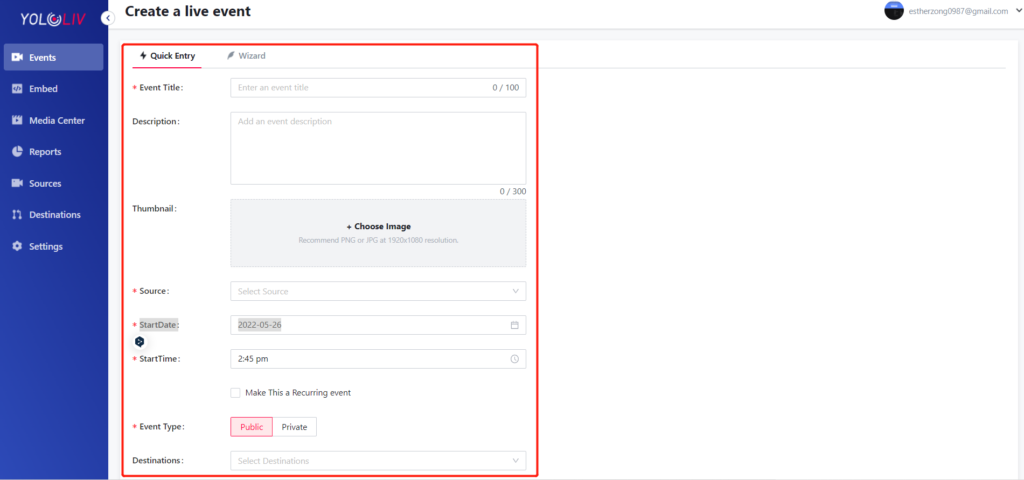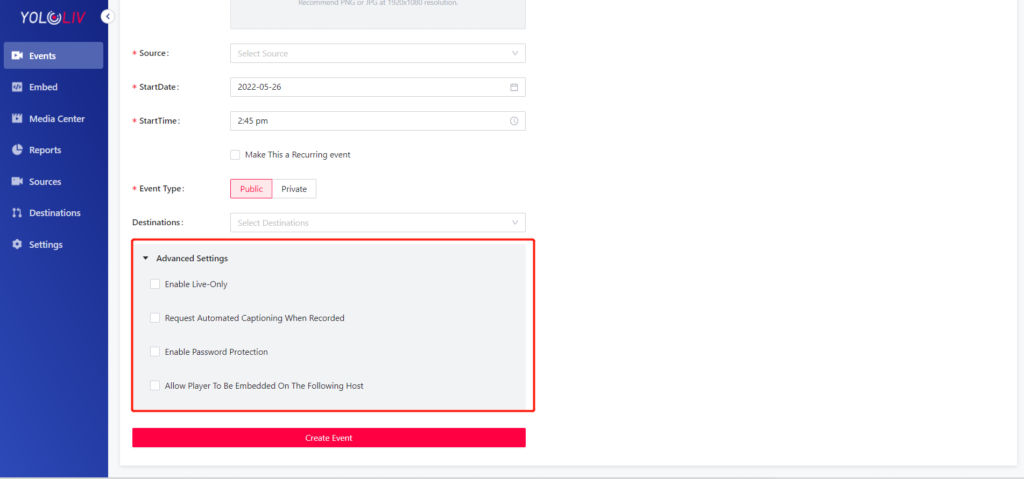 Step 6
Once your broadcasts are scheduled, you'll want to go to the Embed tab to embed your live event on your website. Most websites use the Javascript embed code, but if that doesn't work for your website, try the Inline Frame code or link.
Besides, we also offer you the embedding options for layout. You can opt to choose the full-featured, or player+Description, or simply the player.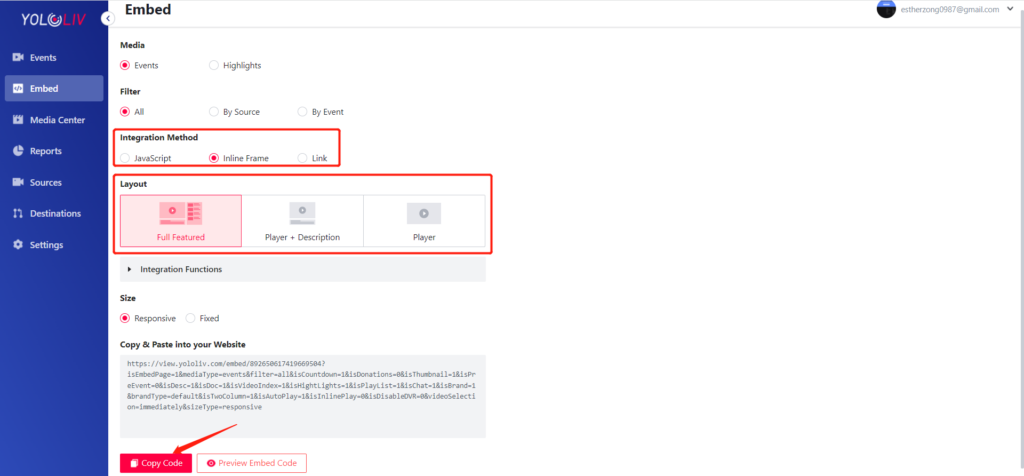 YoloCast Feature Highlights
Concurrent Live Streams
Live stream 2 or more live events simultaneously with just one account on one YoloCast platform.
Simulated Live
Reach your audiences who couldn't tune in live by rebroadcasting recorded or uploaded live streams to any destinations at any time.
Stream Embedding
Embed your live stream directly to a website with a customizable player, so you can engage your audiences right on your own site.
Branding & Graphic Overlays
Customize your stream with your own logo and on-screen graphics by personalizing the fonts, colors and many more.
Events Replacement
Replace your live stream with an edited version to avoid bumpers. There are no second chances for streaming, but for replays, there are.
Highlight Clipping
Create a highlight video clip while streaming, instantly share it on social media and attract interested audiences for a high engagement.
Join YoloCast Beta Testing Program
YoloCast is about to launch! We're now actively recruiting beta testers globally to share your insights, ideas and suggestions to help us get better.
What You Can Get?
Becoming a YoloCast Beta Tester, you'll get a sneak peek at this service before it's officially launched. We appreciate and value your feedback and ideas. Your contribution will help shape and build the future of this product.
What else:
You'll get a one-year (after YoloCast is officially launched) free use of the most advanced Plan – "Growth" with all features included and new features that are coming soon.
For those who'd like to purchase a plan after the official launch, we'll offer a discount as well.
2. Who & What We Want?
BoxCast, Vimeo, Resi, Dacast and other similar live streaming platform users preferred
Constant feedback (Bugs, features, suggestions for improvement, wording suggestions, etc).
6 months of testing from right now
Please note that if you failed to continue contributing feedback to YoloCast, you will be deprived of the benefits including the one-year free use of the "Growth" Plan and purchase discount.
3. How to Apply?
It's easy. Simply send a message to estherzong@yololiv.com for review. A brief introduction about yourself is preferred. Once it's approved, you can start testing right away.
4. How to Start Testing?
Each of you will get a dedicated customer support to handle your feedback.
You'll get 2 docs for the testing, Beta Testing Checklist and Testing Feedback.
I will invite you to our Beta Testing Group, where you can get the latest news, product updates, tutorials, answers and more.
Thank you so much for your support for YoloLiv YoloCast. We are very excited to hear what you think. If this sounds interesting to you, feel free to contact us via estherzong@yololiv.com. We will be in touch shortly. Thanks!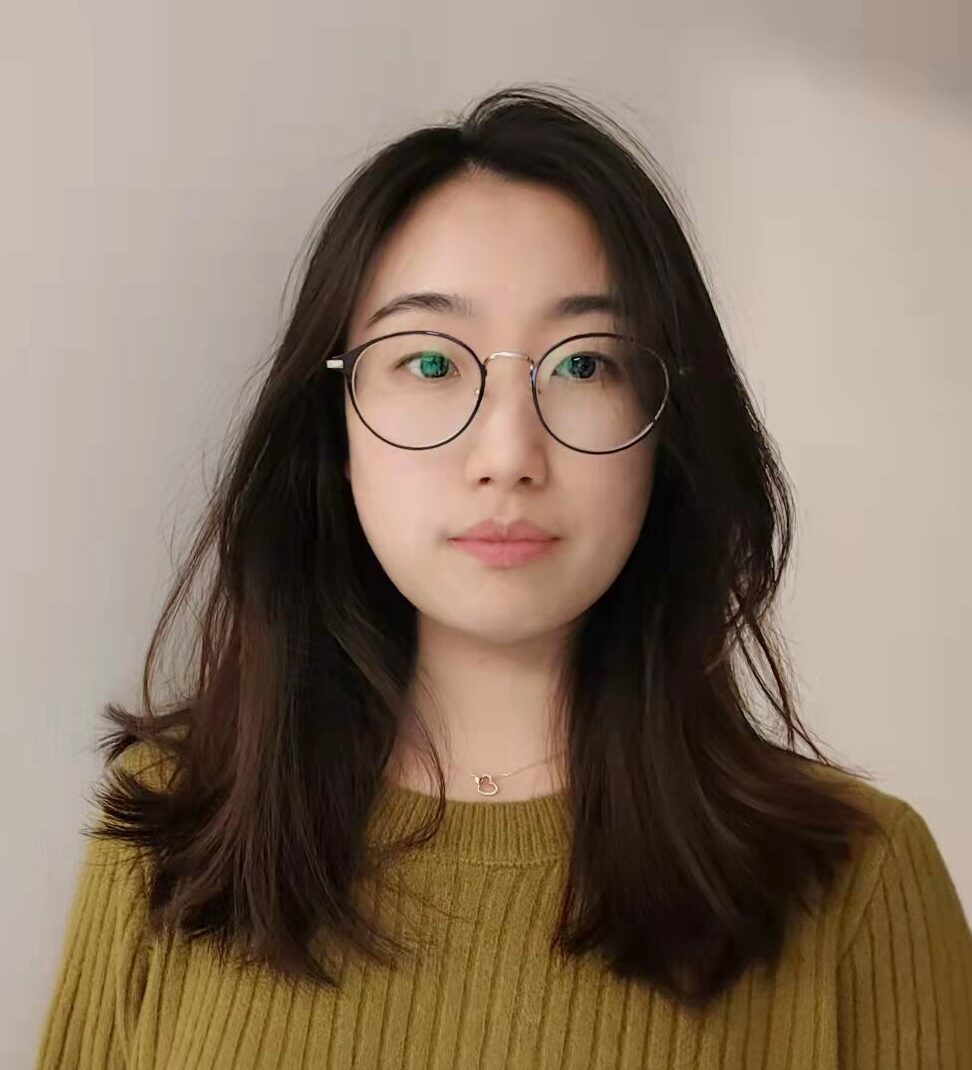 As product operation manager at YoloLiv,  Esther and her team stay focused on our customers' needs and constantly push forward new updates for YoloBox and Pro. Also, she contributed some blog posts from perspectives on how to enhance live streaming experience, live streaming sop for newbies, and more.