Greetings to our loyal community!
We are thrilled to announce our latest promotion that is sure to electrify your connectivity experience! For a limited period, we're giving away additional data allowances on purchases of select packages. But hurry, this offer is only valid until July 16th, 24:00 UTC time!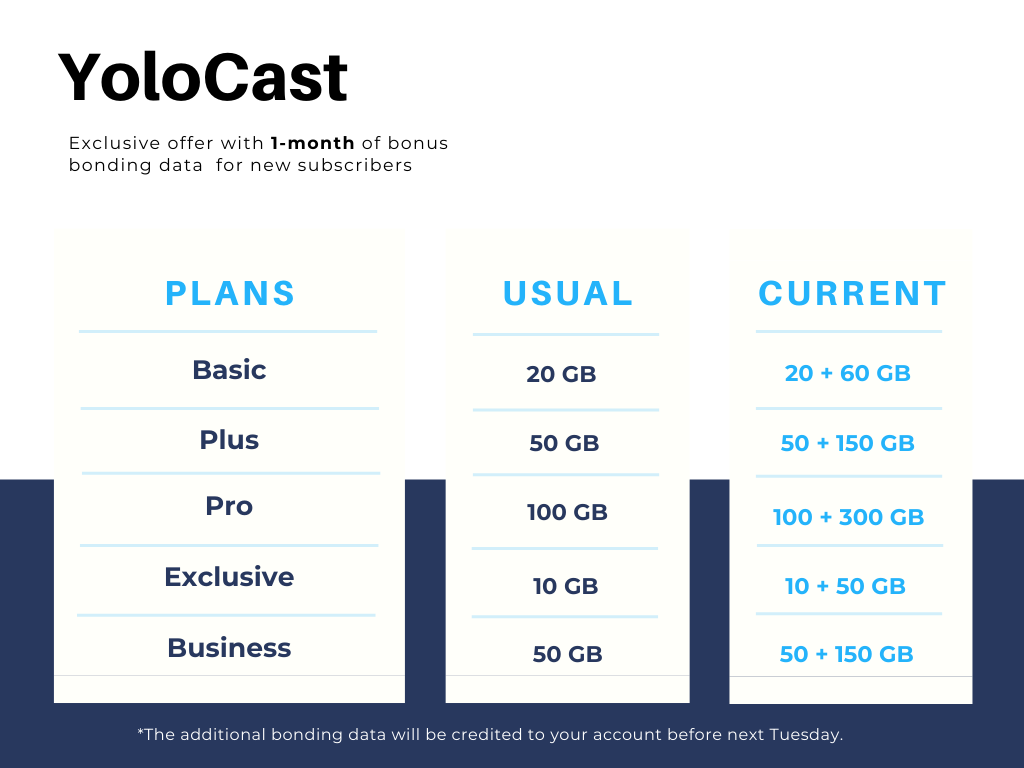 Supercharge Your Bonding Package
If you've been thinking about subscribing to one of our Bonding packages, there has never been a better time. We're rewarding our customers with extra data on top of what you'd normally receive. Here are the delightful details:
Basic: Purchase this package and we'll supercharge your account with an additional 60GB of bonding data. That's a sizable increase to keep you connected longer and stronger!
Plus: Choose the Plus Bonding package and we'll pump your data balance with an extra 150GB of bonding data. Perfect for those who need a little bit more oomph in their internet adventures!
Pro: Go Pro and we'll reward you with a mammoth 300GB of extra bonding data! This deal is for the true data heavyweights who can't get enough of streaming, downloading, and more.
Bonus Data for YoloCast Plans
But wait, there's more! We've got some generous giveaways for our YoloCast customers too. If you're planning on buying the Exclusive or Business packages, prepare to be pleasantly surprised:
Exclusive: Choose our Exclusive package and enjoy a bonus of 50GB of bonding data. On top of this, we're adding a whopping 1TB of bandwidth to keep you ahead of the curve!
Business: Opt for the Business package and we'll load up your account with an extra 150GB of bonding data and a colossal 2TB of bandwidth. This combo will certainly fuel your business communications to new heights!
These fantastic data deals are only available until July 16th, 24:00 UTC time, so act fast! Remember, great internet experiences start with great data, and we're giving you the chance to enjoy even more data for your dollar. Don't miss out on this chance to supercharge your internet experience.
Buy now: https://www.yololiv.com/compare-plans
Stay connected and enjoy the extra data!
 2,275 total views,  7 views today