Have you ever wanted to use YoloBox Mini to switch videos, invite guests, or mix your audio? Great news — YoloBox Mini v1.2.0 augments most of your favorite features and adds additional support for getting even better at using it! Now let's go and check out these amazing functions in the new version!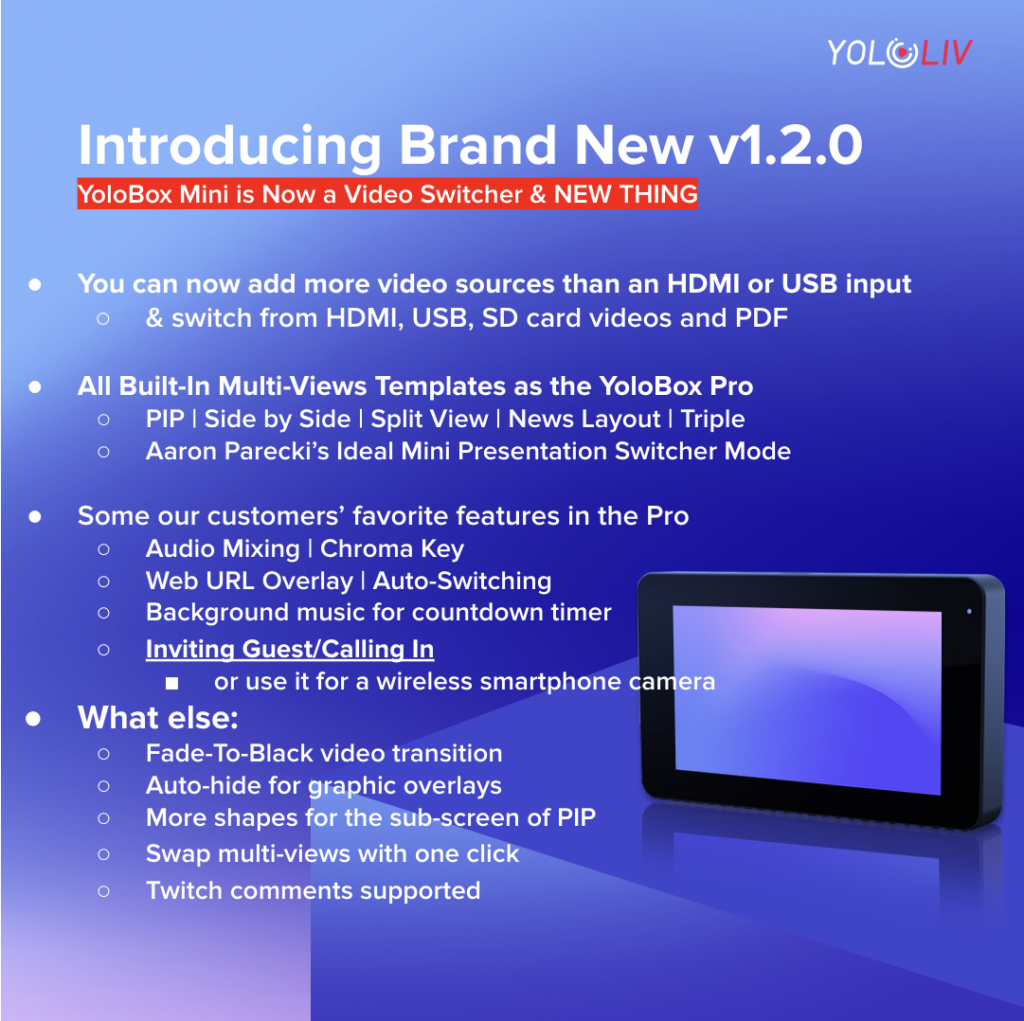 Video Switcher
ARight now you can add more than 1 video source and switch between 10+ sources including 1 HDMI, 1 USB-A, 2 local videos and 1 PDF from SD card, "live stream" source from another YoloBox, multi-views and invited guests.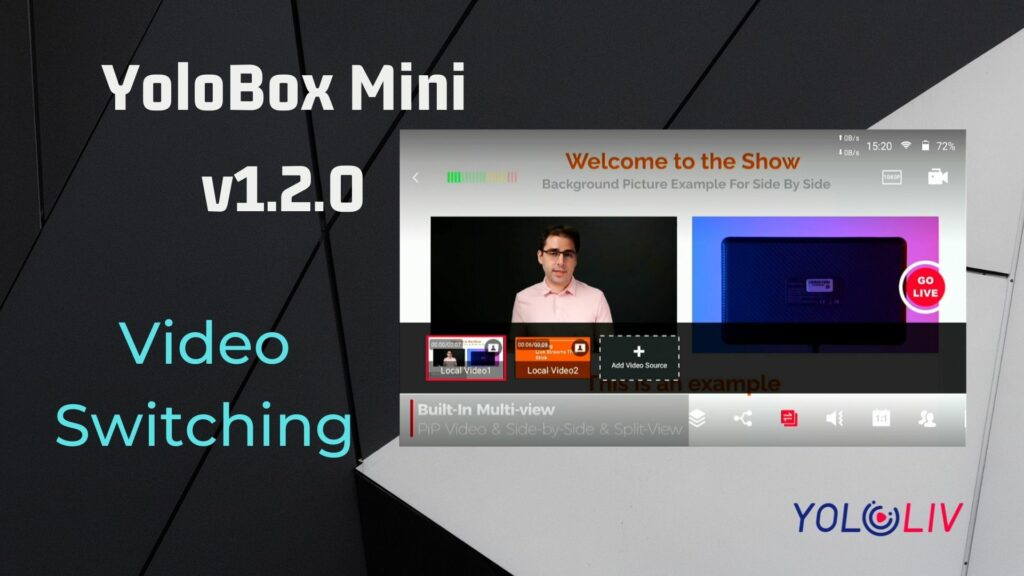 Inviting Guest
Right now you can have your guests join from phones, laptops, etc. by tapping on the invitation link sent into their inbox.
There is a new tab for the Inviting Guests feature, and there are some functions you may notice:
You can only invite up to 5 people as your guests by sending an invitation email directly on the YoloBox.
You can do the green screen, add overlays, do multi-views with other inputs, and do whatever you want.
Please make sure you have turned on the "Allow participants to join" option before the start, otherwise, the guests cannot join the stream.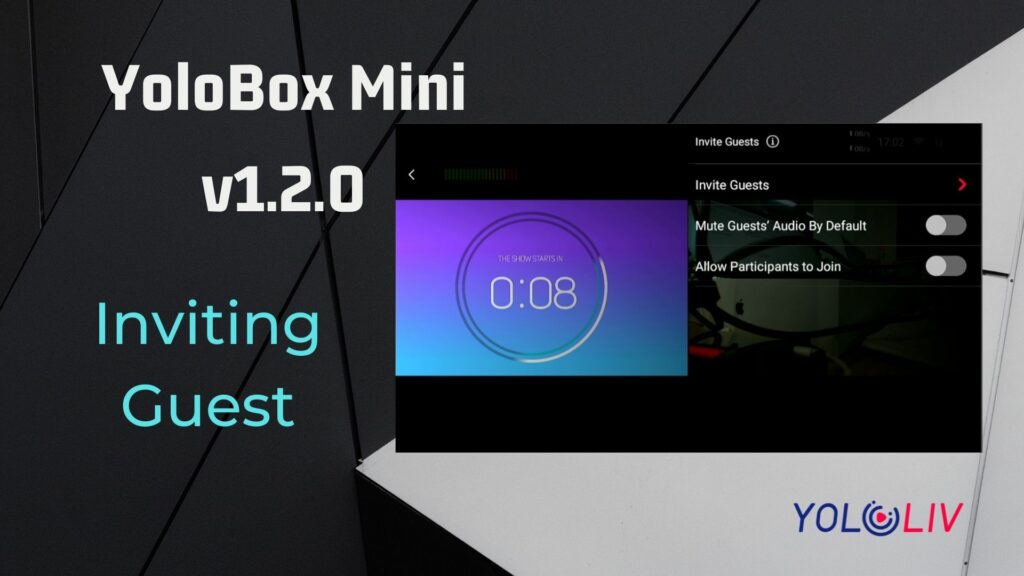 And here are some Notes while using the Inviting Guests:
We highly suggest you not use the USB port if you want to Invite guests at the same time.
Animated graphic overlays including web URL overlays, GIF images, and countdown timers are not recommended while using the Inviting Guest feature.
The inviting link can only be used on computers and phones without tablets. So if you are using an iPad, the invitation is not available.
Multi-View Templates
A Multiview is now supported on YoloBox Mini. You can now add PIP, Split View, Side-by-Side, News Layout, and Triple.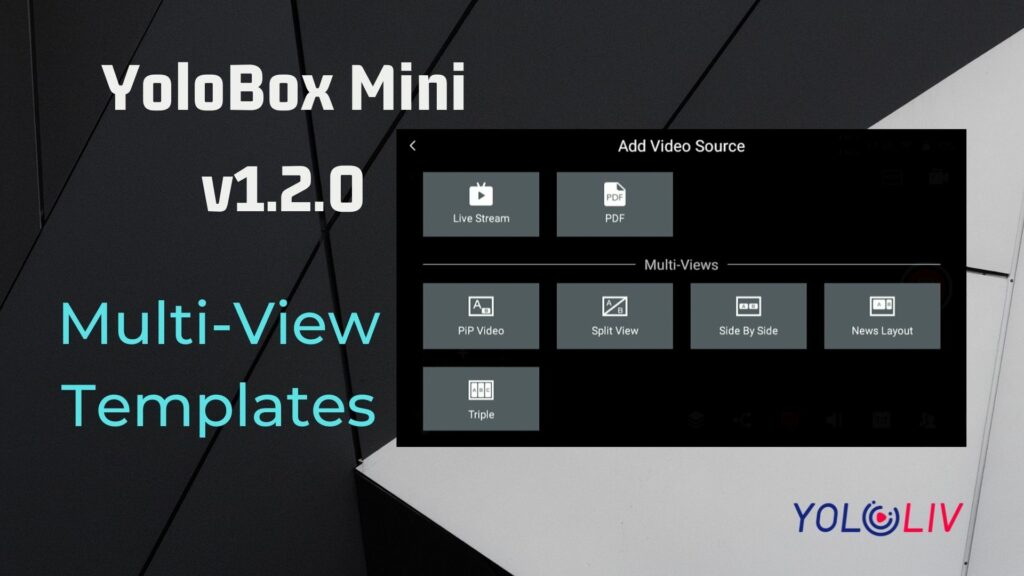 Presentation Switcher (Thanks for Aaron's Idea!)
The upgraded feature provides the ability to output a nice layout with the scaled and cropped videos, while also passing through both the camera and presentation video for other purposes like projecting in-house.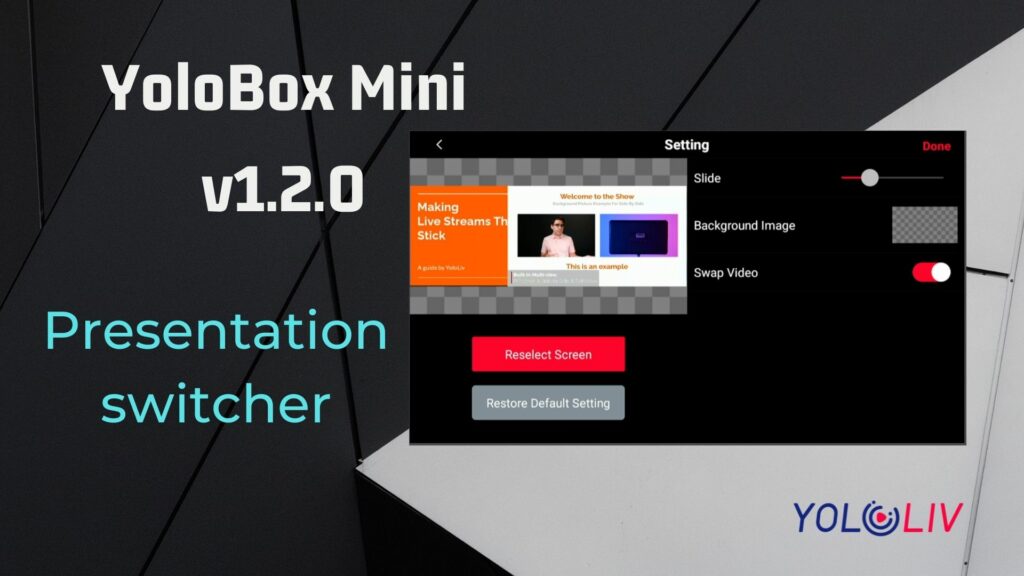 Web URL Optimized
As what we do on the YoloBox Pro, the tech team has optimized the display for the commonly used Web URL websites, like Flexyscore, Ligrsystem, Singular.Live, cricclubs.com, H2R.graphics and more.
By the way, we've released our own online graphic platform on YoloCast. Check the link below on how to use it to generate web URL overlays.
Auto-Switch
This feature is especially useful if you are running production by yourself, or if you want to have continuous camera switching.
It allows you to automatically rotate between up to 10+ sources, including:
Camera angles (HDMI, USB-A)
SD Card (videos & PDF)
Multi-Views (PIP, Side by Side, Split View, News Layout, Triple)
Live Stream (as video source)
Guest (up to 5 Guests at the same time)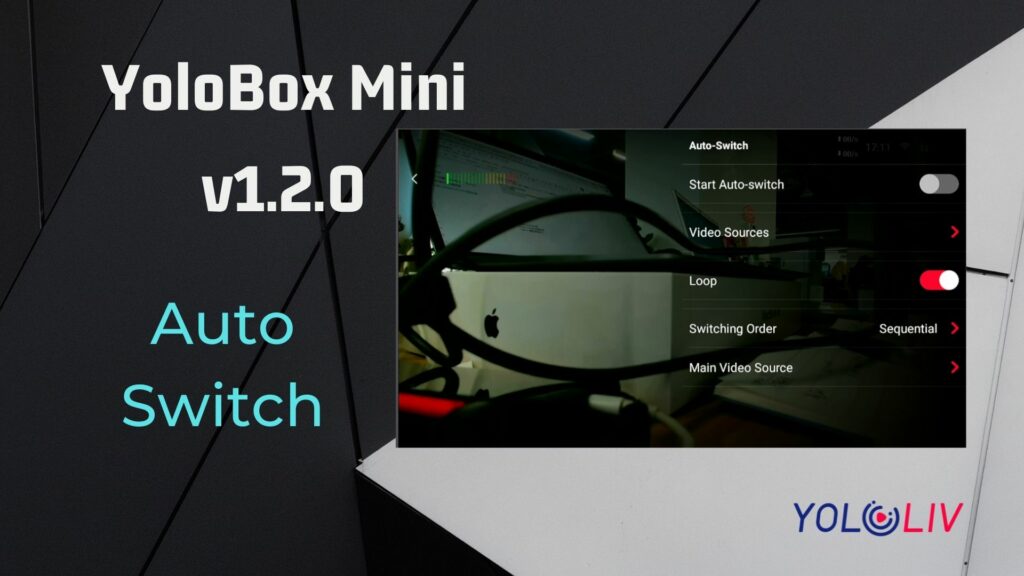 Simply preset video sources, switching order and main video source, and YoloBox Mini can automatically switch for you. Perfect for one-man band live productions.
Audio Mixing
YoloBox Mini now can support mixing audio from 1 HDMI source, 1 Line In/Mic In, 2 SD Card Videos and 5 invited guests. Please note that USB audio can not be mixed.
You can tap on the control bar to manually boost the volume of the incoming sound10 decibels, or move to the opposite direction to reduce the volume of a certain channel. Or simply tap on the "OFF" button to mute it so you don't have to remember where you were before the channel was muted. To mute the sound of all channels, simply tap the "OFF" button of the "Program" to do that.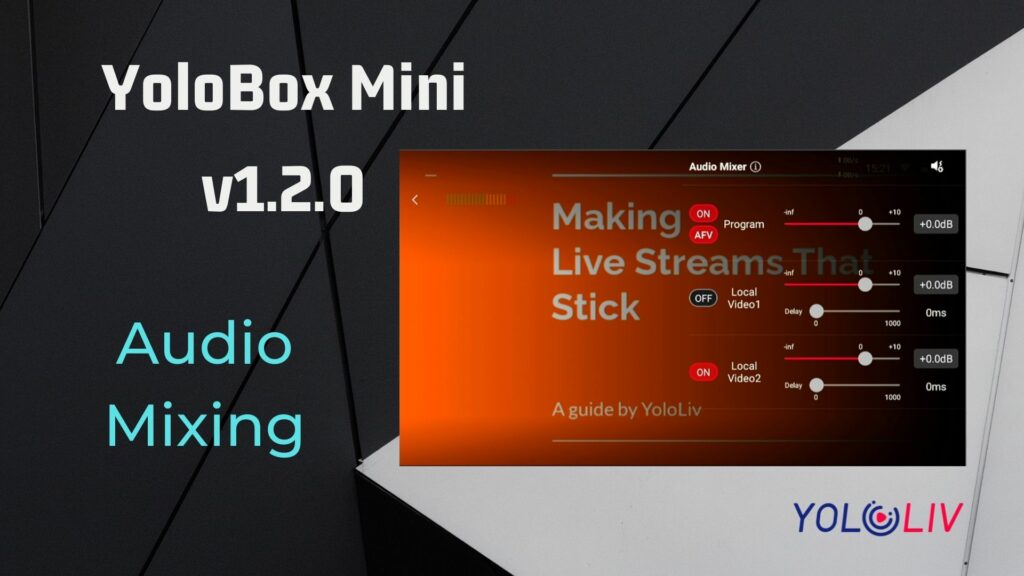 Chroma Key
Chroma keying is a great technique for adding variety and creativity to your live stream. And the steps to use it in the YoloBox Mini are simple and easy to learn. To know how to use the green screen function, you can check this blog from Anthony's video about what you can do with it.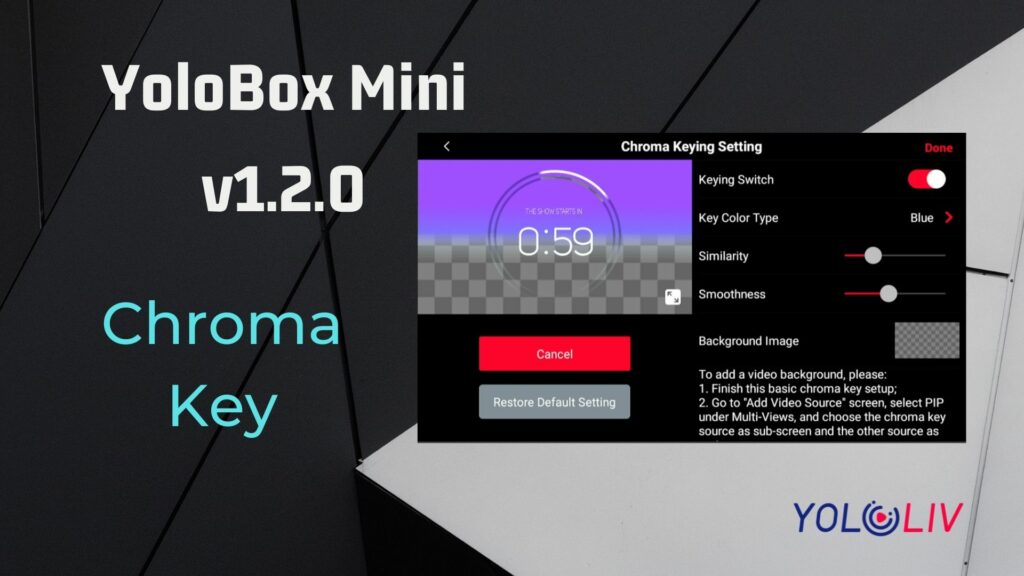 YoloCast Destination
YoloCast– YoloLiv's own cloud platform to host, monetize and broadcast – as a new streaming destination was added to YoloBox Mini. You can now live stream to YoloCast and then multistream to up to 15 destinations with the Business Plan. You can also enjoy some Premium features including embedding to the website, automated scheduling, simulated live, highlight clipping, automated captioning, real-time analytics, video monetization, and more.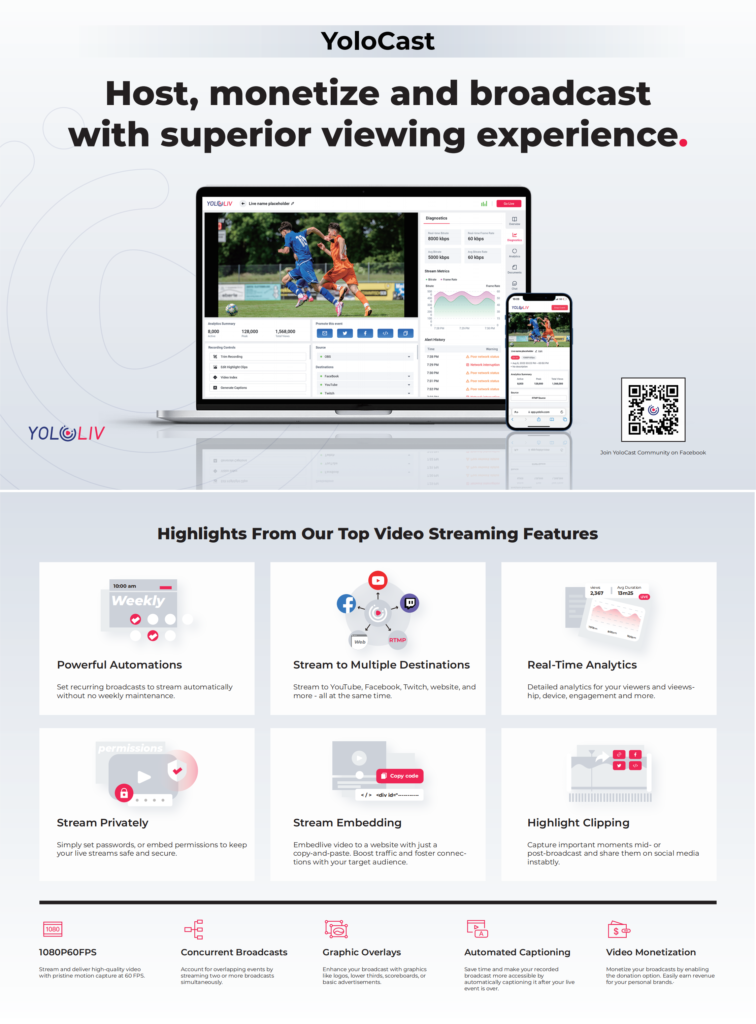 Unlock 40% Off Today for YoloCast – YoloBox Customers Exclusive! Login YoloCast and subscribe with the Promo Code: YOLOCAST. Limited-Time Offer!
Video Transition: Fade to Black
Once the "Fade To Black" is enabled, the program will fade to black (no audio/video). To "Fade from black", simply tap on the video source or disable the "fade to black" button.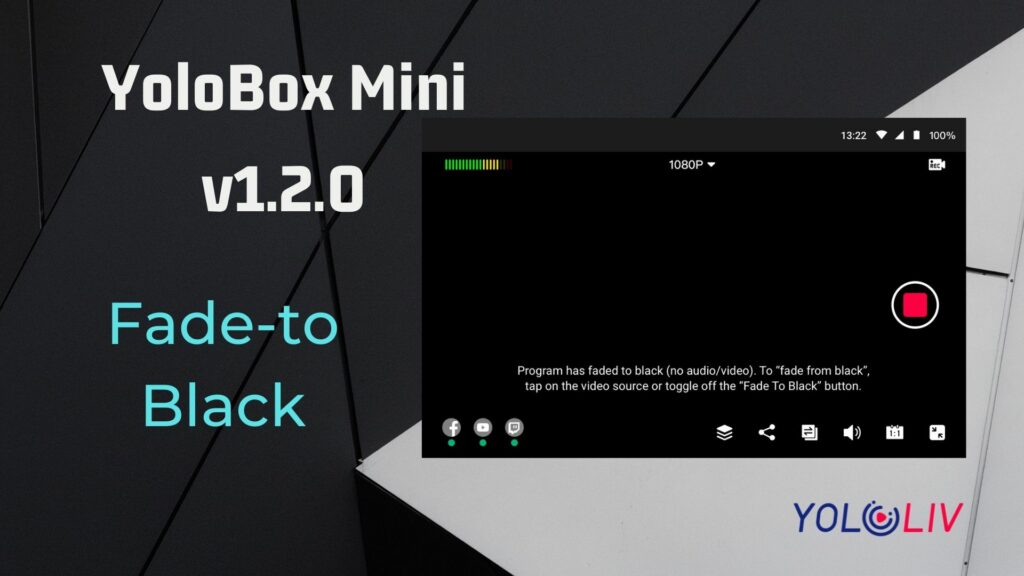 Automatically Hide Your Overlays with Pre-set Duration
The graphic overlays will automatically hide with a pre-set duration. Simply choose a graphic overlay, scroll to the button of the "Setting" page, enable "Auto-Hide" and set a duration time for the overlay.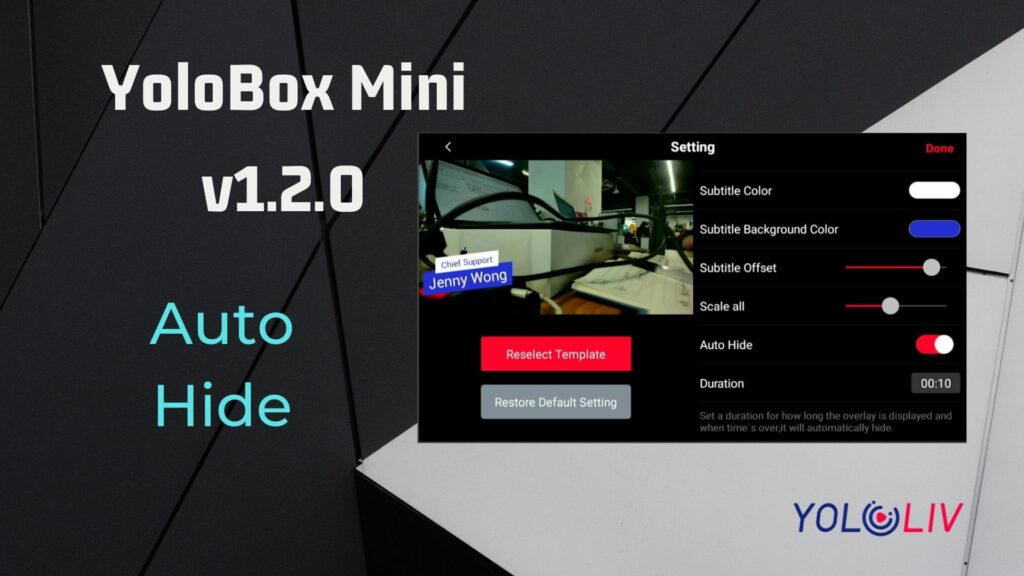 Background Music for Countdown Timer
In the 1.2.0 version, you can add your own background music to the countdown timer via the SD card. It supports MP3、WAV、WMA、Flac、MIDI、RA、APE、AAC、CDA、MOV. But the most suggested format is MP3.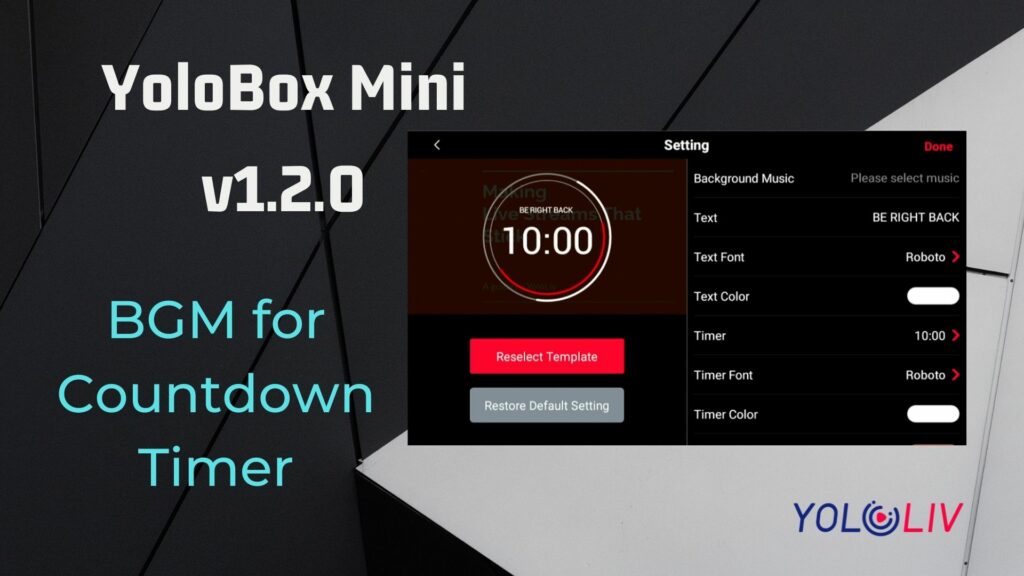 Picture-in-Picture Shapes
The old PIP only has a default rectangle sub-screen. And now we added new shapes for the sub-screen including circle and rhombus shapes.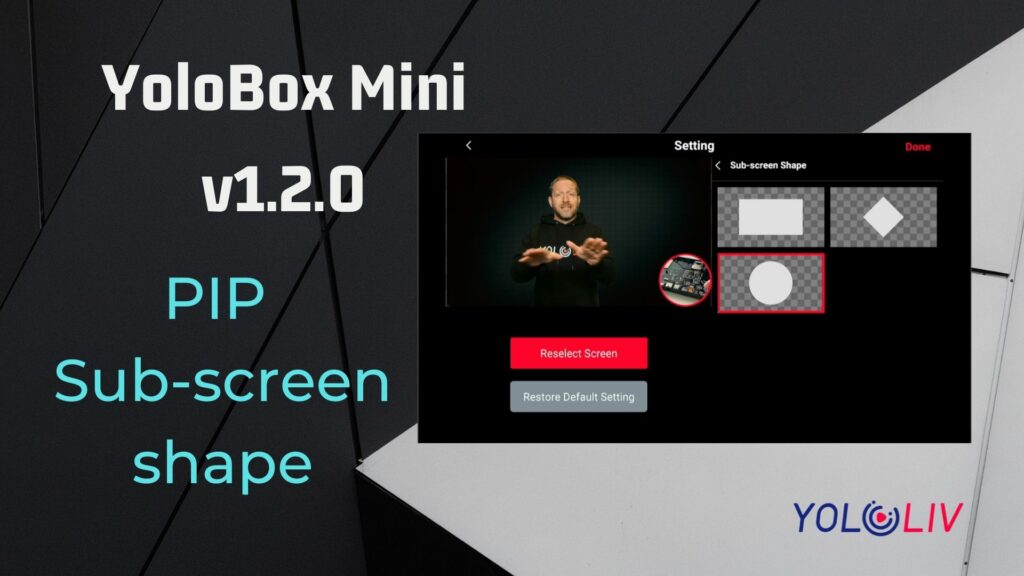 Some Other Updates
More options for video switching, including Video Switching mode, SD card video switching settings, SD card management, and Video source transition.
You can now have comments from Twitch.
You can choose 50 fps in the encoding settings now.
The default speed for Rolling Caption(Scrolling text) is changed from 1.0 to 1.5.
With more functions available on the YoloBox Mini, it opens more possibilities for us to extend while streaming. Leave us a comment below or on the Official YoloLiv Users Group about how they improve your live streaming experience. Always welcome ideas of what you want in the next update.

Cerise is a support specialist at YoloLiv with three years of experience working as a Customer Support Specialist in the consumer electronics industry. She also produces articles including video productions, tips and tricks and expert knowledge in the audiovisual industry.