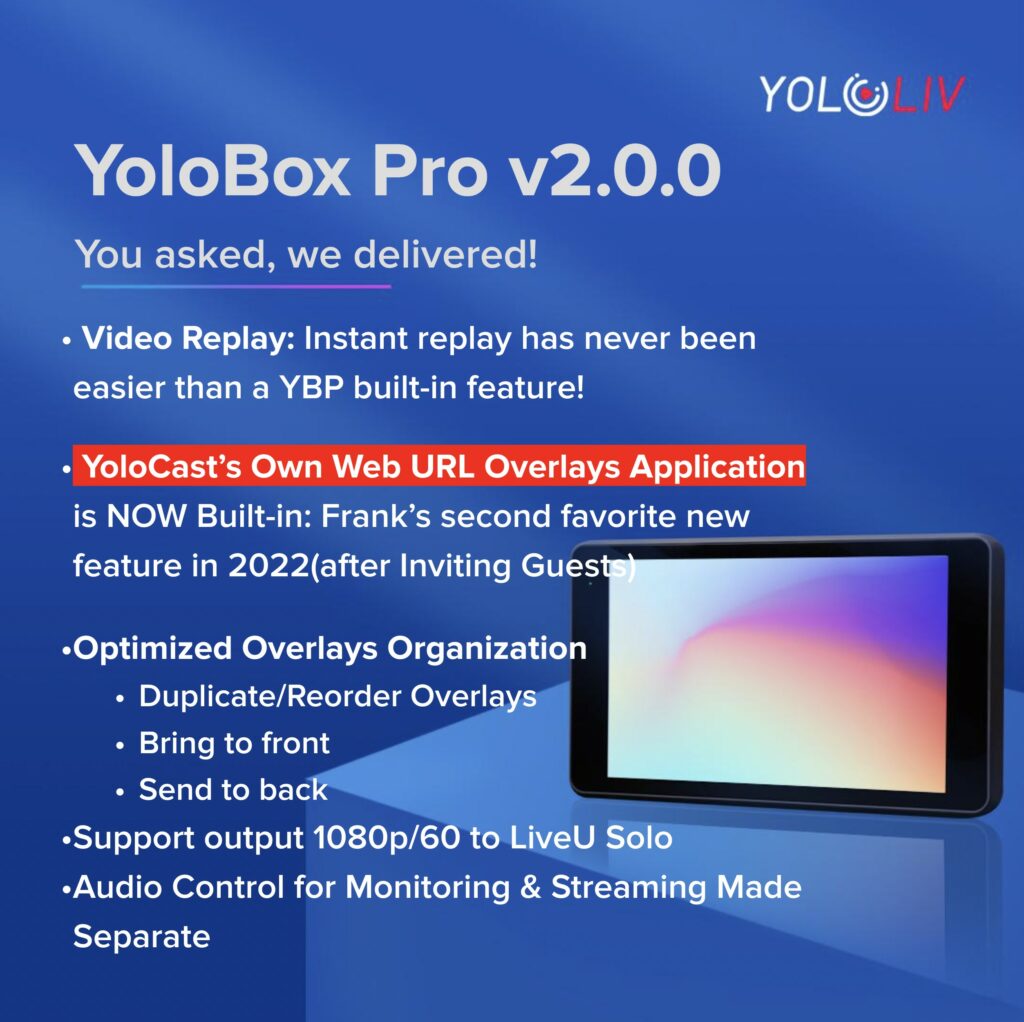 Do you use YoloBox Pro to stream sports, add graphic overlays to your viewers, or elevate your video conferences? Great news — YoloBox Pro v 2.0.0 augments some of your favorite features and adds additional features for getting even better at using YoloBox Pro. Ready to explode these new features? Let's start now!
Video/Instant Replay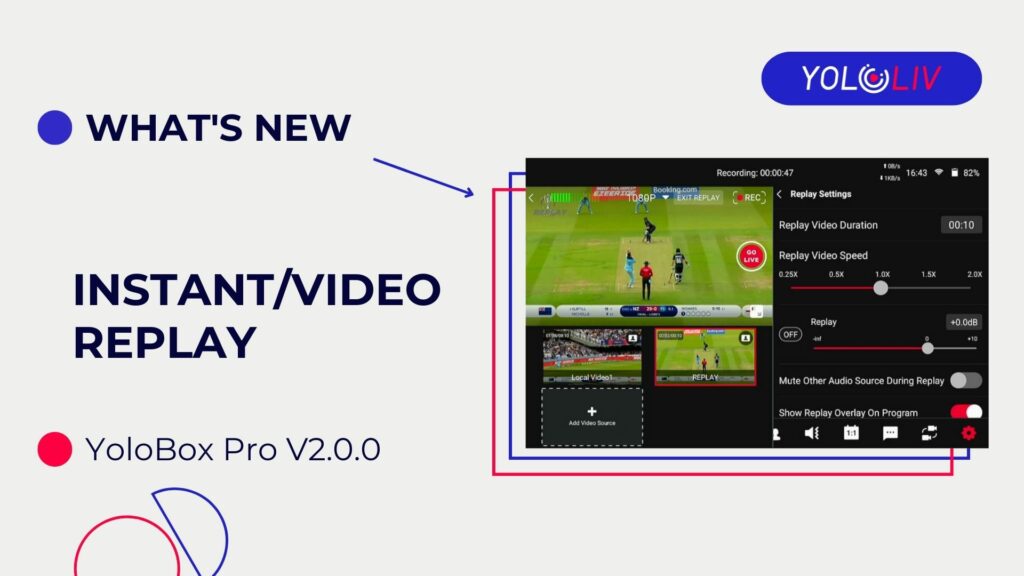 It's been a long time since asked about the replay function while streaming. And finally, in this version, we step on what we have promised in the past and bring the replay function to the table.
Video replay woulVideo replay would allow you to cut a short video from the live stream and add it as an isolated result on the monitoring page. You can modify the duration time, speed, and audio level for the replay video in the Replay settings. But please notice that the function is only available when you are recording or streaming.
Overlay Optimization: Copy, Re-order and Prioritize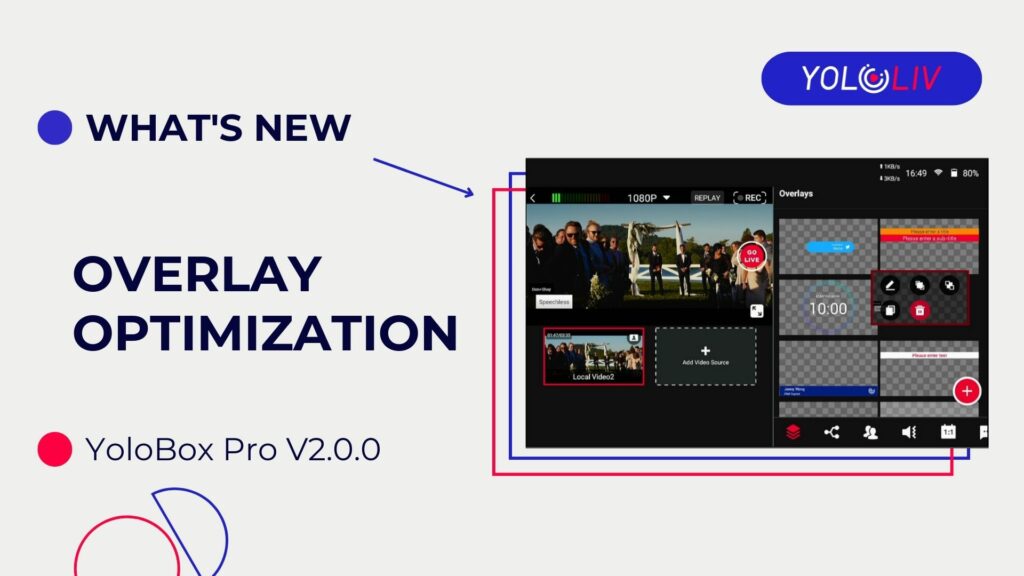 We have 5 options for you to manage the overlays. By pressing on it, you can edit, duplicate, delete, or drag to re-arrange them. If you have multiple overlays that are overlapped, you got the option to bring them to the front, or send them to the back. 
YoloCast's Web URL Application is Now Built-in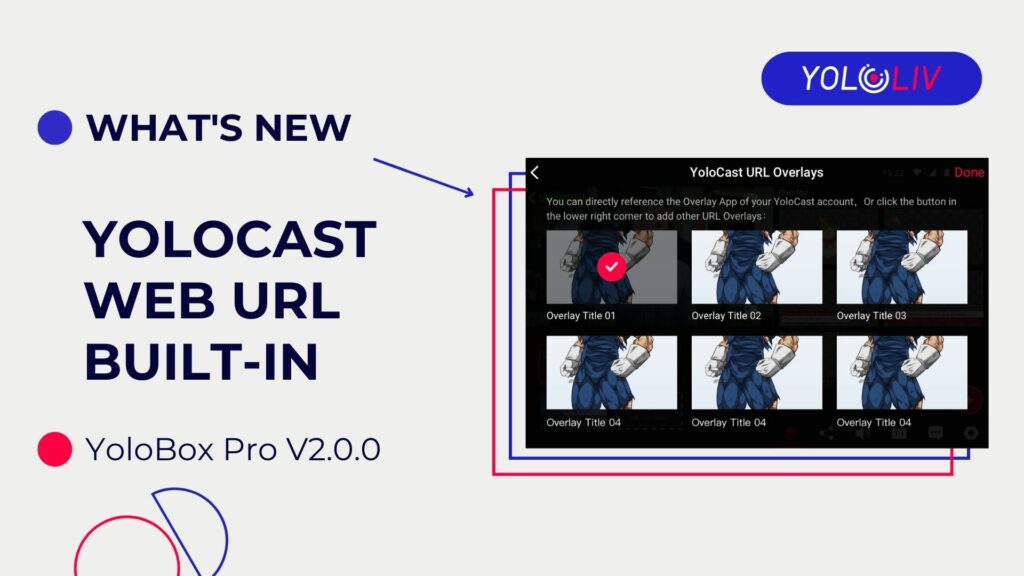 One of the most exciting functions of this update is that YoloCast's Web URL Application is now built-in. That means you can directly choose and use overlays created on YoloCast on YoloBox Pro without entering the link. And to know more about how to use the Web URL in YoloCast, check this blog for information.
Audio Control for Monitor & Program Made Separate
In the new version, you can separately control audio for the monitor and program(streaming/recording).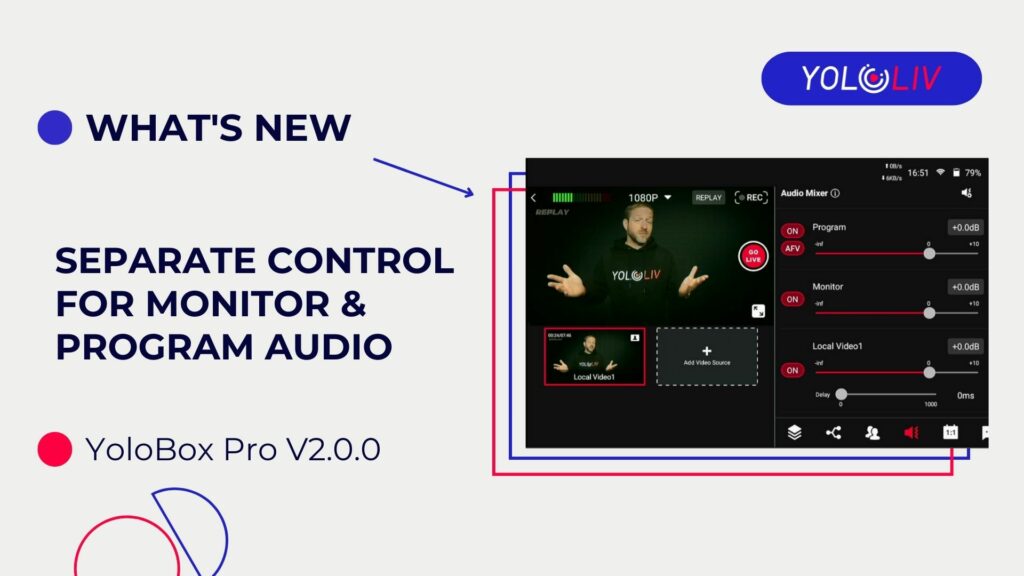 What's More
Support outputting 1080p 60fps to LiveU Solo
New Recording Button
Fixed the green edge problem of the SD card videos
We hope you do decide to upgrade as your facility grows and you do more advanced work! Become a pro streamer with resources delivered right into your hands. Want to learn more about YoloCast?  Click the Beginner's Guide to know how to use it.
Subscribe to this blog to get timely updates!

Cerise is a support specialist at YoloLiv with three years of experience working as a Customer Support Specialist in the consumer electronics industry. She also produces articles including video productions, tips and tricks and expert knowledge in the audiovisual industry.