We've just released another update for YoloBox in one and a half months. Can't wait to take a look what's new in v3.9.0? Let's dive in!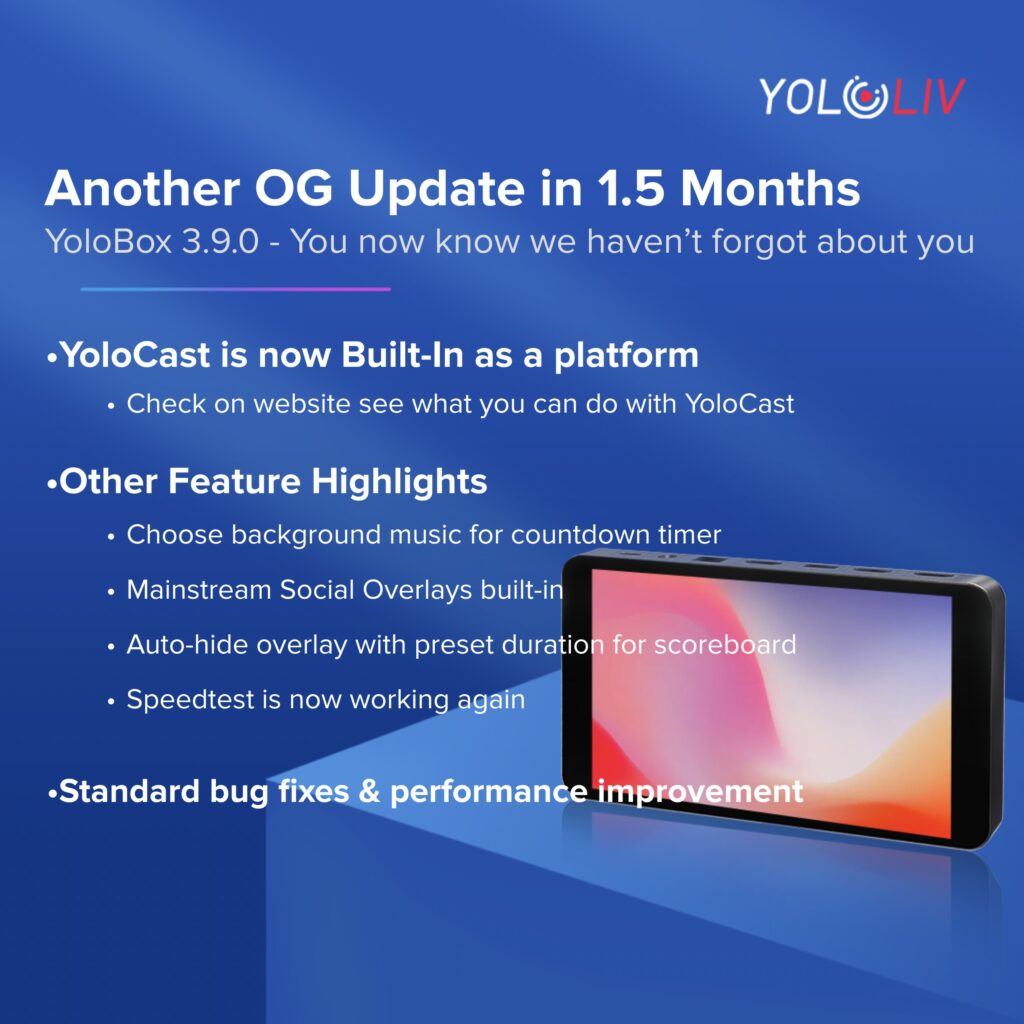 YoloCast Is Now Built-in as a New Destination
YoloCast– YoloLiv's own cloud platform to stream, host, schedule and monetize – as a new streaming destination was added to YoloBox. You can now live stream to YoloCast and then multistream to up to 15 destinations with the Business Plan. You can also enjoy some Premium features including embedding to the website, automated scheduling, simulated live, highlight clipping, automated captioning, real-time analytics, video monetization, and more.
You can now live stream from YoloBox to YoloCast with just a few cliks. No complicated RTMP setups. View tutorials.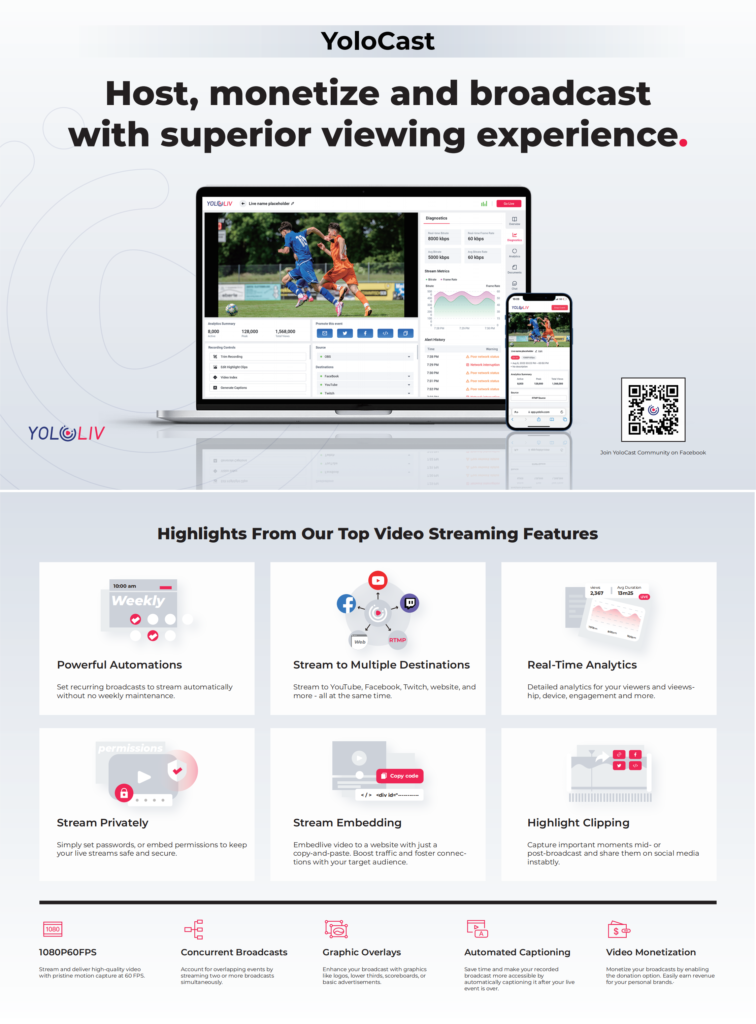 Unlock 40% Off Today for YoloCast – YoloBox Customers Exclusive! Login YoloCast and subscribe with the Promo Code: YOLOCAST. Limited-Time Offer!
Background Music for Countdown Timer Overlays
When it comes to live streaming, you want to capture your viewer's attention from the very first second or even before the show. That's why countdown timer overlay music matters. In this update v3.9.0, you can now choose a music you prefer for the countdown timer from an SD card or a portable USB storage. It supports MP3, WAV, WMA, Flac, MIDI, RA, APE, AAC, CDA, MOV. But the most suggested format is MP3.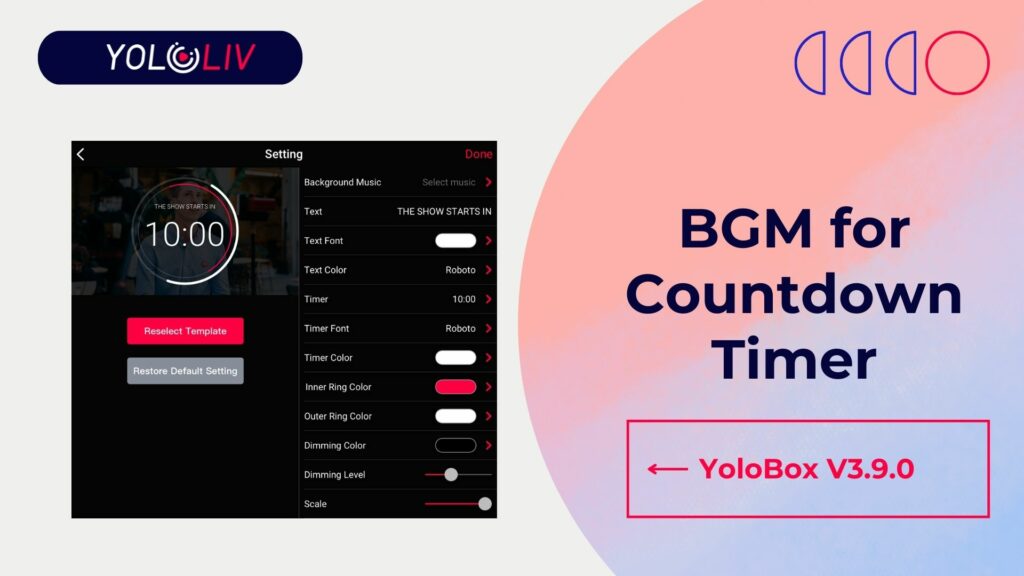 4 More Social Overlay Templates
4 more social overlay templates were added in this update. Right now you can choose from the 5 styles for mainstream social media platforms including Facebook, Instagram, Youtube, Twitter, and LinkedIn.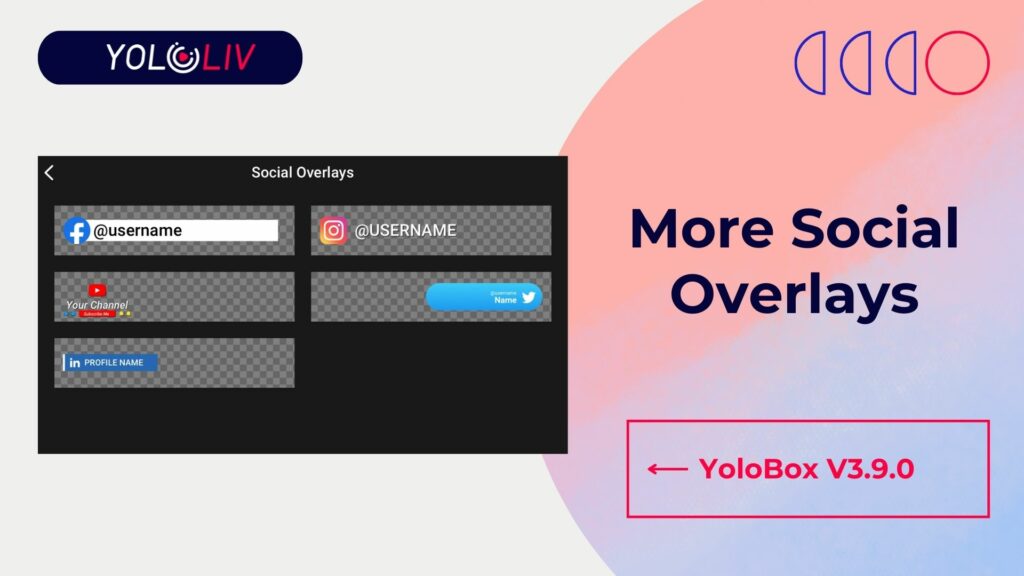 Automatically Hide Your Overlays with Pre-set Duration
The graphic overlays will automatically hide with a pre-set duration. Simply choose a graphic overlay, scroll to the button of the "Setting" page, enable "Auto-Hide" and set a duration time for the overlay. The overlays will automatically disappear when the duration ends.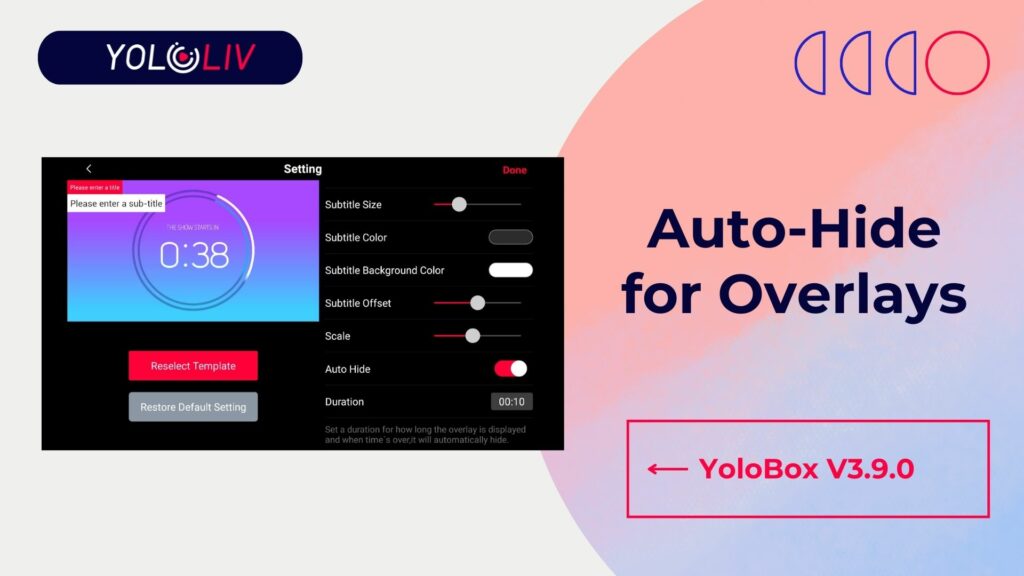 New Network Speed Test
The speed test function is now available again with the new website. Be sure to do a speed test before setting the bitrate and frame rate to deliver a high-quality video and the best viewing experience.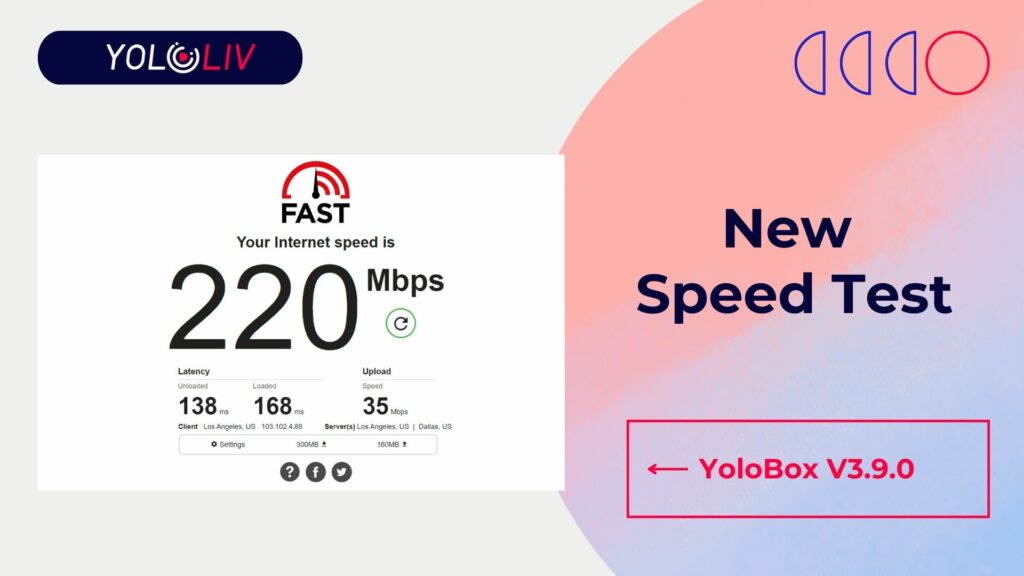 What Else Is New
You can now have comments from Twitch.
Scoreboard game name characters were added to 80.
Fixed audio issue while switching "Automatic" and HDMI video sources.
"No Sound" notification logic is optimized and you can opt to close it.
Thank you to each and every one of you for your support, patience, and kindness with us while we're developing and releasing the new features. If you have any questions, feedback or suggestions for us, feel free to leave a comment below or reach out to us at contact@yololiv.com. To get more live streaming tips & tricks, expert help from peers and more, join our Official YoloLiv Users Group.
Happy streaming!

Cerise is a support specialist at YoloLiv with three years of experience working as a Customer Support Specialist in the consumer electronics industry. She also produces articles including video productions, tips and tricks and expert knowledge in the audiovisual industry.