Nothing appeals to the human eyes more than action-packed, thrilling sports events brimming with excitement, an electric display of skills, and unwavering enthusiasm. But, daily schedules, work, and several other issues prevent you from sitting in front of the television for long hours.
This is when live broadcasts help you stay tuned with your favorite game and do not allow you to miss out on any excitement taking place on the field. Live broadcasting is particularly popular for sports events and the streamer can stream the event on multiple platforms at the same time to reach millions of people. 
YoloLiv has a wide variety of multi-camera live streaming devices that make live streaming super easy. Lightweight and easy to handle, broadcasters can carry these devices to any event without much hassle. They can also install these devices without much ado. Gone are the days when live streaming meant carrying heavy tripods, long winding wires, and much more. 

The best multi-camera live streaming devices of YoloLiv make sure that the audience remains updated about the real-time scoreboards. Additionally, live streaming devices help capture the players in action on the field from different angles which makes the audience feel like watching the game live. 
YoloBox, YoloBox Pro, YoloBox Mini, etc., are perfect devices for broadcasting sports events. You can set up the device within minutes and start broadcasting as quickly. No glitches, no sudden disconnections, and no hazy pictures – with Yololiv multi-camera devices, successful broadcasts remain guaranteed. 
Ways To Choose A Multi-Camera Equipment
For live streamers and sports broadcasters, the choice of multi-camera devices remains critical for their success. Here is what you need to keep in mind while choosing one. 
Resolution
No matter what sort of a camera it is, as long as it is a camera, it must be capable of offering the best quality picture. This is why resolution remains one of the primary aspects even for an advanced device like a multi-camera live streaming device. 
A streaming device, as good as YoloBox or Pro, offers crystal-clear, life-like images that make live broadcasting more exciting and enjoyable.   
High Dynamic Range
Another challenge associated with broadcasting sports events taking place in outdoor areas remains variation in light conditions. For example, suppose when a soccer match started, the weather was sunny and bright. But, within a few minutes, the conditions might change and become cloudy. This means, the level of light also will diminish. 
But, professional broadcasters cannot offer the audience poor quality picture owing to such fluctuations which are always unpredictable. A broadcasting camera with high HDR helps maintain the picture quality no matter the outdoor conditions. Though high HDR is not a mandatory feature, it surely can be an instrumental one in deciding your success.  
Simultaneous Streaming
The success of any live broadcasting depends on how many views it gets. Now, to enhance the number of views on any broadcasting, the best way remains to approach or reach more audiences. No matter which sports event you are live streaming, enthusiasts of these games remain spread across different platforms at the same time. 
Some may be active on Facebook while others might access YouTube. Therefore, while picking a multi-camera device, the buyer should focus on its ability to stream the event on multiple platforms simultaneously. 
Alternative Uses
When you buy a multi-camera device, it does not have to play its titular role every time. In fact, a device capable of performing alternative tasks is always a better catch in terms of investment. 
You can use an excellent multi-camera streaming device such as YoloBox Pro or Yolomax as a monitor, recorder, and more. Additionally, you can add creative overlays to make your videos more unique and appealing.  
Price
Another important factor to consider before buying a multi-camera streamer should be the price. Many people look for the cheapest alternatives. But, in reality, a device that is reasonably priced is always the best pick. The difference between the cheap alternatives and the reasonably priced ones remains quite narrow and delicate. 
When a device has all the advanced and essential features to guarantee the success of your broadcasts and yet does not burn a hole in your pocket, it is a reasonably priced one. On the other hand, cheap alternatives often come with compromised features that can make the broadcasts less successful. 
Benefits Of Using A Multi-Camera Equipment
Choose multi-camera equipment with advanced features and software and you can use it with a wide range of devices effortlessly without experiencing any installment hazards. 
Users can connect a wide range of devices such as laptops, smart TVs, tabs, and even PCs with this live streaming equipment.
For multi-feed broadcasting requirements, these devices are undoubtedly the best choice for remote productions.
The coaches and managers can evaluate the players of the teams after every match by analyzing the streams and helping the players improve their moves and strategies.
You can re-watch slow-motion replays, highlight reels, and other engaging content pieces. 
The Content creators can use this equipment to make less popular and lesser-known games more popular to tap a new set of audience.
Multi-camera equipment can help you skip the cost you would have had to incur for hiring on-site resources.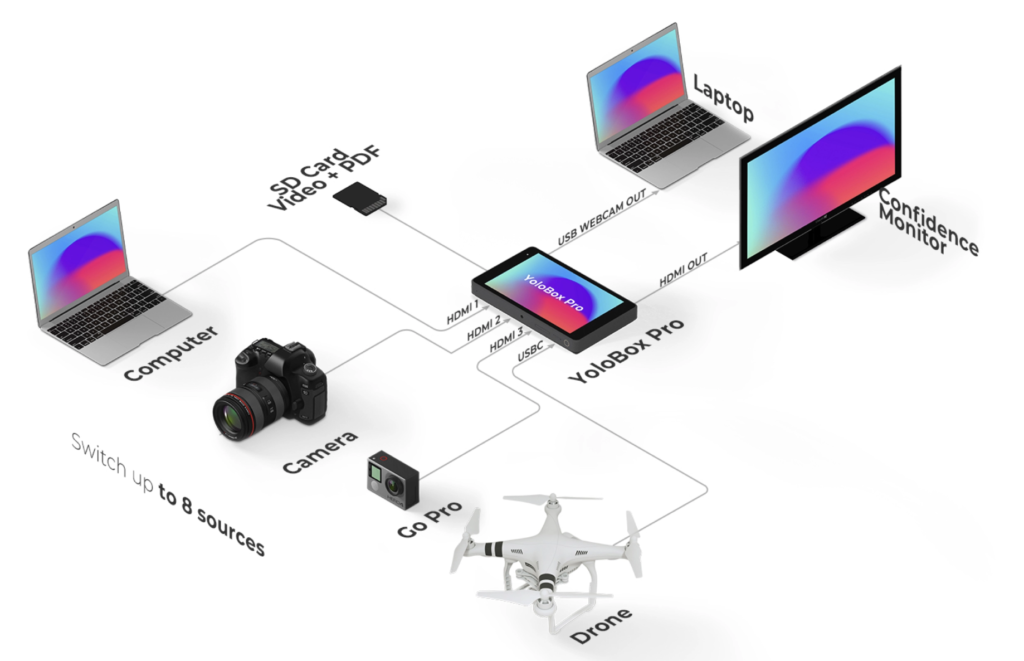 The Edge Of Analytics and AI 
The intuitive interface of these devices makes the live streaming class apart. The AI edge and data analytics embedding make modern multi-camera devices ideal for armature broadcasters. Analyzing the data to offer a profound insight into the game remains the expertise of modern technology. Therefore the content not only remains relevant and useful for sports enthusiasts but also the game architects like the coach, manager, etc. 
Such life-like broadcasts also help the older people, the near and dear ones of the players to enjoy the matches sitting hundreds of miles away from the site of the game. 
AI-integrated devices also make the process of selecting players by watching and analyzing the performance of the upcoming players through live broadcasts more easily. In fact, the intuitive interface of these devices offers automated game performance analysis which makes the process effortless for the selectors. 
In short, YoloLiv makes every broadcasting venture successful for the broadcaster and useful for a wide variety of people associated with sports in some way. 
 1,563 total views,  3 views today