Introducing Referral Program
Meet the YoloCast Referral Program, a fantastic way to share multistreaming tools with your friends while earning rewards. It is a win-win program for both you and your friends who are interested in streaming and enjoying the spectacular functions provided by YoloCast.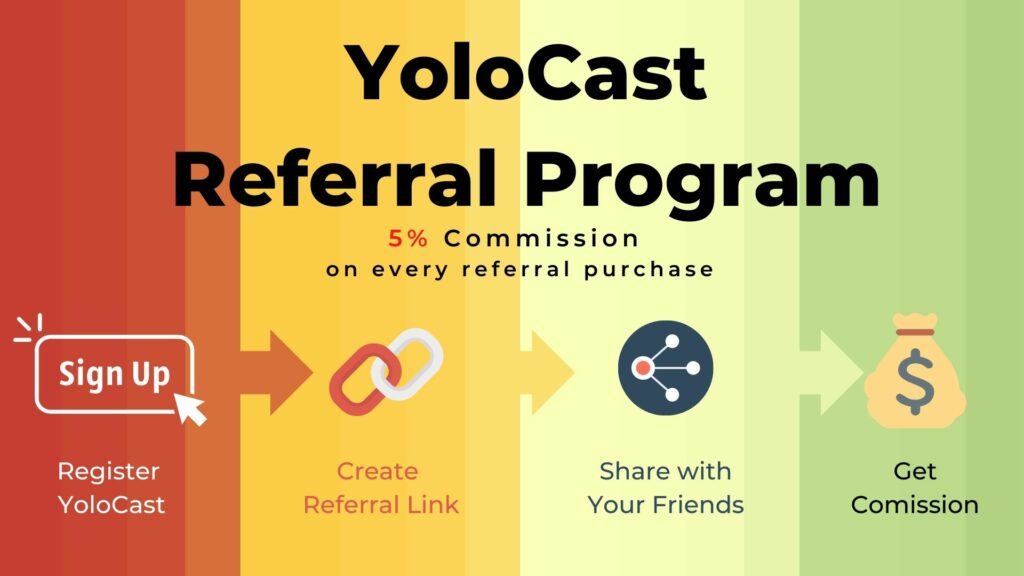 The YoloCast Referral Program is designed for all those who can recommend our products to their audience in good faith. We invite anyone to participate in the wonderful referral program here at our platform. Let's dive in!
How to Use the Referral Program
Basically, it is simple to use the referral program.
Sign up for Referral Program: Registering to the YoloCast is free. Once you sign up, you can go to Settings and find the Commission section below.
Get your own Referral link: In the Commission section, you would find the "Refer a friend" option below with your own link address. Click "Copy the link to Refer" and you are good to go.
Share the link with your friends: Once your friends receive the link, they can click in and sign up as new users.
Received your commission: Once your friends subscribe to any plan with their account, you would find the number of commissions increased after 30 days.

Rules for Referral
In order to qualify for this program, here are some rules for you to take care of while using:
The referrer must be a YoloCast user, and the referral must be a new YoloCast user.
You'll get a 5% commission on every referral purchase.
Once the referral successfully subscribes to a YoloCast plan, the commission will be placed in the referrer's YoloCast account and can be withdrawn in the next month. If the referral is refunded within 7 days, the commission will be forfeited.
In the event that more than one person or organization refers to the same third party, the credit will be given to the person or organization whose referral link was used for signing up.
10th of each month is assigned as the date for commission withdrawal. All commissions can be withdrawn except for the commissions obtained in the current month.
Commissions
To know how much you would be rewarded, you can also check the commission table here. And below are the sections for your referral program:
Referred- users who clicked and signed up with your link.
Subscribe- users who paid to join any plan
Pending – commissions under review.
Available – the amount of commission ready for payout to your account.
Accumulated – the total ongoing+withdrawn amount of your account.

Also if you click the Withdraw and detail options, you would see these windows for providing your email address or the table of transactions. Please notice that Paypal's transaction rate is 4.4% +fixed fee.
Note: We do not offer alternative payment methods at this time and we do not cover any PayPal transaction/currency exchange fees. All withdrawal requests are manually reviewed, please allow up to 14 days for funds to be deposited.
Let's Wrap Up
Streaming is more fun with others! Invite your friends to YoloCast using your referral link, and you'll both win! And don't miss the limited offered Coupon! For exclusive offers and regular tips on live streaming, you can also join our Facebook Group.
There's still more to learn about Collect Donations, Highlight Clip, Embed Website, Web URL Overlay, and Document Uploads too. To know about how to use the YoloCast, check the Beginner's Guide here.
Interested in learning more about our new streaming solution YoloCast? Why not take advantage of our free trial to test out all our great features for yourself? Click the button below to get started today. No credit card is required.

Cerise is a support specialist at YoloLiv with three years of experience working as a Customer Support Specialist in the consumer electronics industry. She also produces articles including video productions, tips and tricks and expert knowledge in the audiovisual industry.