This post addresses how to replace a recorded live broadcast with a post-produced copy of the same event. This is an absolutely useful feature in many scenarios where the quality of a live stream is affected by certain factors.
A video produced live is influenced by outside factors that are different from those influencing a video recorded live, but produced afterwards. Video producers are faced with extra risks in a live stream.
Available network connection is crucial in a live stream. If something goes wrong, such as network instability and an unsatisfying shot, both live and the recorded version would be affected. Thus, these risks are the big tradeoff for the power of live-streaming.
If you're a video producer, it's highly likely that you want to make full use of your live broadcasts by post-producing your recorded live video. By doing so, you're enabled to re-broadcast the post-produced one to all non-live viewers, free from time limitation. The following 3 situations show the value of this feature:
Scenario #1
Say you regularly live stream a weekly show on your website. The live stream automatically archives on your website for viewers to watch after it's over.
This week, however, your internet connection had a blip in the middle, leading to poor video quality or frame drops. Though unfortunate, you can do nothing about that.
However, your videos have a long life. You expect your recorded video to be viewed in the long term. Ideally, you would like to replace it with a better copy of the video.
In addition, you have already shared the link for your viewers and you definitely don't want to lose track of the analytics from the previous live broadcast. Therefore, a better-quality replacement is the optimal option.
Scenario #2
You regularly live stream your basketball games on your personal website through YoloCast, taking YoloBox Pro as your source video. The plan you bought on YoloCast only enables you to stream in 720p 30fps. However, YoloBox Pro allows you to record in 1080p 60fps. 
Without any doubt, you'd rather your viewers to enjoy the incredible video you record with your high quality equipment. Since you've shared the link on all of your social media, you don't want to cause any confusion with a different link.
Scenario #3
Live videos can be interrupted.
While live videos give you the freedom to connect with your audience from anywhere, at any time, they bring with them the potential to get interrupted. If you don't have a video studio or if you love to live stream on the go, unexpected hosts, say, kids, pets, or random people can interrupt your live stream. Your viewers will watch the recorded broadcast after the live stream has ended, so you want to edit out this little accident of the recorded version and replace the original with the post-edited one.
Broadcast Replacements with YoloCast
YoloCast's Broadcast Replacement tool is perfect to solve these issues. The feature allows you to upload post-produced content in place of your archived live stream.
All existing listing links and embeds will be kept unchanged after replacement so that you won't lose track of the analytics of the original video. As a matter of fact, the post-produced video just serves as the recorded version of your live broadcast. 
Find "Upload Replacement Video" in Recording Controls, and upload the new video.
Kindly note:Once you select a video to replace the playback, Highlight Clips will not be available. The features of Trim Recording and Highlight Clips will not be available.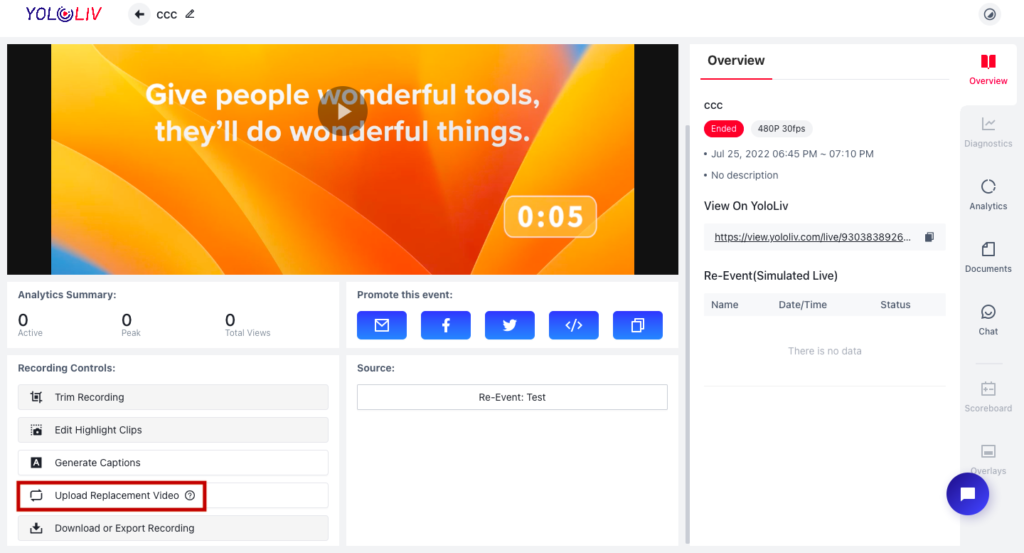 Final Thoughts + Further Reading
Replacement Video is a great tool to make sure your broadcast is exactly as you want it. Whether you simply want to replace an error in a live broadcast or simply like your locally recorded video better, Replacement Video makes it easy to exchange your videos.
Replacement Video is one of the many features YoloCast offers to empower organizations and broadcasters to share their message. There's still more to learn about Web URL Overlay ,  Document Uploads, Embed Video on Your Website, Automated Captions, Highlight Clips and Simulated Live Streaming too.
Now, YoloCast is offering 3 various plans for you to choose. Have no idea which live streaming plans work best for you? Please visit https://www.yololiv.com/compare-plans.
We're now offering a 14-Days Free Trial for all. If you need a live streaming cloud platform or are looking for an alternative, be sure to try YoloCast. Log in at https://dashboard.yololiv.com/user/login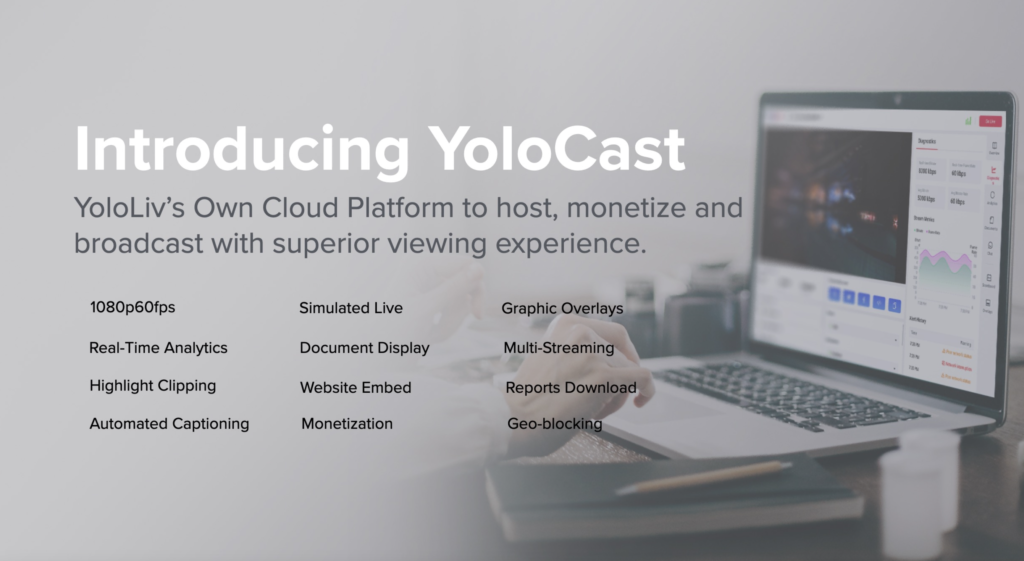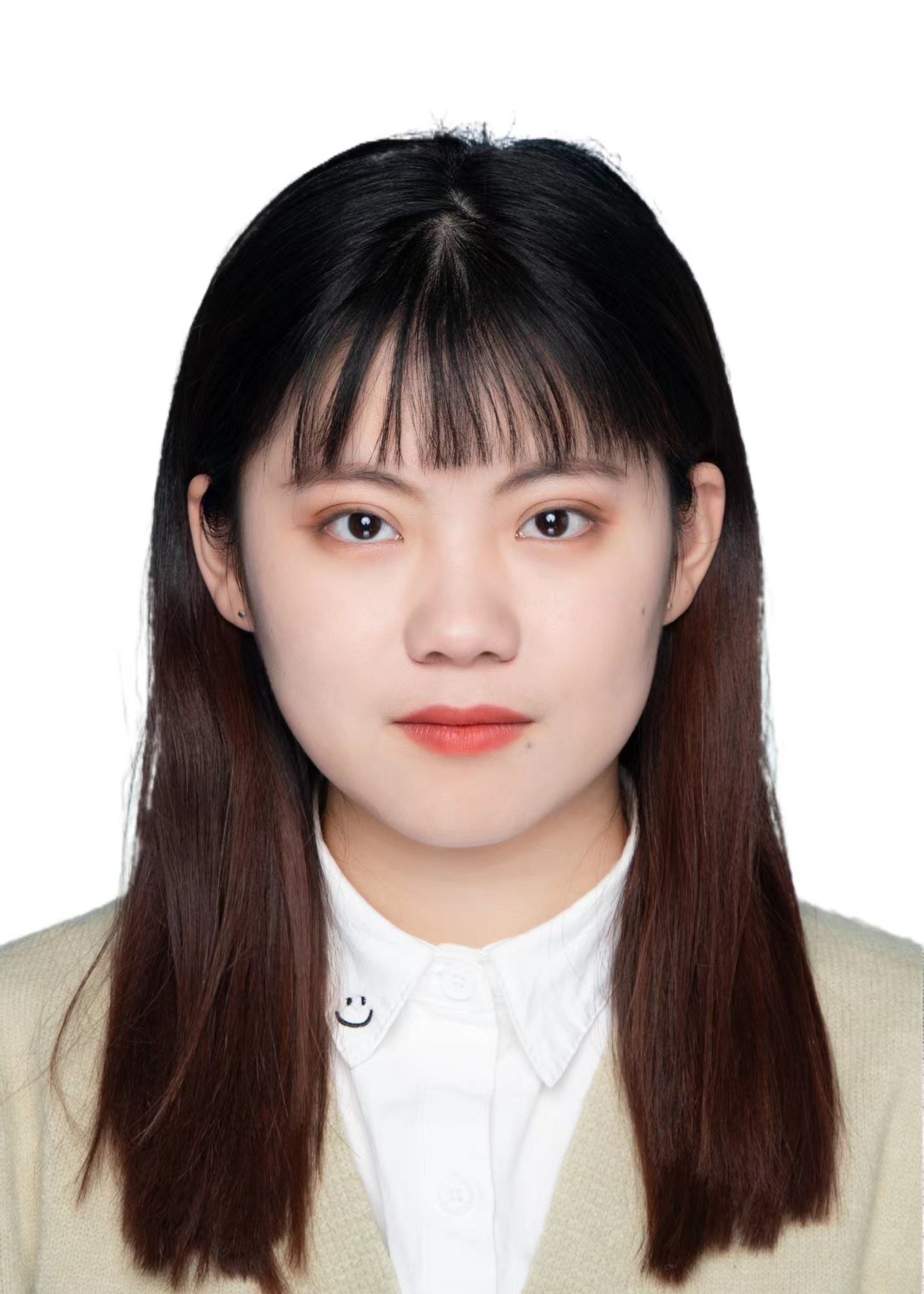 Turly is a contributor writer at YoloLiv. She produces articles including influencer's reviews, tips and tricks in the audiovisual industry and YoloCast how-to tutorial to help you take the advantage of YoloLiv products to create and deliver better content.