Are you hired to create professional live streams and videos with multiple camera angles, better audio, graphic overlays, picture-in-pictures, live video switching with transition effects, to make it more informative and engaging for the viewers?
With the help of a video switcher, you can record and stream with multiple video sources and live switch between them seamlessly with various transition effects(from simple cut to zoom in & out, fade in & out, to cross-dissolve). You can also connect with audio interfaces(from basic microphones to advanced audio mixers) and use built-in or external graphic generators to add various graphic overlays(logos, lower-thirds, scoreboard, rolling texts) to significantly increase the quality of your content. 
This blog will explain what a video switcher does and provide a comprehensive guide on the various types of video switchers available on the market along with their pros and cons and important features to consider for your live video production requirements. In Particular, we'll discuss 4 unconventional video switchers in 2023 and make our recommendations.  
What is a video switcher and why do you need one?
A video switcher, also known as a video mixer, is a device or software that allows you to bring multiple video sources and switch between them while you are recording or live streaming. These sources include camera feeds, presentation slides, remote guests, pre-recorded video sources or shared screens. You can normally add transition effects to make it appear even more professional. They also let you connect with professional audio interfaces, whether it's a single microphone or multi-channel audio mixers. 
To add additional production value for your multi-camera production, you can utilize video mixers' built-in graphic capabilities or leveraging external graphics generators to add logos, image overlays, lower-thirds, scoreboards, rolling texts, motion graphics and comment overlays to make the video or live stream more informative and engaging. Utilizing multiple video sources also allows for the creation of varied multiviews such as Picture in Picture, Side-By-Side, and SplitViews to further add depth and richness of your content and storytelling. 
Video switchers are widely used in videography and live streaming video production, typical scenarios including sport events, church worships, weddings, funerals, music concerts, podcasts, interviews, corporate events and news broadcasts that require multiple camera angles and video sources.
What is a video switcher for live streaming?
Video switching systems for live streaming can range from a basic two-camera setup to an extensive operation involving 10 or more video sources. The video switcher will allow you to live monitor and switch between all the inputs to assist you to find the best way to make your live production as professional as possible. 
How does a video switcher integrate with your current live production workflow? You will still need cameras, microphones, cables, many other small accessories plus an Internet connection and an encoder to transmit your video signal to YouTube, Facebook, the live streaming platforms that you have connected with. While some switchers come with built-in encoders, others are dedicated to video switching.
Hardware video switchers vs. software  video switchers
There are various ways to categorize different video switchers. The simplest and easiest one would be whether they are hardware or software. 
Hardware switchers, mostly featuring multiple HDMI inputs, with some offering SDI inputs and others providing a combination of both HDMI and SDI inputs, provide a physical control panel equipped with buttons that enable you to switch between HDMI/SDI feeds(connecting to either cameras or PC/TV) and add production elements.
Software switchers tend to be slightly more complex. They comprise two types of software: one that you need to download onto a computer from websites, such as OBS Studio or Vmix, they use computer's local CPUs and GPUs' processing power to fuel video switching. 
Another one is the cloud-based video switcher that requires you to log in via a website to connect with a cloud CPU/GPUs, like Streamyard or Restream(no downloads required). Their virtual CPUs and GPUs are now available in vast quantities in the cloud to power cloud-based video switching.
Both types import video camera sources into a computer using video capture cards, giving you the ability to switch between feeds and incorporate graphics, multiviews, and other production elements right from your computer. Benefitting from the computer's CPU and cloud for encoding and live switching capability, software switchers are generally less expensive as there is no necessity for additional hardware purchases.
How to choose the best video switcher
While both hardware switchers and software switchers have their own pros and cons, the best video switcher for you will depend on your needs, workflow, preference and budget. With this in mind, there are certain parameters that you should always consider, such as the Inputs/Outputs, ease-of-use,feature-richness, your budget and many others. 
To help, we've spotlighted the top 7 parameters to look at to help you understand what specific attributes to pay attention to. Continue reading to learn more insights about what constitutes a top-notch video switcher.
Inputs/Outputs
As the most fundamental functionality for a video switcher, ensure that the switcher you choose could connect with all your cameras and other input sources concurrently. If the video switcher lacks the required number of ports, you may have to reduce the number of angles or sources. Alternatively, you could add an extra switcher and output it to another switcher to accommodate more input sources. 
Equally important as your video inputs are the outputs of your switcher. A higher number of outputs allows you to dispatch your signals to multiple destinations, a feature particularly useful for large-scale events as opposed to a single streamer.
Versatility & Feature-richness
Does it encode and monitor as well or require separate devices? 
How many network options does it connect? Does it bond all the networks? 
Does it have built-in batteries? Does it multistream? 
How many transition effects does it have? 
Can it do PiP, Side-By-Side, News Layout? How many multiview templates does it have? 
Can it add logos/rolling texts/countdown timers/lower-thirds? Could they all be customized by editing the colors and fonts? 
Does it have built-in scoreboards? What about Instant Replay for my sport production? Does it auto-switch? 
How easy is it to get a green screen effect? 
Does it support web URL overlay? 
How easy is it to do all the above features?
Carefully consider all your potential production use cases and jot down all the features you may need for your future production work. Pose these questions to ascertain the versatility and feature-richness of the video switcher. Does it really encompass everything I need? What are the features that I can afford to not have? 
Simplicity & Ease-of-Use
People often feel intimidated by the prospect of creating professional live streams, particularly when they consider the complexities of computer software to operate.
If the system is beginner-friendly enough and has a short learning curve enabling every team member to quickly understand and operate it, this will be a huge plus. Make sure the video switcher is as user-friendly as possible. 
Portability & Mobility
Portability often gets overlooked when assessing a video switcher, even though it's of significant importance. Firstly, if a video switcher is stationary, it implies that it's intended for fixed use and cannot be easily relocated for other on-location uses, which limits its functionality and also consumes space. Not able to use it for diverse mobile scenarios such as weddings, sports, outdoor concerts, and on-site productions further diminishes its utility.
Moreover, when the video switcher is not a portable one, it's basically not feasible for conducting live production work or business across different cities as it would mean bigger travel costs. Therefore, portability should be another key factor when evaluating a video switcher. 
All-in-One Completeness
Simply put, if the video switcher is an all-in-one device, it means it's a comprehensive solution that doesn't require anything external. For instance, there's no need for an extra monitor, encoder, computer, or graphic generator, or batteries, or network bonding device, nor a subscription for multi-streaming and featuring comments to boost audience exposure and be as engaging as possible.
Not needing additional gears and services/subscriptions actually results in savings, making it more cost-efficient.The completeness of the device enhances its portability and ease of use as well, adding to the advantages already mentioned above. It allows for quicker setup and reduces the manpower needed to conduct the live production.
In conclusion, these significant benefits should weigh heavily when evaluating a video switcher.
Reliability & Stability
Reliability and stability are other crucial factors to consider, especially in live streaming. Opt for options that have a strong reputation for reliability and stability, and are proven by customers, endorsed by top niche influencers and YouTubers. Normally hardware switchers are more reliable and stable than software switchers. 
Also remember the routine practices to enhance reliability and stability. Ensure the connections are secure, the compatibility is checked, and the internet connection is robust. Conduct ample tests to verify these aspects.
Price
While it may seem that price plays a significant role in choosing the ideal video switcher, don't be misled.
You should also consider other factors, such as whether the switcher includes a monitor, encoder, and graphic generator, and if it necessitates a computer. If everything combined, what would be the total cost? Is the switcher still portable and easy to move, and how much time is required for setup? Is it suitable for a one-person production, or would you need to hire additional assistance for the production? 
Again, consider your budget and needs, and rethink the overall cost, including all the necessary equipment for the video switcher to function as intended. Evaluate the total cost of the whole solution before determining if a specific switcher is the right fit for you.
Top hardware video switchers for live streaming
Blackmagic Design(4 main product on HDMI Video Switchers)
ATEM Mini Pro
ATEM Mini Pro ISO
ATEM Mini Extreme
ATEM Mini Extreme ISO
ATEM Television Studio HD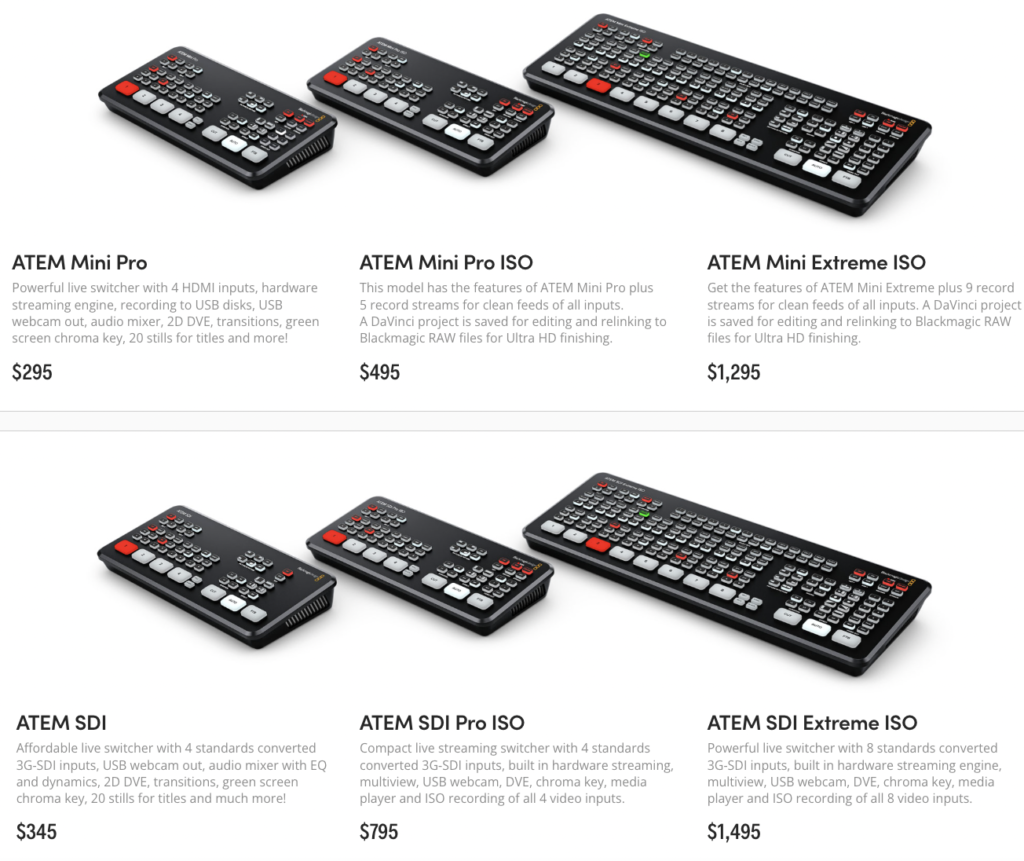 Blackmagic Design is a renowned technology company specializing in the development of professional video production equipment and software solutions. 
One of their popular products is the ATEM Mini, a compact live production switcher. The ATEM Mini is designed to facilitate multi-camera live streaming and recording for various applications such as live events, presentations, gaming, and online content creation. It allows users to switch between multiple HDMI video sources, add effects, overlays, and transitions, and stream the output to platforms like YouTube, Facebook, and Twitch.
The ATEM Mini series consists of different models, including the ATEM Mini, ATEM Mini Pro, ATEM Mini Pro ISO, and ATEM Mini Extreme. These models share similar features but offer varying levels of functionality and capabilities.
Price: Varies depending on the models
Top Features:
Multi-camera switching: Allows you to connect and switch between up to 4 HDMI video sources.
built-in hardware encoder: Directly stream your live production to popular streaming platforms such as YouTube, Facebook, and Twitch (except the Mini).
Recording capabilities: Allow you to record your live production directly to USB flash drives (except the Mini).
Multiple effects: Add professional-looking picture-in-picture effects, overlays, transitions, and other visual effects to enhance your live production.
Pros:
Professional-Grade Features: The ATEM Series products offer a wide range of professional-grade features such as multi-camera switching, audio mixing, chroma keying, picture-in-picture effects, and transitions. 
Scalability: The ATEM Series products come in various models with different input and output options, allowing for scalability based on the production needs. They can accommodate from small setups to large-scale productions.
Control and Automation: The ATEM Series products can be controlled via dedicated hardware control panels, software control interfaces, or through external control systems. This flexibility provides ease of use and allows for efficient workflow automation.
Expandability: The ATEM Series products often have expansion options, allowing users to expand and customize their setup according to their specific requirements.
Cons:
Learning Curve: The ATEM Series products can have a steep learning curve, especially for users who are new to live production or professional video switchers.
Price: Depending on the model and features, ATEM Series products can be relatively expensive compared to entry-level switchers or software-based solutions.
Complexity for Basic Applications: Some users may find the ATEM Series products to be overkill for basic applications that require simple video switching or streaming. 
Good For: Its compact size, affordability, and professional features make it a popular choice among content creators, small studios, and live event organizers.
Feelworld L2 Plus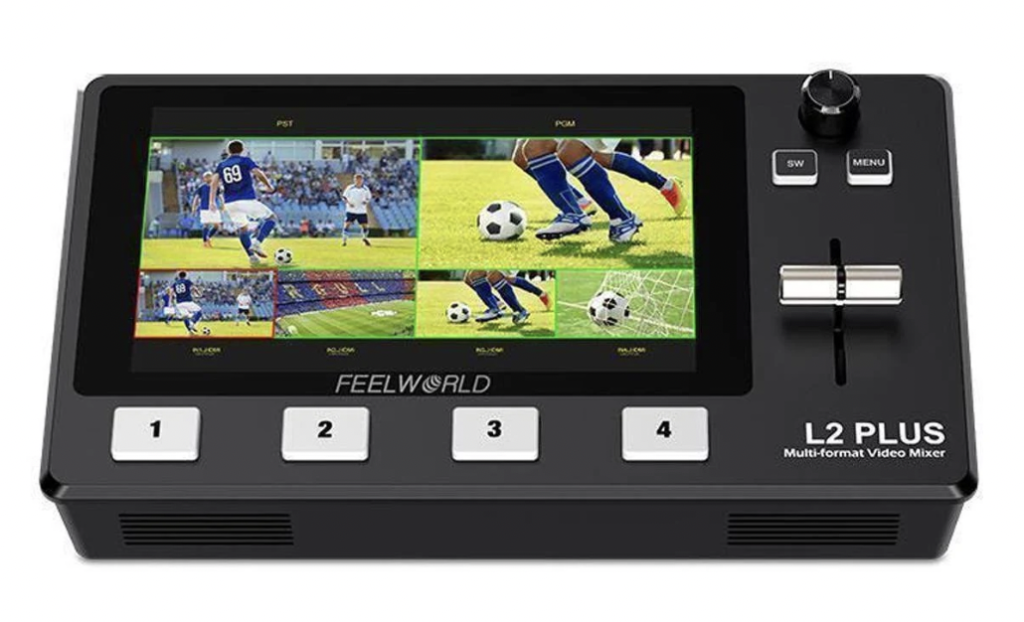 The Feelworld L2 Plus is a professional-grade on-camera monitor designed to enhance video monitoring and assist with accurate framing and focus during video production. It is a portable and feature-rich monitor that provides a high-quality viewing experience for filmmakers, videographers, and content creators.
Top Features:
Full HD Display: The monitor features a 7-inch Full HD IPS LCD screen with a resolution of 1920×1200 pixels.
Wide Viewing Angle: The IPS panel technology provides a wide viewing angle of 160 degrees, allowing multiple crew members or clients to view the monitor simultaneously without color or contrast distortion.
High Brightness and Contrast: With a brightness of 500 cd/m² and a contrast ratio of 1000:1, the L2 Plus offers excellent visibility even in bright outdoor environments.
Advanced Monitoring Tools: The monitor includes a range of professional monitoring tools to assist with framing, focus, exposure, and other essential aspects of video production.
HDMI and SDI Input and Output: The Feelworld L2 Plus supports both HDMI and SDI input and output connections, allowing you to connect a wide range of cameras, recorders, and other video devices.
Multiple Power Options: The monitor can be powered using various power sources, including F970 batteries, a DC power adapter, or a power bank. 
Lightweight and Portable Design: The L2 Plus is compact and lightweight, making it easy to mount on a camera rig or hold in hand during shooting.
Pros:
Easy to use
Accepts a wide range of video inputs
Outputs as high as 1080p at 60fps
Cons:
Need an encoding software to stream or record
No audio mixing capabilities
Tends to get warm when running for a long time
Good For: The Feelworld L2 Plus is an ideal tool for professional videographers and filmmakers who require accurate monitoring and precise control over their video production.
RGBlink Mini Pro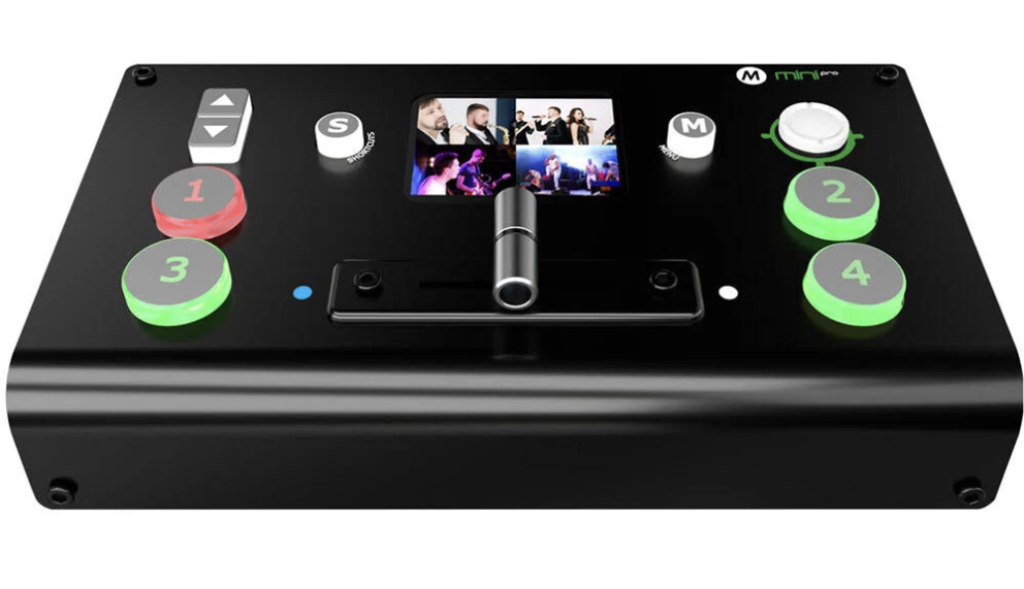 If you're looking for a straightforward video switcher without any additional features, the RGBlink Mini Pro is the perfect choice. With its user-friendly design of only nine buttons/knobs, operating the device is incredibly easy. It offers three recording quality options: low, medium, and high. The RGBlink Mini Series switchers come with LCD screens, and the Pro version even features a touchscreen, providing convenient control over live video.
One notable improvement in the upgraded RGBlink Mini Pro is the ability to mix audio sources. Additionally, it includes a chroma key (green screen) feature, allowing for seamless integration of virtual backgrounds.
Top Features:
4 HDMI inputs
1 HDMI output and 1 USD 3.0 output
T-bar for smooth transitions between sources
Supports PTZ (pan-tilt-zoom) camera
Record to USB
Support for third-party apps
Pros:
Large buttons for easy actions
Supports 4K video switching
PiP presets
Mix audio from up to 4 HDMI sources
Cons:
No encoder included
Can occasionally hear noise from the fan
Good For: The RGBlink Mini Pro is suitable for individuals and organizations only looking for a user-friendly and affordable video switcher to enhance their live productions, video streaming, and content creation. 
Avmatrix HVS0402U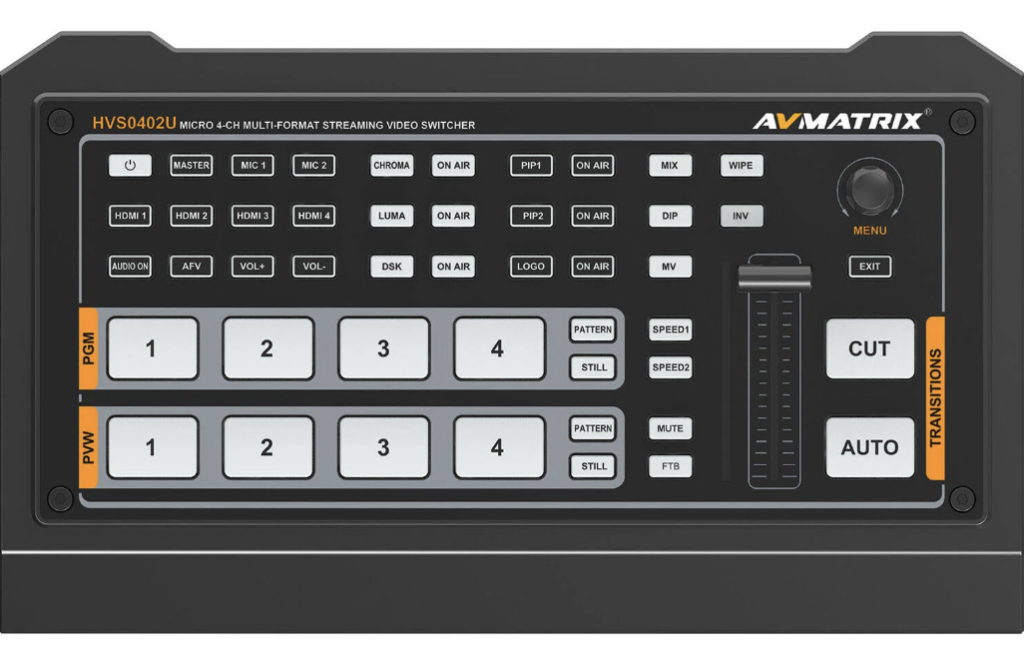 The Avmatrix HVS0402U is a professional-grade video switcher designed for live events, conferences, and productions. This compact and feature-rich switcher offers seamless switching between multiple video sources, making it an ideal choice for applications that require real-time video switching.
Top Features:
4-Channel Input: The HVS0402U supports up to four HDMI or SDI video inputs, allowing you to connect multiple video sources such as cameras, computers, or media players.
Seamless Switching: It offers seamless switching between different video sources, ensuring smooth transitions without any noticeable delay or interruption.
Picture-in-Picture (PiP): The switcher allows you to create picture-in-picture effects, enabling you to display multiple video sources simultaneously on a single output.
Multiview Output: It provides a multiview output that allows you to monitor all the input sources on a single screen, simplifying your workflow and providing a comprehensive overview.
Audio Mixing: The HVS0402U features built-in audio mixing capabilities, allowing you to adjust audio levels, apply audio effects, and connect microphones or other audio sources.
Effects and Transitions: You can enhance your live productions with a variety of effects and transitions, such as fade, wipe, cut, and more, adding visual dynamics to your output.
Tally Support: It supports tally signals, providing visual indicators to the camera operators or talent to indicate which camera is currently live or in preview.
Pros:
Professional-grade switcher with seamless switching and advanced features.
Compact and portable design, making it suitable for on-location shoots or small-scale productions.
Supports both HDMI and SDI inputs, providing flexibility in connecting different types of video sources.
Multiview output allows for easy monitoring of all input sources.
Audio mixing capabilities enhance the overall audio quality of the production.
Cons:
Limited to four input channels, which may be insufficient for larger productions with more video sources.
Does not offer built-in streaming capabilities, requiring additional equipment or software for live streaming.
Good For: Professionals and organizations involved in live events, conferences, and productions. Suitable for live production scenarios where multiple video sources need to be switched seamlessly.
Top software video switchers for live streaming
Not many people have realized this but software switcher options could just be as good as hardware switchers. There are two types of software video switchers, on-premise software(installed and run on a computer that uses the computer's CPUs and GPUs). Cloud-based video switchers.

 OBS Studio
OBS has become widely used in video production due to its free and user-friendly nature. By downloading the software, learning how to record with OBS, and exploring its video switcher and editing features, you can gain a lot of knowledge about video production. Many users appreciate OBS for its intuitive controls that don't require any technical experience to produce professional-level videos. Furthermore, OBS is sponsored by and integrates smoothly with social platforms like YouTube, Facebook, and Twitch.
System Compatibility: Windows, Mac, and Linux
Price: Free
Top Features:
Allows you to record, edit, and share videos all in one place.
Studio Mode gives you the option to preview your recorded video before going live.
As an open-source software, it's compatible with third-party plugins for additional advanced features.
Good For: OBS is an excellent choice for beginners or anyone aiming to undertake their video production on a limited budget.
 vMix
vMix simplifies the process of creating engaging and dynamic content with its recording and production features. It's an excellent switcher for streaming as it integrates effortlessly with video hardware from Blackmagic Design, Magewell, Elgato, and is compatible with all camera types, including webcams recording in SD, HD, or 4K. The software enables you to stream directly to platforms like Facebook, YouTube, or Vimeo, and also provides SDI output for TV screens or projectors.
System Compatibility: Windows and Mac
Price: Subscriptions range from $60/mo to $1,200/mo
Top Features:
Supports all popular video formats, including AVI, MP4, MOV, WMV, and MPEG-2
Records live in full HD
Offers transition effects like cuts, zooms, fades, slides, merges, and more
Good For: Professionals seeking a comprehensive recording/producing platform will appreciate the additional features that vMix offers, beyond video switching.
Wirecast
Wirecast is a highly adaptable software designed with the needs of professional streamers in mind. Whether it's being utilized as a video switcher for church services, a broadcasting tool for live sports events, or a digital marketing resource for businesses, its versatility shines through. The software allows you to split your screen and monitor up to 17 input sources simultaneously! With top-tier encoding, you can ensure exceptional picture quality even while live streaming.
System Compatibility: Windows and Mac
Price: Wirecast Studio – $599, Wirecast Pro – $799
Top Features:
Host 2 remote guests with the Studio version or 7 remote guests with the Pro version
Seamlessly integrates with social media, enabling features like Facebook polling, live viewer counts, RSS feed displays, and more
Allows unlimited virtual input sources (video, audio, USB, capture card, webstream, etc.)
Good For: Professional streamers who value advanced features and high-quality audio and visual live streaming output will find Wirecast to be a perfect fit.
Streamyard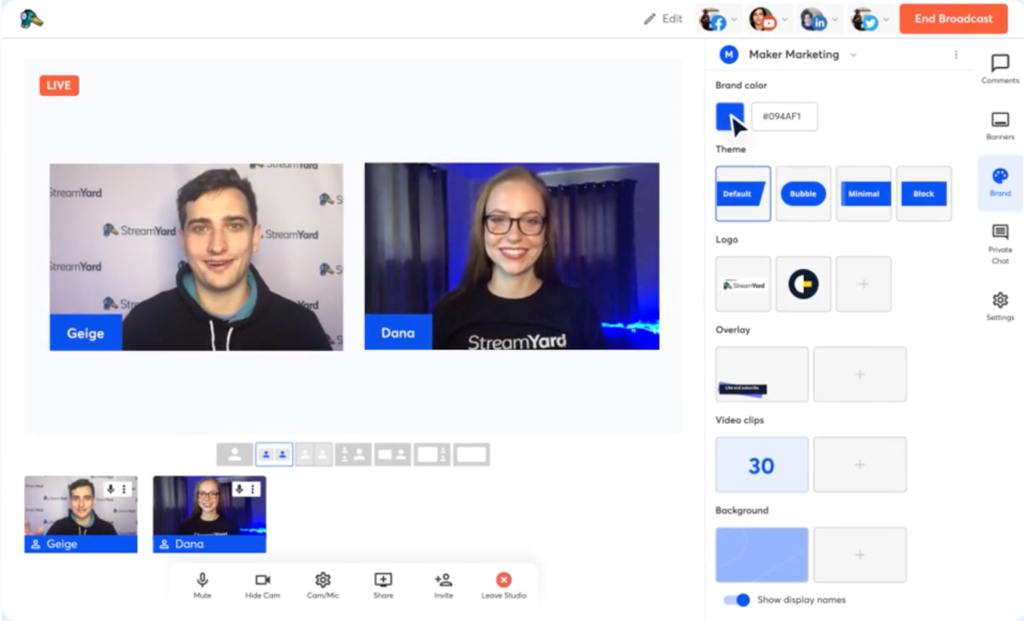 StreamYard is a live streaming studio in your browser. This software allows broadcasters to interview guests, share screens, and stream directly to Facebook, YouTube, LinkedIn, and other platforms. StreamYard's intuitive and straightforward interface makes live streaming a simple process, regardless of your tech expertise.
Pricing: StreamYard starts at $20 a month with a free plan also offered. Packaging is based on the features and the number of stream destinations.
Top features: 
Stream to Facebook, YouTube, LinkedIn, Periscope, Twitch, and custom RTMP outputs.
Invite remote guests to join the broadcast with up to 6 participants in the stream.
Add audience call-to-actions which can be added live to the stream
Manage audience engagement with comment moderation and ability to add comments on screen.
Good For: content creators, event organizers, educators & trainers, business, non-profit, churches and religious organizations. 
Restream Studio
Restream is primarily a simulcasting broadcasting software. Now it also provides mixing and production tools aimed at enhancing the broadcaster's experience.
System Compatibility: Windows, macOS, Linux, and gaming consoles.
Pricing:Restream offers various pricing plans tailored for both individuals and businesses ranging from $16 to $249
Top Features:
Customization of video layout with professional logos, overlays, and backgrounds
Adding a call-to-action message overlay
Direct audience engagement by highlighting messages from your channels
Support for peer-to-peer streaming.
However, Restream has some limitations. It does not include encoding tools, relies heavily on WiFi, and may present video quality issues.
Good For: Gamers, opinion leaders, marketing managers, media companies, event streamers, and music creators 
What are the 4 unconventional video switchers? 
Now that we have discussed the various traditional video switchers, let's explore some alternative video switchers. These switchers deviate from the conventional norms in terms of their form factor, video switching methods, and the underlying technology they employ.
YoloLiv YoloBox Pro
YoloBox Pro is probably the industry's only all-in-one multicam live video production equipment that doesn't require anything external, integrating encoder, switcher, monitor and recorder, with built-in battery and native support for 4G LTE, WiFi, and Ethernet. The all-in-one completeness makes it extremely portable and travel-friendly for on-location productions.

With 3 HDMI inputs, 1 USB input, 1 Full Featured USBC input, plus local SD card video sources and PDF source from SD card, 1 Mic-in, 1 Line in, 1 HDMI out, 1 Audio out, it can live to switch up to a total of 8 sources. The Android operating system and 8-inch touchscreen control, which you can operate at your fingertip as your smartphone allows for the minimum learning curve and makes it extremely beginner friendly. Everyone could create professional multi-camera live streams with YoloBox Pro. 
Top Features:
Stream Simultaneously to Multiple Destinations
Built-in Chroma Key or Green Screen
Add Video Sources and PDF from SD Card
Auto-Switching for Multiple Video Sources
Web URL Overlay for More Professional Look
Various built-in graphic overlays and styling options including Scoreboard, Lower-thirds, Image Overlay
Various built-in multiview templates including Picture In Picture, Side-By-Side, Split View, News Layout.
Network bonding to make the live streams more stable
Good for:  Weddings/Funerals, Sport, Events, Church worship, Corporate, Education, Retail Business and Much More.
Price: $1,299
Slingstudio
SlingStudio is a versatile and innovative video production system that allows users to create professional-quality live broadcasts and recorded videos. It offers a user-friendly interface and a range of powerful features that make it a popular choice among content creators, broadcasters, and videographers.
Unlike YoloBox Pro that has three HDMI inputs, SlingStudio has one HDMI input and one output port, plus  USB-C and USB-A ports, and an Ethernet port.
SlingStudio needs the use of an iPad as a control device for the system. By downloading and installing the SlingStudio Console app on an iPad, users can easily control and manage the video switching, camera feeds, audio levels, and other production aspects. The iPad acts as an intuitive interface for the SlingStudio system, providing a user-friendly experience for configuring and controlling the production workflow.
Top Features: 
Wireless Multicamera Connectivity
Live Switching and Production
Portable and Lightweight
Live Monitoring and Preview
Custom Graphics and Overlays
Live Streaming and Recording
Multiview and Instant Replay
Good for: Weddings/Funerals, Sport, Events, Corporate, Education, Retail Business and Much More.
Price: $1,745(SlingStudio Hub + 2 Cameralinks); 
Discontinued.
SwitcherStudio(its similar alternatives: Cinemaker, TopDirector)
Unlike YoloBox or SlingStudio, Switcher Studio is an easy-to-use iOS app that lets you broadcast and edit your live videos using just iPhones and iPads. With its user-friendly interface and versatile features, Switcher Studio offers a professional video production experience that can be easily achieved using mobile devices.
Top Features: 
Real-Time Video Editing App: Edit from your iOS device while you live stream
Mobile Live Streaming from Any Location: Go live using the best mobile cameras for live streaming
Simple, Multicam Switching: Sync up to 9 iOS cameras to create flawless multicam live streams.

Good for: live events, social media content, interviews, education, business presentations, church services, and influencer content production.
Price: $49/$99/$149 Per Month
Mevo Cameras with Multicam App
Mevo cameras are compact and innovative devices designed for capturing high-quality live videos and recordings. They are known for their portability and user-friendly features, making them a popular choice among content creators, vloggers, live streamers, and anyone in need of an easy-to-use yet powerful camera solution.
Top Features:
Compact and Portable: Mevo cameras are small in size and highly portable, allowing users to carry them anywhere and capture videos on the go. Their compact design makes them convenient for capturing live events, travel vlogs, and other on-location shoots.
High-Quality Video Capture: Despite their small size, Mevo cameras deliver impressive video quality. They are capable of recording or streaming in resolutions up to 4K, ensuring sharp details and vibrant colors in the footage.
Built-in Live Editing: Mevo cameras come equipped with built-in live editing capabilities. Using the accompanying Mevo app, users can easily switch between different camera angles, zoom in and out, and create dynamic shots during live broadcasts or recordings.
Wireless Connectivity: Mevo cameras offer wireless connectivity options, allowing users to control the camera settings, preview shots, and initiate live streams directly from their mobile devices. This wireless capability enhances convenience and flexibility during shooting.
Multi-Camera Control: With the Mevo app, users can control multiple Mevo cameras simultaneously, enabling the creation of multicamera setups. This feature is beneficial for capturing different angles, perspectives, or multiple locations during live events or interviews.
Social Media Integration: Mevo cameras are designed with seamless social media integration in mind. The Mevo app enables direct live streaming to popular platforms such as Facebook Live, YouTube, and more, making it effortless to share content with the desired audience.
Auto-Tracking and Face Recognition: Mevo cameras utilize intelligent auto-tracking and face recognition technology. This feature allows the camera to automatically track and focus on a subject as they move, ensuring that the subject remains in frame and in sharp focus.
Easy Sharing and Editing: Mevo cameras streamline the post-production workflow by simplifying the sharing and editing process. The Mevo app provides editing tools and the ability to share videos directly to social media platforms, eliminating the need for additional software or complex editing processes.
Conclusion
In summary, Mevo cameras provide a compact and user-friendly solution for capturing high-quality live videos and recordings. Their portability, wireless connectivity, live editing capabilities, and intelligent features make them an excellent choice for content creators and live streamers seeking a versatile and accessible camera solution.
 999 total views,  7 views today