Intro 
It started with the YoloBox, then we got the YoloBox Pro and now we have the YoloBox Mini! The YoloBox Mini was released on April 15th, 2022. I've given lots of feedback over the last few years and YoloLiv has continually improved its products with every single release. Let's dive into the new YoloBox Mini and see how it fits into the lineups. 
About YoloBox Mini 
Compared with the original YoloBox and the YoloBox Pro, the YoloBox Mini comes in at $699 which is more affordable than the other two options. There is one HDMI input source on the YoloBox Mini and will be a great choice for people who just use a single camera setup. 
Like the YoloBox/Pro, the YoloBox Mini allows you to stream directly to multiple services at the same time without any paid subscriptions or additional fees. It also opens up a computer-less opportunity to just put in your pocket, take it into an event and live stream from a single camera source.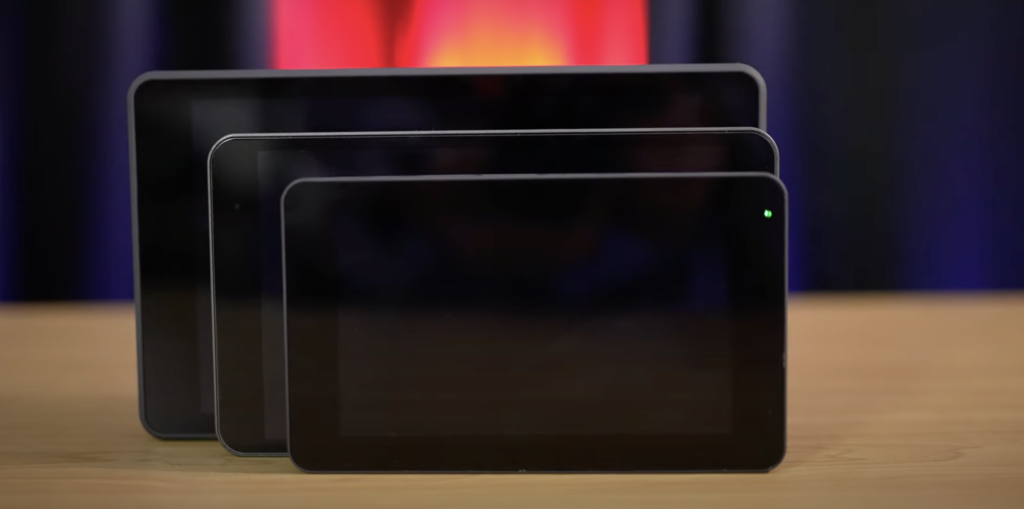 The YoloBox Mini has a new 5.5inch touchscreen. It's not only easy to see from every viewing angle, but also bright enough with a 500 nits brightness. It's a really functional live streaming solution for recording or as a field monitor. You could mount the YoloBox Mini directly on top of your camera and monitor the feeds. The major advantage to the YoloBox Mini is its 500 nits brightness but also the fact it's small enough to put into your pocket and ready to go. It's lightweight and compactable. 
Besides, with the same processor Qualcomm 660, as the YoloBox Pro, the YoloBox Mini has all the features the Pro has. You can stream over wifi, via ethernet, or using a hotspot. It could be a handy tool for people who already have a 4 channel HDMI switcher but don't already encode or have the ability to stream directly over Wi-Fi. Also, you can combine YoloBox Mini with ATEM Mini. 
Where Can You Use YoloBox Mini 
The YoloBox Mini really opens the opportunity in a more handheld environment. It's perfect for IRL streaming since you can just mount it on top of your camera. This will also work great in situations where might be filming a wedding or a church event or a festival and you can go live immediately by mounting the YoloBox Mini on the top of your camera and you're good to go! 
YoloBox Mini Hardware
HDMI IN: Video input supports up to 1080P, 60FPS 
USB IN: 3.0 USB port 
Ethernet port
HDMI OUT: Video out to monitor or computer for Zoom/Skype meetings
LINE IN: Stereo, connect to electric guitar or synthesizer
MIC IN: Mono, connect to microphone for recording
AUDIO OUT: Connect with 3.5mm monitor headphones
USB-C/TYPE-C: Power connector
1/4″ Screw Hole: Mount YoloBox Mini with camera
SIM Card Slot: Insert SIM card to connect to the Internet
SD Card Slot: It's used for recording only
Power Button: Turn on and turn off
Exhaust fan at the back 
YoloBox Mini Software 
Like the YoloBox Pro, YoloBox Mini includes most of the features on the Pro except the multi-views since it only has 1 HDMI input. Following are the features that be mentioned in the video: 
Live Streaming Options
Backup live streaming recording 
Scoreboard 
Live chat 
Lower thirds 
Image overlays 
Countdown Timer 
Screen brightness adjustment 
Audio quality 
YoloBox Mini vs Pro vs Standard 
Only 1 HDMI port on the YoloBox Min compares with the YoloBox/ Pro which has multiple HDMI inputs.  The second thing is not like the YoloBox Pro, the Mini doesn't have a USC-out port, so it couldn't be detected as a webcam if you choose to run it into a computer.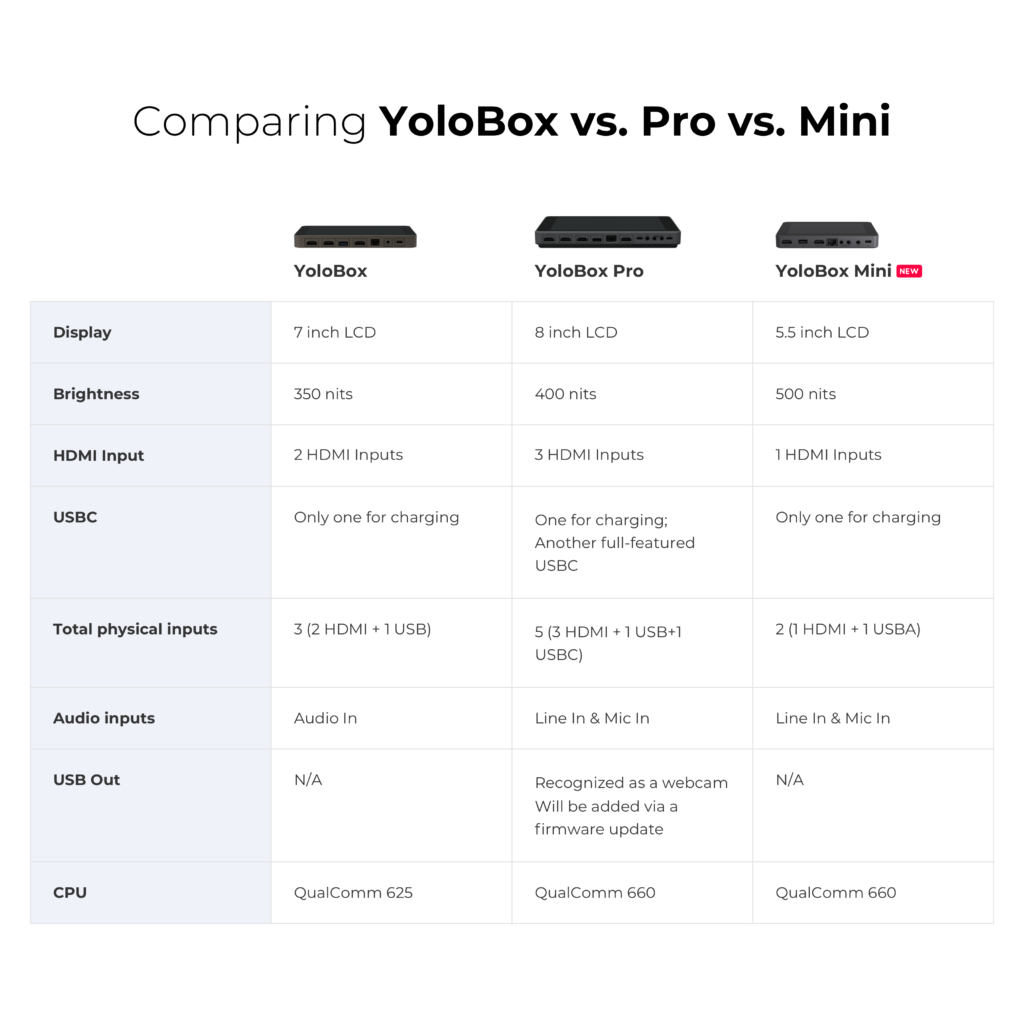 Final Thoughts on YoloBox Mini
There is no problem with 4 hours long streams indoor and all the functions work well. The YoloBox Mini is pocket-sized a live streaming, recording, and monitoring device made simple.  And it's a great solution for multi-platform streaming without the need for a computer. The YoloBox Mini should be a perfect fit for many videographers, gamers and IRL streamers.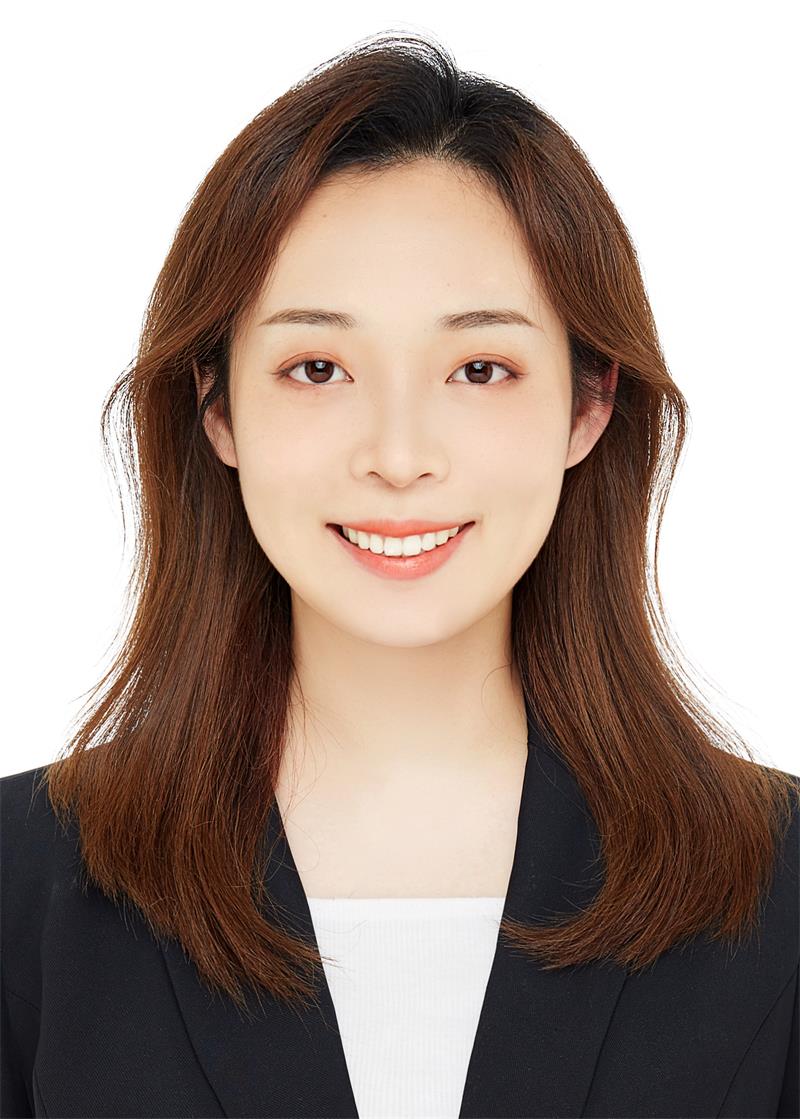 Karen, customer success manager at YoloLiv. She proactively looks out for customers' needs and suggests ways to help customers succeed with our products. All the successful use cases/ stories are the proof.