As modern technology develops, there are more communication protocols like RTMP and SRT which you can choose to live stream on the internet. But What are the differences between these protocols?
What is SRT&RTMP?
Real-Time Messaging Protocol (RTMP) is a communication protocol for streaming audio, video, and data over the Internet. Originally developed as a proprietary protocol by Macromedia for streaming between Flash Player and the Flash Communication Server, Adobe (which acquired Macromedia) has released an incomplete version of the specification of the protocol for public use.
Secure Reliable Transport Protocol (SRT) is a new transport protocol that solves the issue of low-quality video under noisy, poor public internet networks. The goal behind its implementation is to optimize video transport over unpredictable networks by minimizing lost packets and bandwidth fluctuations. In short, SRT offers high-quality and low latency video streaming with greater security.
RTMP: Pros And Cons
Pros
RTMP is a protocol especially developed for streaming media, and the optimization of the underlying layer is better than other protocols.
It is an old protocol that has been used for many years. There are domestic mainstream CDN and OTT platforms that support RTMP, also with countless Software&Hardware encoders. As the most commonly used protocol, you can find it almost everywhere with streaming. The design of using RTMP to transfer is also suitable for long-term and continuous playback for more than 10 days. Stream would
Cons
However, RTMP is not sufficient to meet today's streaming requirements. 
Support for RTMP is diminishing. Content Delivery Networks (CDNs) are favoring other protocols like HLS or MPEG-DASH over RTMP entry points. The protocol does not support HEVC encoded streams or advanced resolutions. Because of bandwidth limitations, RTMP cannot be used at higher bitrates.
RTMP also experiences issues with multi-language support, security, and support for ad insertion.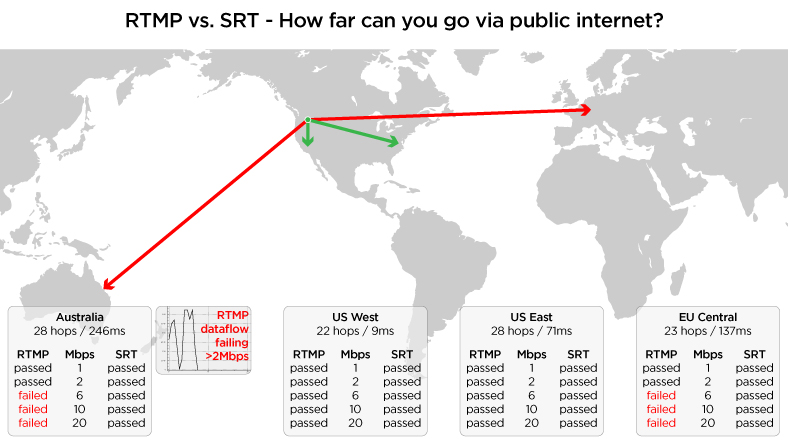 SRT: Pros And Cons
Pros:
The biggest benefit of SRT is that the protocol can help securely and reliably transport low-latency media files across unpredictable connections, such as the public internet.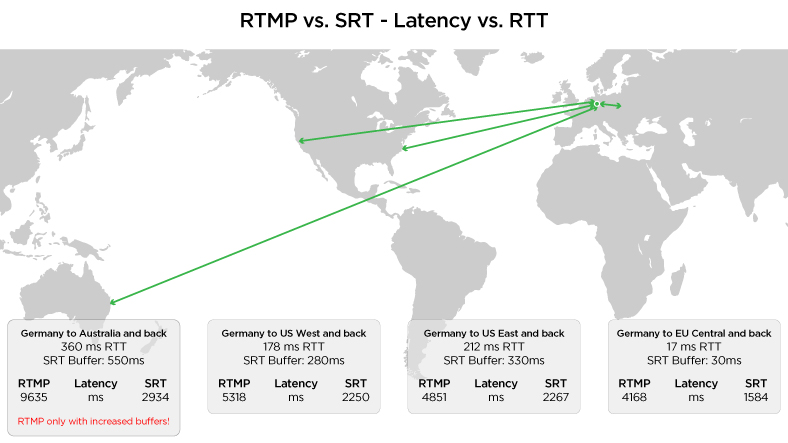 Haivision released SRT as an open-source protocol. The developers in the community can have access to the source code and create their own SRT-based systems. Thousands of companies and organizations worldwide have adopted SRT as a means of delivering high-quality live videos over unreliable networks.   
SRT provides end-to-end security with the AES 128/256 encryption for extra safety. It also helps recover video and audio streams almost immediately, as well as monitoring the network health between endpoints, and provides simplified firewall traversal.
Cons:
Although with these advantages, SRT still has some weaknesses compared with RTMP. It is based on a bidirectional UDP point-to-point connection but is not ideal for content distribution to a large number of users. So SRT may not be the choice for billions or millions amount of streaming.
How to Use SRT Streaming on YoloCast?
YoloCast is YoloLiv's cloud platform that offers professional and comprehensive features to deliver the best live-streaming experience for individuals and organizations. Serving as a live-streaming platform, YoloCast includes all the features you can think of, which means, you can make full use of this platform to host, monetize and broadcast.
#1 Create A New Source
To use the SRT to transfer, first you need to have a source in the YoloCast. Go to the Source option and click the "Add" button to select a Video Source. And there are three different pages for Hardware, Software, and Mobile Apps. The SRT option is on the Software page for the Others option.
#2 Get The SRT Link
After creating the source, the new option would show up on the list which you can click and check all kinds of information. SRT URL is at the bottom of the list for you to copy.
#3 Edit the Server Information in OBS
With the SRT information, we can go to the streaming software and enter it as the destination. Here we use the OBS as an example. You can paste the copied URL in the Server option and choose Custom as the Service time. After applying the change, you can then try to go Live in the OBS.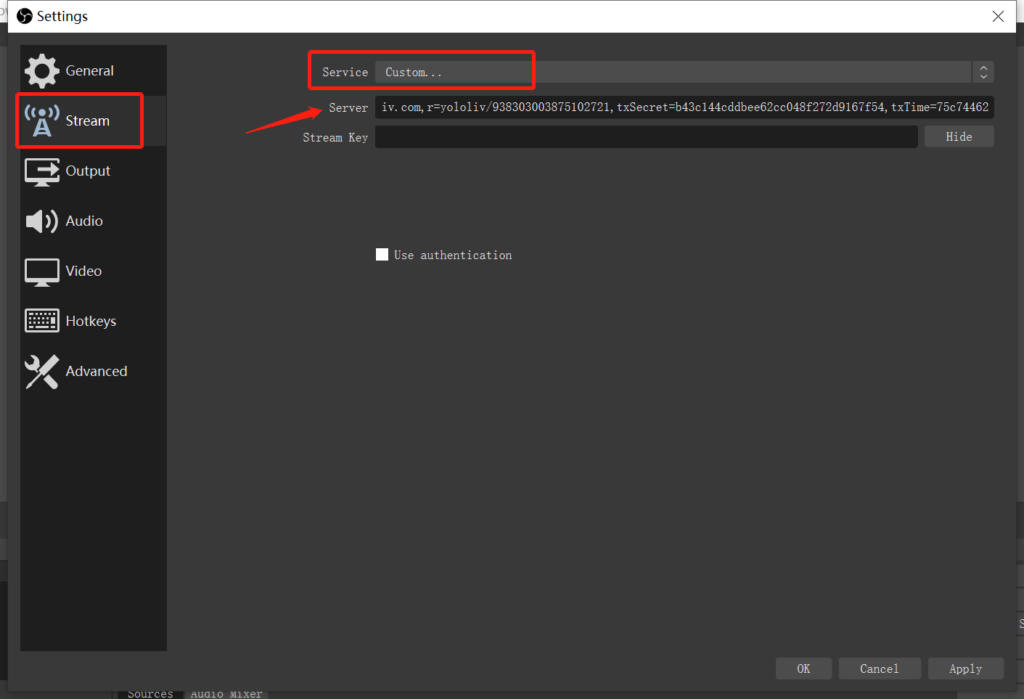 #4 Go Live And Check in YoloCast
The final step is to check if the connection is built with YoloCast. Go back to the Sources and see if the one you add has the green light and Online status after you go live in the OBS. If yes, congratulate that you have successfully used the SRT to live stream via the OBS!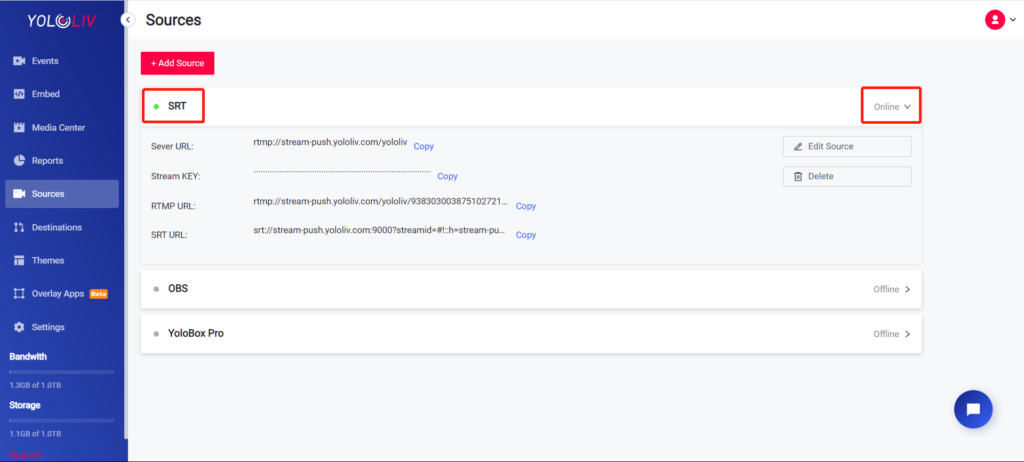 Wrapping Up
SRT can already be utilized for streaming transport in YoloCast, making it especially pertinent for content creators to deliver pristine, optimized video from it.
But since SRT is still in the early stages of development, widespread implementation is still a work in progress. Aside from Wowza's Streaming Engine, some major live streaming platforms haven't adopted SRT as an available protocol yet, meaning they can't be used to stream. However, as more and more industry developers integrate the open source protocol into their systems, you can expect more across-the-board integration in the coming months. The future use won't be far behind.
There's still more to learn about Collect Donations, Highlight Clip, Embed Website, Web URL Overlay, and Document Uploads too. To know about how to use the YoloCast, check the Beginner's Guide here.
Interested in learning more about our new streaming solution YoloCast? Why not take advantage of our free trial to test out all our great features for yourself? Click the button below to get started today. No credit card is required.
Finally, for exclusive offers and regular tips on live streaming, you can also join our Facebook Group.

Cerise is a support specialist at YoloLiv with three years of experience working as a Customer Support Specialist in the consumer electronics industry. She also produces articles including video productions, tips and tricks and expert knowledge in the audiovisual industry.