It has been quite common for churches to offer live video to its members for years now. But the COVID-19 pandemic has made it more important than ever for congregations of all sizes to stream church live and allow their members to attend services safely.
If you're new to church live streaming or want to learn how to live stream church services on your own, this blog will help guide you in finding a solution that's right for you.
Live Streaming Setup for Churches
Upgrade Your Video Quality
If you're interested in improving the picture quality by using a camera or camcorder instead, consider getting a dedicated live streaming device such as our portable, lightweight, and versatile encoder YoloBox or YoloBox Pro. It allows you to stream directly from your camera to any platform of your choice via direct integration or RTMP. 
It can be mounted on top of your camera and be set up within a few minutes. Once it's set up and connected to audio and video, you can have a volunteer start your live stream with the push of a button every time.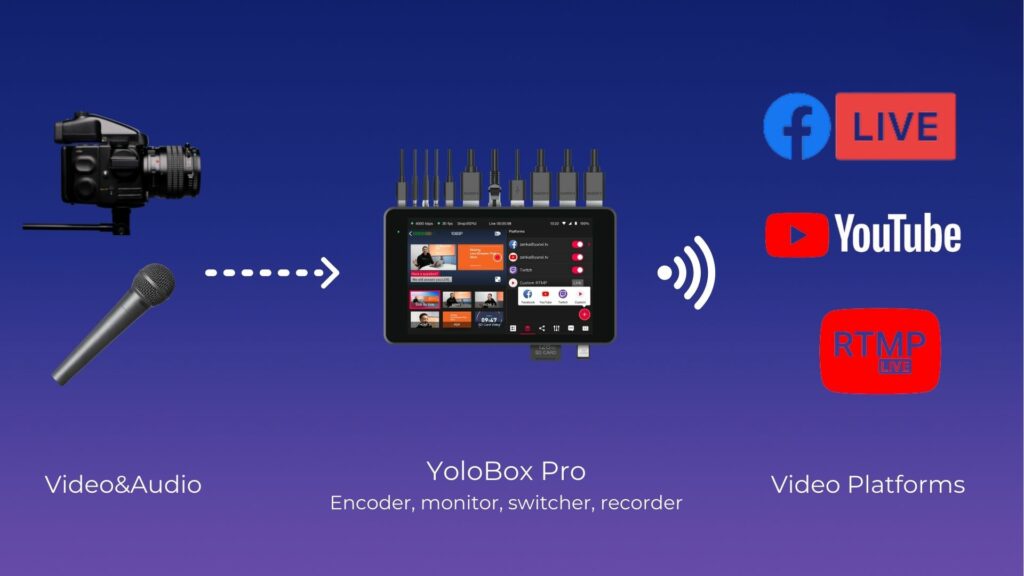 Audio As Important As Video
Aside from video, the most important element to a great church live streaming is the audio. To make sure the audio including sermons, mass and speeches, etc are fed in the live streaming and can be clearly heard by the audiences behind the screen, you'd better invest some equipment to achieve that.
Get an external microphone
There are chances that the built-in microphone will not deliver the clearest audio, whether you're streaming from a mobile device or a dedicated camera. We recommend getting an external on-camera microphone to improve the quality of your audio such as a small Rode Shotgun mic. This can make a huge difference in your church streaming.
Get closer to the audio source
Setting a camera as the only video source far away from the speaker can casue inaudible audio. In that case, get a microphone as close to the action as possible to pick up audio for your audience. Microphones popular for this purpose is the Rode Wireless Microphone System, such as Microphones GO II.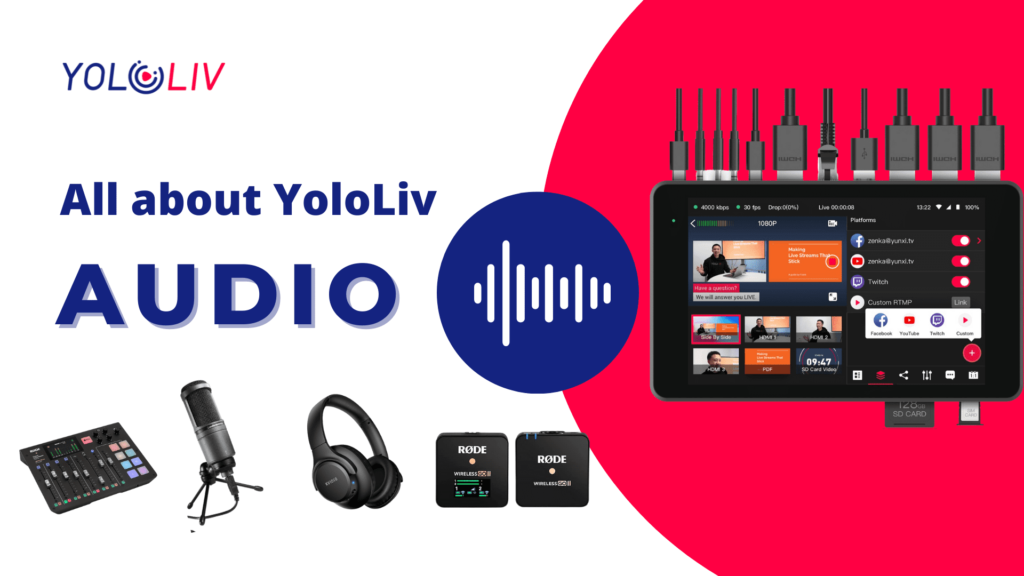 Video Switching
Setting up multi-cam live streaming necessarily requires a video switcher. If you prefer a hardware-based switching solution over a software-based one, consider the Blackmagic ATEM Mini to switch in between your HDMI video sources, or simply get a YoloBox/Pro as it's a 4-in-1 multi-cam live streaming solution for encoding, switching, monitoring, and recording. It's multi-functional, compact and versatile.
Portability 
For some church live streams that are held outside, portable streaming equipment becomes a great option. YoloBox/Pro supports all three network connections, including Ethernet, Wi-Fi  and cellular data, and supports bonding all available networks for more reliable streaming.
Internet Connection – The Key to Streaming
Internet connection plays an important role in your live streaming success. As the backbone of your church live streaming, you will want to get the best internet connection possible in any circumstances. Ethernet is  always the priority. But if you have to use Wi-Fi, consider the location of your router.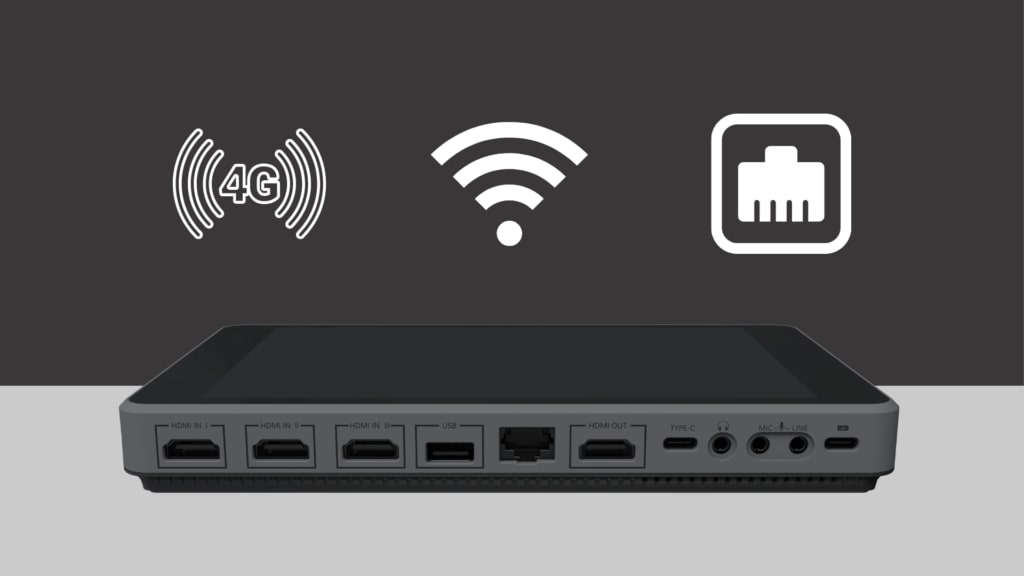 Internet Upload Speed
In the world of live streaming, your internet bandwidth determines how much video information you can send out over the internet. To get the best video quality, you need to pay close attention to the upload speed of your internet connection, and we recommend your upload speed should be at least double the bitrate you set. 
Platform 
Getting your video, audio and internet connection all set up is vital, but the more important is to deliver the content to your audiences. Here comes the question: how to live stream to the patform?
The most popular platforms include YouTube Live and Facebook Live. There are also specialized platforms for churches. So think about where your congregation is and determine the platform you're going to live stream to.
To live stream to Youtube or Facebook, you can simply connect your accounts on YoloBox/Pro; for any other platforms, try RTMP instead. Check this tutorial for RTMP setup.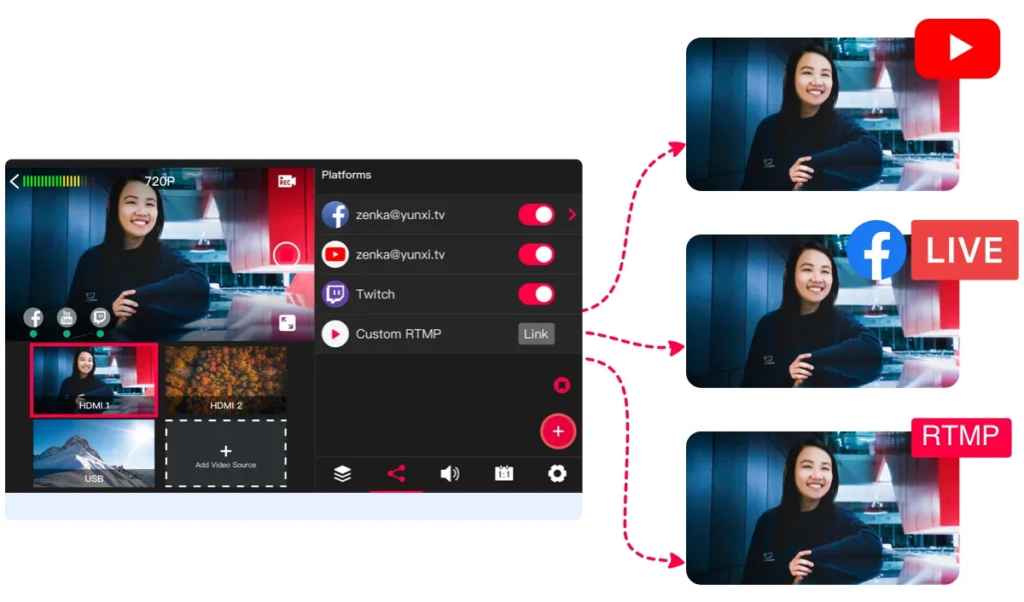 Ready to get started?
Successful live streaming requires a lot of input, including both time and energy. Don't worry about getting it perfect right away. To help you make the most of your live streaming equipment, whether YoloBox/Pro or other encoders, we provide you with plenty of resources to help you succeed with your video productions. 
Whichever live streaming setup you choose, however much experience you have, it's very likely that you may run into some type of issues during a live stream. This ultimate live streaming checklist will ensure you a smooth streaming experience and deliver your Church's message to its community and keep your members connected.
 3,000 total views,  11 views today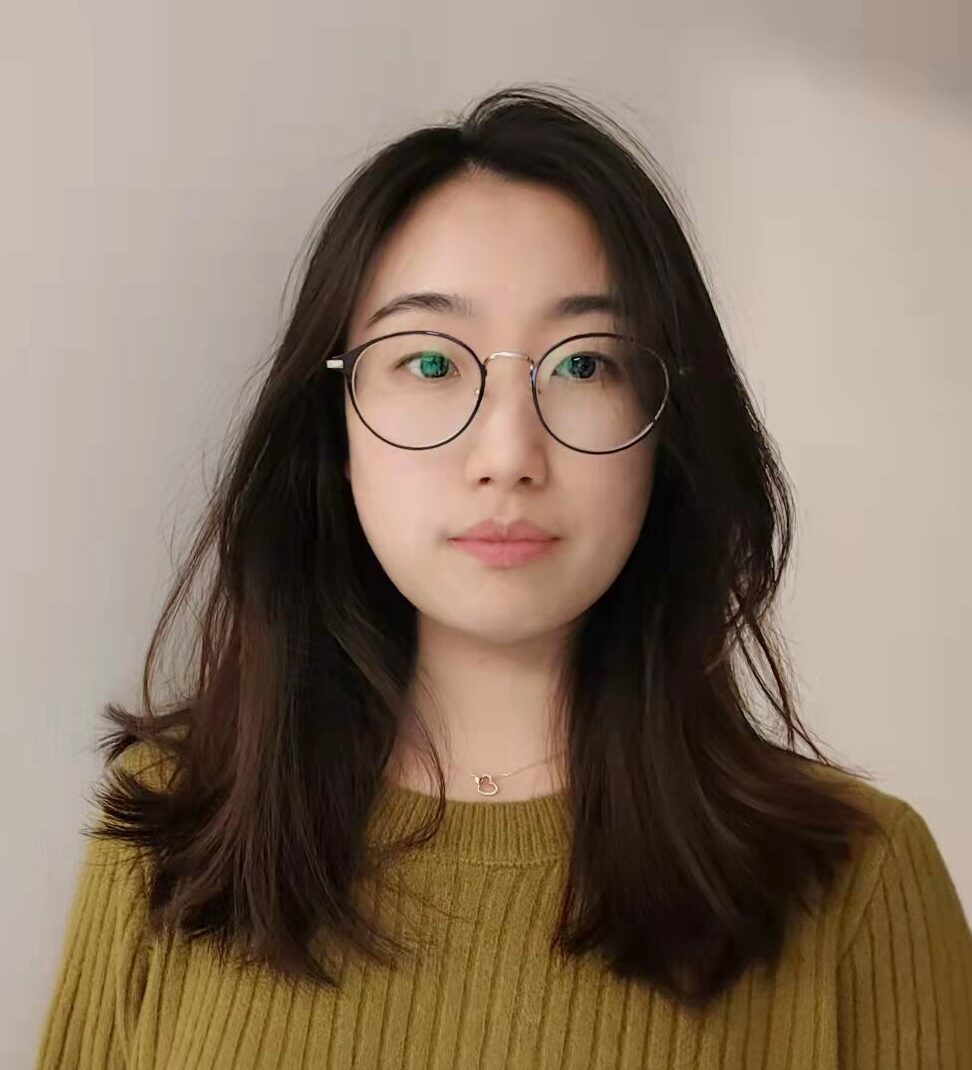 As product operation manager at YoloLiv,  Esther and her team stay focused on our customers' needs and constantly push forward new updates for YoloBox and Pro. Also, she contributed some blog posts from perspectives on how to enhance live streaming experience, live streaming sop for newbies, and more.